Fashion by the numbers.
Think fashion is just about shopping and trends? Think again. These ten infographics put into numbers and graphs the impacts of the fashion industry, from textile waste to t-shirt lifecyles, and dive into the fascinating history of items like the bikini. You'll never call fashion fluffy again.
Mind Your Waste Infographic: you'll be amazed at how much textile waste America generates each year.

How the First Lady Moves Markets: it's obvious that Michelle Obama has a significant impact on the fashion industry, but this infographic quantifies it.
The Most and Least Fashionable Cities in America: you won't believe which city beat out NYC.
A History of Fashion, Silhouette Version: a look at how silhouettes have changed over the past 250 years.
Textile Fibers: learn to classify and group different textile fibers with this handy educational tool, originally developed for North Carolina State University's Distance Education department.
Women at the Oscars: take a trip down memory lane with this round-up of red carpet fashion from the past 22 years.
Where the Wealthy Shop Online: those pretty polka dots actually represent where rich people do their online shopping.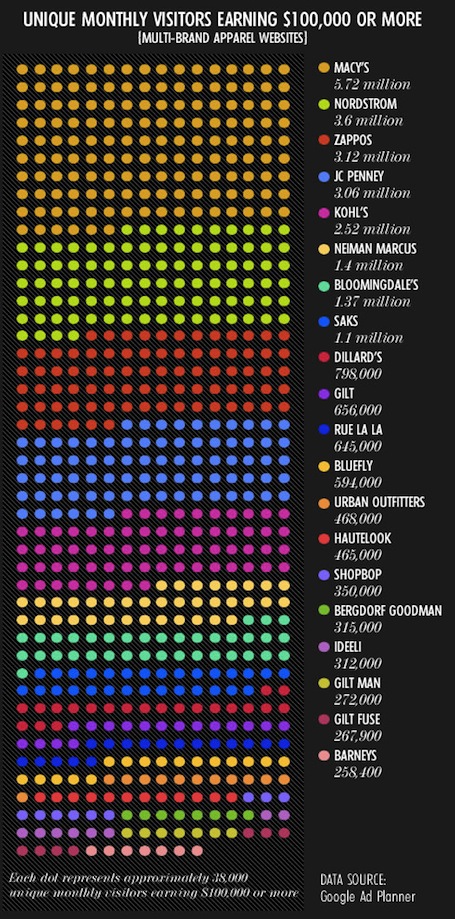 Raven & Lily Infographic: how one brand implements the fair trade model to empower women through design partnerships.
T-Shirt Lifecycle: following the path of a t-shirt from "best" to "duster."
Women's Swimsuits: A Fashion History: the long road to the itty bitty string bikini.
ALSO CHECK OUT:
10 Food Infographics That Have Us Consciously Consuming
Image: Mom Smackley