A dozen guilt-free & old-school calendars for wrangling in next year's commitments.
Next week being 2012, you've probably got an iSomething for sorting out your calendar needs. Responsibly so, too. The paper-making industry depends mostly on virgin wood-based fibers, which make the pulp that become the sheets of calendar paper. Well, no longer does January through December have to appear neatly printed courtesy of old growth and environmentally sensitive forests.
Still, for some, there are certain objects that are better left analog. That includes wall calendars and desktop agendas. Here are twelve (for 2012) that are guilt-free, conscious-raising and otherwise beautiful for marking out the year ahead.
First up, a handmade 2012 agenda planner from illustrator/designer Alex Wijnen made from recycled kraft-colored paper. Images on the cover and monthly divider pages are printed in full-color and weekly two-tone pages are printed on smooth uncoated paper.
A mini calligraphy calendar made from 100% cotton paper, means no trees were harmed in the filing of this scheduler. By K is for Calligraphy.
In case you need a reminder of the ticking clock that is your life, an unraveling calendar from Patrick Frey. Pull on the loose thread at the bottom of the wall calendar for today to unravel into tomorrow.
An adhesive wall calendar from Ferm Living made from decorative WallStickers. Simply stick on to smooth surface, schedule and swipe. Post-Its are included; chalk, optional.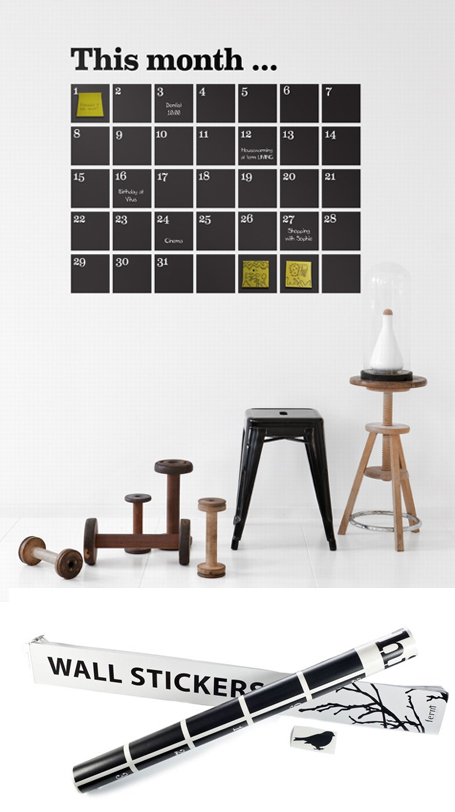 Pirelli's calendar features Kate Moss, naked. International design firm Method's pet project stars their dogs, in various states of undress. Dogs play a major role in the laidback culture at Method, as does pet adoption. All proceeds from the 2012 Dogs of Method calendar go to the Petfinder.com Foundation, which is dedicated to saving the lives of homeless pets.
The Perpetual Produce calendar from Branch Home shows you what produce is in season month by month, and what to plant. It's also regionalized. (Regions include Northern California, Southern California, Midwest, Pacific Northwest, and Texas. Coming soon are Mid-Atlantic, New England, New York, and Southeast.)
A DIY calendar that you can also use as a tea towel. From Curious Doodles.
The Custom Bicycle Calendar from EXIF features photo after glossy photo of two-wheelers. To a bike enthusiast, it's almost pornographic.
From Indigo Bunting, Art director Erin Jang's 2012 calendar is a farmable set of twelve illustrations, printed on heavy recycled stock.
Popping bubble wrap is one of those tactile experiences that all humans share in common, for whatever reason. Now, a wall calendar that gives you the satisfaction of popping a bubble every single day of the year. From Uncommon Goods.
Elegant, beautiful and minimalist, this calendar is old school without all the waste. It's made from recycled material, plus perforated and bound with recycled rope. Packaged in a biodegradable plastic sleeve and shipped in a 100% recycled chartreuse envelope. By Natasha Mileshina at Bubbo.
Oh dear God: 366 days of cupcakes. Lucky you, 2012 is a leap year.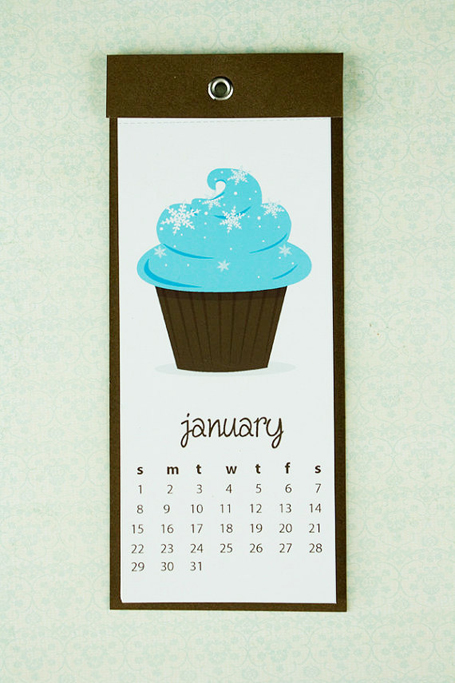 Image: Present & Correct