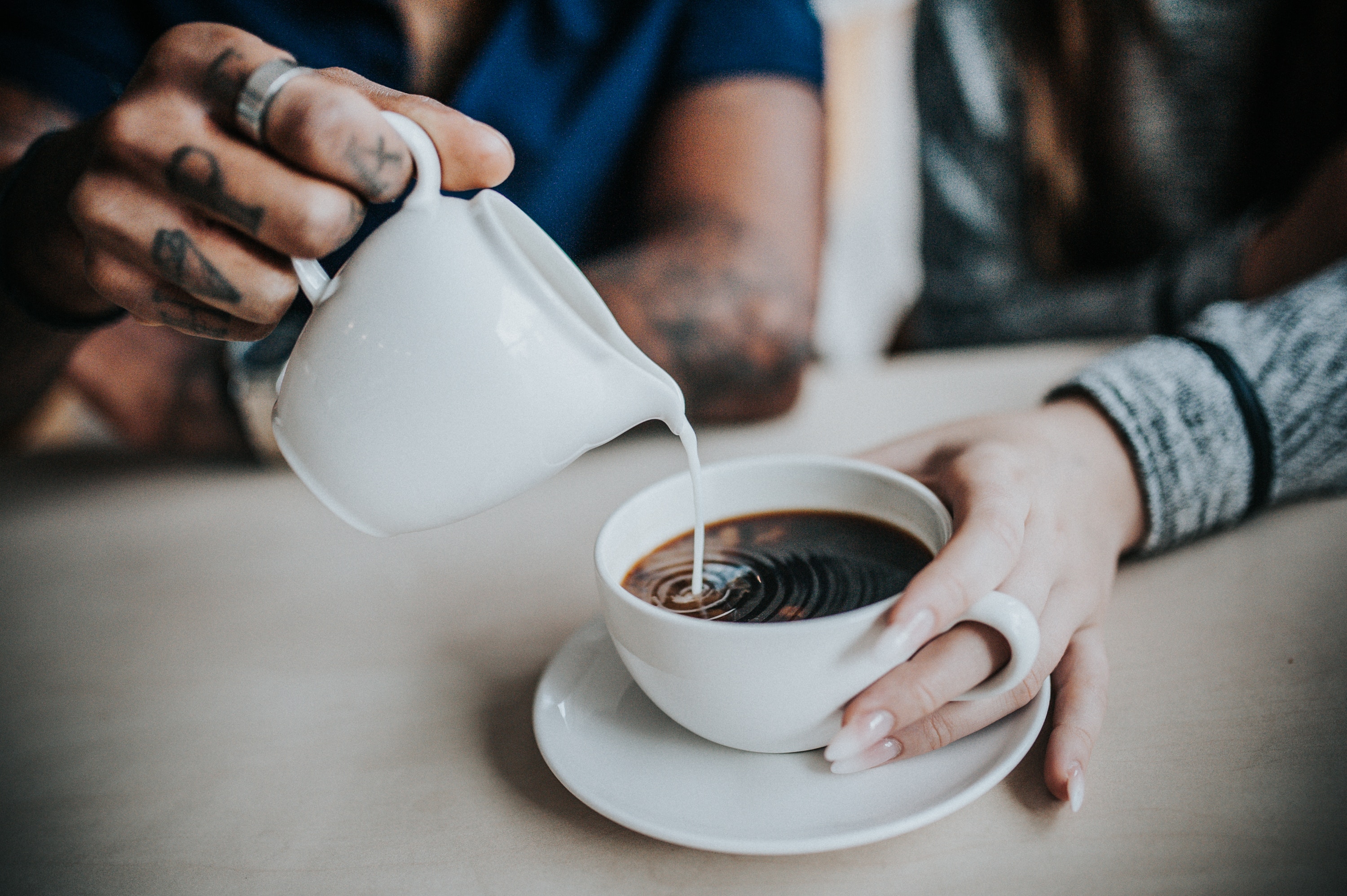 Coffee lovers don't just drink coffee – they eat, sleep, and breathe it. And whether that coffee fiend is you or someone you love, we've got the eco-conscious coffee gifts and gadgets for you. And what better time to celebrate than National Coffee Day on September 29th.
Drinkable
Whether it's eco-conscious beans or odds and ends to jazz up your cup, these drinkable coffee gifts are the perfect way to spice up your morning joe.
1. All-Natural Pumpkin Spice Spray
Simply Beyond Spray-On Spices are the perfect way to add pumpkin spiced flavor to your home-brewed coffee. This organic spray is sold in an eco-friendly aerosol-free container that relies on compression bag technology to add spices to your cup easily.
2. All-Natural Creamer
Creamers are generally filled with all sorts of nasty artificial ingredients, but Coffee Booster is different. These organic creamers are made with a combination of organic grass-fed clarified butter, virgin-pressed coconut oil, and raw cacao powder for vegan bulletproof coffee with a slight chocolate flavor. To use, just add it to your coffee and blend with a hand-held milk frother or blender to emulsify the fats.
3. Vegan Cold Brew To Go
If you don't have time to mix up your own cold brew drink, Coffee So Good is an awesome option. Organic, non-GMO coffee is combined with raw cashew milk, agave nectar, and a touch of sea salt, as well as other flavors like vanilla, lavender, or raw cacao. The zero-waste company uses 100 percent recycled and recyclable materials in bottles and packaging, and its manufacturing facility is powered by 100 percent renewable energy.
"I never felt like it was a choice – being eco-friendly is just the right thing to do," says So Good So You founder Rita Katona. "Whether that's printing only on recycled paper and minimizing printing, to choosing reusable, recyclable and compostable materials for packaging and shipping, we work diligently and daily to minimize our impact on the environment with a goal to be a carbon footprint positive company in the next 3 years."
4. A Coffee Alternative
If you're taking a coffee break for whatever reason (or you've got someone at home who just can't stomach it), Cascara might be a good option for you. This sustainable coffee alternative gives you a caffeine boost thanks to all-natural cascara, the fruit in which the coffee bean grows that has been discarded for years.
"We think otherwise," says Nomad Trading Company, producer of Cascara. "It's delicious. It's chock full of antioxidants. It's an opportunity for farmers in the developing world to earn a new source of income."
Nomad sources its cascara from small farmers around the globe and bottles it in three delicious flavors: original, lightly sweet, and hibiscus.

5. Erase Your Coffee Footprint
Coffee production can have a hefty carbon footprint, but Tiny Footprint's carbon negative coffee is joe you can get jazzed about.
The world's first carbon negative coffee was created through a unique collaboration between Roastery 7 and nonprofit Mindo Cloudforest Foundation.
Since it takes 4 pounds of carbon dioxide to produce and distribute one pound of the company's coffee, for every pound that's sold, a portion of the proceeds is donated to fund reforestation in Ecuador's Mindo cloud forest, contributing to the removal of carbon from the atmosphere.
The coffees are delicious as well: small-batch roasts of organic certified beans are packed in biodegradable coffee bags and sold both in the company's Minnesota shop and online.
Containers and Brewing
It seems like there are endless coffee brewing options, but these are our favorite eco-friendly coffee gifts for making and taking your coffee.

6. Pour-Over On the Go
Brumi is the perfect product for on-the-go coffee enjoyment. This 12-ounce, double-insulated glass travel bottle's reusable filter can be used to make hot pour-over coffee in minutes, or it can be left in the fridge overnight for cold-brew that's ready to take with you first thing in the morning.

7. Reusable K-Cups
K-Cups are perfect for making just one cup of fresh coffee, but the waste they cause can be prohibitive. Several companies have risen to the challenge, like Simple Cups, which are made of BPA-free ABS plastic that is both recyclable and biodegradable and can be filled with your favorite brand of coffee grounds.
For even less waste, ekobrew's reusable stainless steel filters can be filled with coffee and used on a Keurig to brew a fresh cup of whichever coffee you like.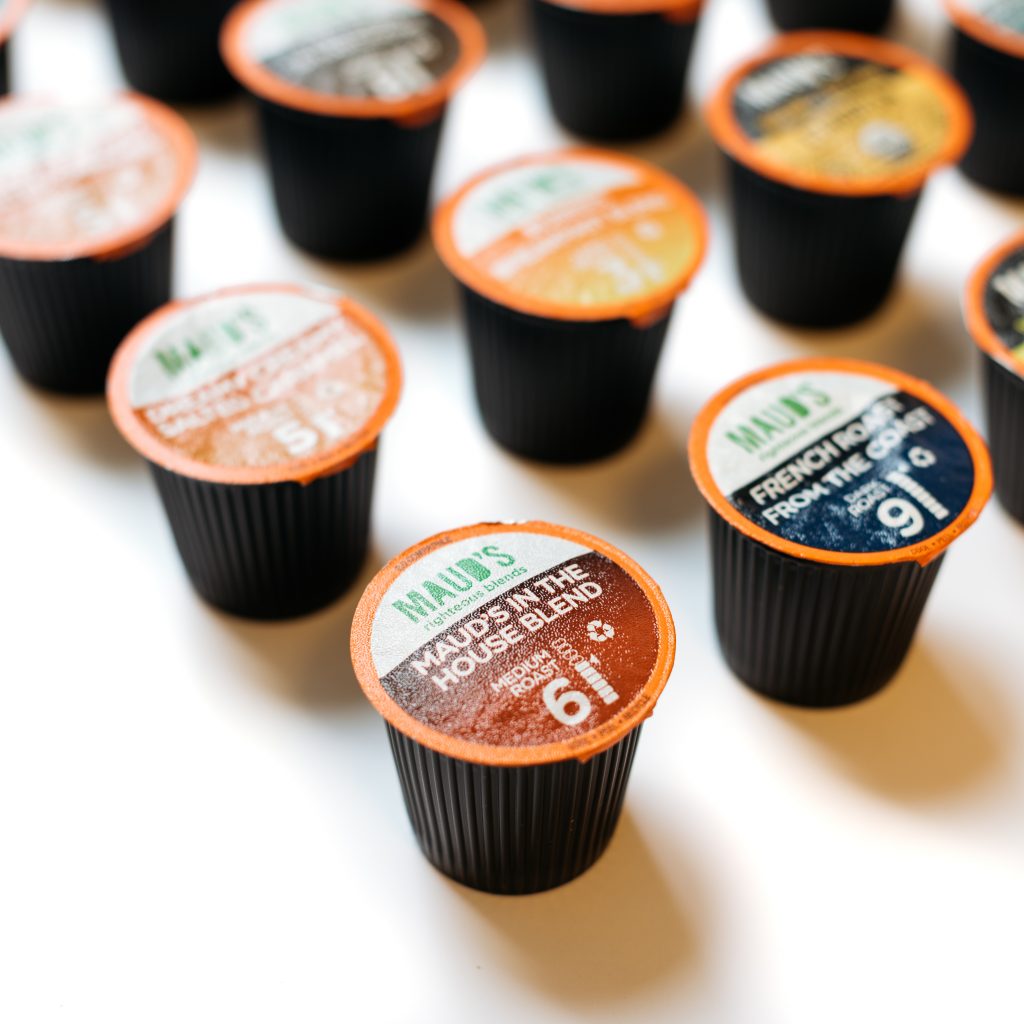 Intelligent Blends, meanwhile, produces Nespresso- and Keurig-compatible single-serve coffee pods made with a blend of recyclable polypropylene and other eco-friendly materials. Recycling is a snap: the filter is biodegradable, so it can easily be composted, and both the aluminum lid and plastic capsule can be recycled.

8. One-Touch, No Waste
The JURA A1 is the perfect machine for coffee lovers who just want to make one cup. This one-touch coffee gadget grinds from fresh whole beans and features JURA's innovative Pulse Extraction Process that optimizes the extraction time for flavorful espresso – no disposable cups needed.

9. Eco To-Go Coffee
If you haven't already gotten into the habit of bringing a thermos to your favorite coffee spot, maybe Onya will change your mind. These cute retro reusable coffee cups stand in for disposable paper cups with a light, food-safe silicone design. To top it all off, these cups are designed to barista standards, which means they fit into the machines at your favorite coffee shop.

10. Temperature Lock
Hydro Flask knows how important it is for your coffee to stay at the right temperature for as long as possible, so the company has created three different BPA- and phthalate-free vessels depending on how you like to sip. The classic 12-ounce coffee flask is the flagship product, perfect for bringing your coffee to go: it'll keep iced coffee cold for up to 24 hours and hot coffee hot for up to six. The slim tumbler is ideal for cold brew, and the 10-ounce rocks is perfect for espresso drinks like cappuccinos and lattes. All of the cups are made from 100 percent recyclable materials.
Beauty and Care
You don't need to keep coffee in the kitchen; it's just as welcome in the bath. These products take advantage of the caffeine and antioxidants in coffee to revitalize your skin.

11. Wash with Coffee
Coffee is an excellent natural exfoliator, as you'll quickly see with Beessential Fresh Ground Coffee Soap. This artisanal soap is made with coffee, coconut oil, olive oil, shea butter, and beeswax, for a soap that cleans even the toughest grease and grime all the while being gentle on your hands. It is GMO-free, paraben-free, and alcohol free.

12. Revive Your Skin
Revival Body Care is a line of organic, fair-trade, and vegan beauty products. The company's Awaken Goddess Serum contains coffee bean oil, which reduces under-eye puffiness and helps give skin a firmer appearance. Combined with rose hip oil, anti-inflammatory sweet orange oil, vitamin C, and pomegranate seed oil to stimulate keratinocytes, which are major cells found in the outer layer of the skin, this serum will soon become a regular part of your daily routine.

13. Scandi Skincare
Scandic Botanica is a skincare brand that takes its inspiration from restorative Scandinavian ingredients. The brand's coffee and clove sugar body scrub blends organic coffee with a variety of spices and flavors inspired by Scandinavian mulled wine, such as stress-relieving organic clove, moisturizing organic coconut, and organic cacao, to increase blood flow.

14. Family Friendly Skincare
Taneisha Phillips was inspired by her son's severe eczema and dry skin to create Earth's Organics, a natural, homemade skincare company. Her coffee-coconut facial scrub contains just three organic ingredients: slow-roasted organic coffee, fair-trade-certified brown sugar, and certified organic coconut oil from the Philippines.
"I wanted to use safe and non toxic products that wouldn't harm or compromise my children's skin," explains Phillips, who notes that her whole family uses the products, and she herself hand crafts every product to order.

15. Revive Your Eyes
Solavedi's Green Tea Coffee Bean Eye Balm is made with organic green coffee beans, organic white tea, and matcha, as well as pumpkin seed oil and marigold. This balm reduces dark circles and puffiness, not to mention fine lines and wrinkles.
Founder Carollane Crichton is a yoga instructor and Ayurveda practitioner who creates her own herbal triple infused oils that are then used in her products.
"We source only the highest quality herbs and botanicals, locally first, and, when not available from local and regional sources, we carefully source from around the globe," she says. "We are extremely selective with our suppliers, and only work with those who can document that they follow the National Organic Program (NOP) for all ingredients we procure from them."

Bonus! Coffee Bags
If you're looking for a gift for a coffee-obsessed friend, these upcycled hats, handbags, and duffels are the perfect choice. Buffalo Gals Mercantile uses reclaimed fair-trade coffee sacks from MoJoRoast Coffee to create these awesome coffee gifts.
"The hats have become quite popular as travel and beach items because they roll right up to fit into purses, pockets and luggage and can get wet too," explains owner Katy Kassian.
Related on EcoSalon
6 Upcycling Projects that Turn Coffee Waste into Something Cool
Coffee Lovers: Now You Can Make Out with Your Morning Brew as Nature Intended
Which Type of Kettle is Just Right for Your Tea or Coffee?