If you're looking to make a statement with your wardrobe this winter, then be sure to reach for the faux fur. It's warm, it's cruelty-free, and it's fuzzy. I mean, really, what's not to love?
1. Trendy Crop Jacket
Trendsetters rejoice! This statement making faux fur piece is simply gorgeous. The ivory exterior adds a touch of winter white to every outfit, while the overall silhouette and vibe are sort of channeling your inner '90s wild child. For the ultimate blast-from-the-past look, pair this jacket with two high buns, a pair of chunky mules, and a thick black choker. Priced at $325.
2. Cozy Knit Kimono
For those times when you feel like escaping into a soft, cozy sweater, yet still want to look on-trend, this cable knit kimono is the perfect piece. Pretty much the epitome of effortless style, you're guaranteed to look chic regardless of how little time you have to get ready. The neutral hues go with nearly everything, allowing the faux fur collar to take center stage and elevate your look. What's awesome is that you can remove the fluffy piece when you're just not feeling it. Priced at $98.
3. Glam Leopard Coat
Leopard is trending so hard this season, so why not wear it all over?! In our book, this print is most definitely a neutral, which means you should feel free to pair a faux fur (and vegan) coat like this with all sorts of different colors. From burgundy red to emerald green, this jacket would work well with a variety of hues, making it surprisingly versatile and easy to wear. It doesn't lack in glamour or sex appeal, either. As you can see, it looks superb with a sexy little black dress, and would add a touch of luxury to black-on-black ensembles. Priced at $175.
4. Shaggy Ombre Vest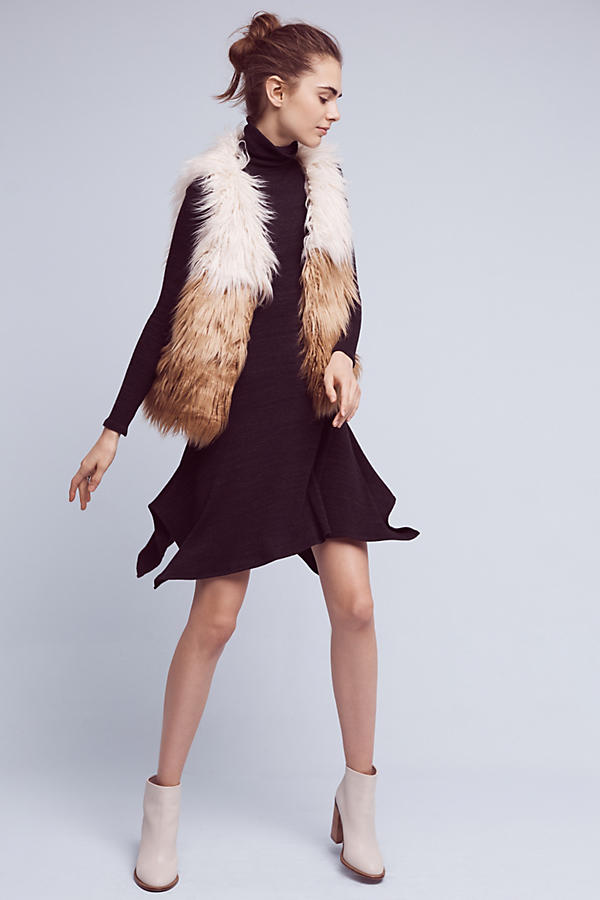 Ombre + Faux Fur Vest = Awesome! Definitely a statement maker in every sense of the word, you are sure to garner lots of positive attention from fellow fashionistas in this vest, so be prepared to tell them where you got it, when you bought it, and how much you paid. Vests lend so much style, and work well with all sorts of winter garb. Wear this piece with a sweater dress, over your favorite cable knit, with a button down plaid flannel, or with a ribbed turtleneck – the possibilities are endless! Priced at $255.
5. Edgy Moto Jacket
When you feel like kicking ass and taking names, this is the jacket you'll want to have on hand. Thanks to a black leather backdrop, the faux fur collar really pops, all while strategically framing that beautiful face of yours. Take your edgy, cool girl style to the max, and pull out your favorite combat boots, distressed jeans, and graphic tee to round out this look. Not only is this jacket all vegan, but the faux fur collar is also removable, making it like having two jackets in one. Priced at $248.
*Disclaimer: Help support EcoSalon! Our site is dedicated to helping people live a conscious lifestyle. We've provided some affiliate links above in case you wish to purchase any of these products.
Related on EcoSalon:
Wearing a Dress in the Fall is Oh-So-Hot: How to Pull It Off
5 Warm Winter Coats to Buy Before December: Friday Finds
How to Avoid Overspending this Holiday Season (and Beyond!)