This spring it's all about bold, unapologetic floral print pieces that scream modern resort wear. We've got five garments that will make you go ga-ga.
Think bold, bright, and beautiful with a modern twist and you'll have the recipe for the kind of floral print that will be popping up all over your favorite stores. Whether you try your hand at pattern mixing, or wear the flowery looks alone, there are plenty of styling options to appeal to a range of tastes and personalities. Fortunately, we've done some of the leg work for you by hand-picking several pieces that feature some of our favorite bold botanicals. Perfect for poolside, seaside, city wearing, and more, spring and summer's fresh trend is universal.
1. Chic Poppy Kimono
Flowing and versatile, this long, silky kimono will pair with a variety of pieces all year round. The bright color is guaranteed to cheer you up, while the effortless chic vibes will have you feeling on top of the world when you step out in this kimono. Wear it with jeans and a sweater, over a long sleeve dress, or with your swimsuit while hanging poolside. Either way, you'll have all eyes on you! Priced at $168.
2. Hello Sunshine Skirt
This maxi-length skirt has a surprising amount of versatility. The purple floral print motif is fun, tropical, and perfect for spring and summer wear. Throw it on with a sweater and sneakers like the model, or style it your own way. Other options include a bodysuit or one piece swimsuit, a tucked in fitted tank, or simple, casual t-shirt. Feel free to pattern mix with this skirt—we think a bold stripe would work well, as would layers, and lace-up gladiator-style sandals. Priced at $128.
3. Retro Bell Jumpsuit
Definitely not for the faint of heart, but guaranteed to turn heads wherever you go, this fun floral print jumpsuit is too cool to pass up. Perfect for attending festivals, parties, or just general weekend fun, you'll want to reach for this statement piece again and again. Pair it with your favorite platforms or flat strappy sandals, and enjoy feeling the sun on your shoulders this spring. Priced at $168.
4. Sweet Floral Top
This oh-so-pretty tank is so unique in its styling and special side ties that it will quickly become a closet favorite. Pair it with jeans, shorts, skirts, and all sorts of different bottoms. It can be layered over strappy tops, bralettes, and other pieces to create a fun look that's full of dimension. Between the striped side ties and the geometric chevron print coupled with the flowers, we're loving the pattern mixing that's already built right into the shirt. Priced at $68.
5. Sunny Days Dress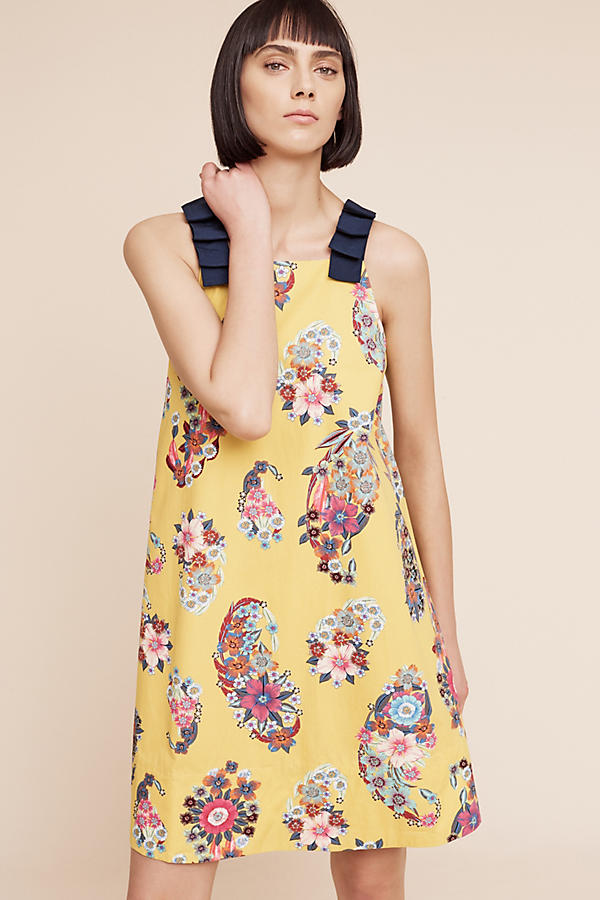 Bold and beautiful, this dress will have you dreaming of sunny days and gardens in full bloom. Mature enough for adults, but still full of sweet, youthful details, the ribbon-like straps on this dress simply can't be beat. Perfect for daytime weddings, baby showers, brunches, date nights, and even some office settings, this dress will carry you all over town. Prices at $148.
*Disclaimer: Help support EcoSalon! Our site is dedicated to helping people live a conscious lifestyle. We've provided some affiliate links above in case you wish to purchase any of these products.
Related on EcoSalon
The 10 Hottest Spring 2017 Fashion Trends Have Arrived
7 Surprising Ways Clothing Affects Your Life (Not Just Your Look)
5 Pieces Inspired by Pantone's 2017 Color of the Year: Friday Finds