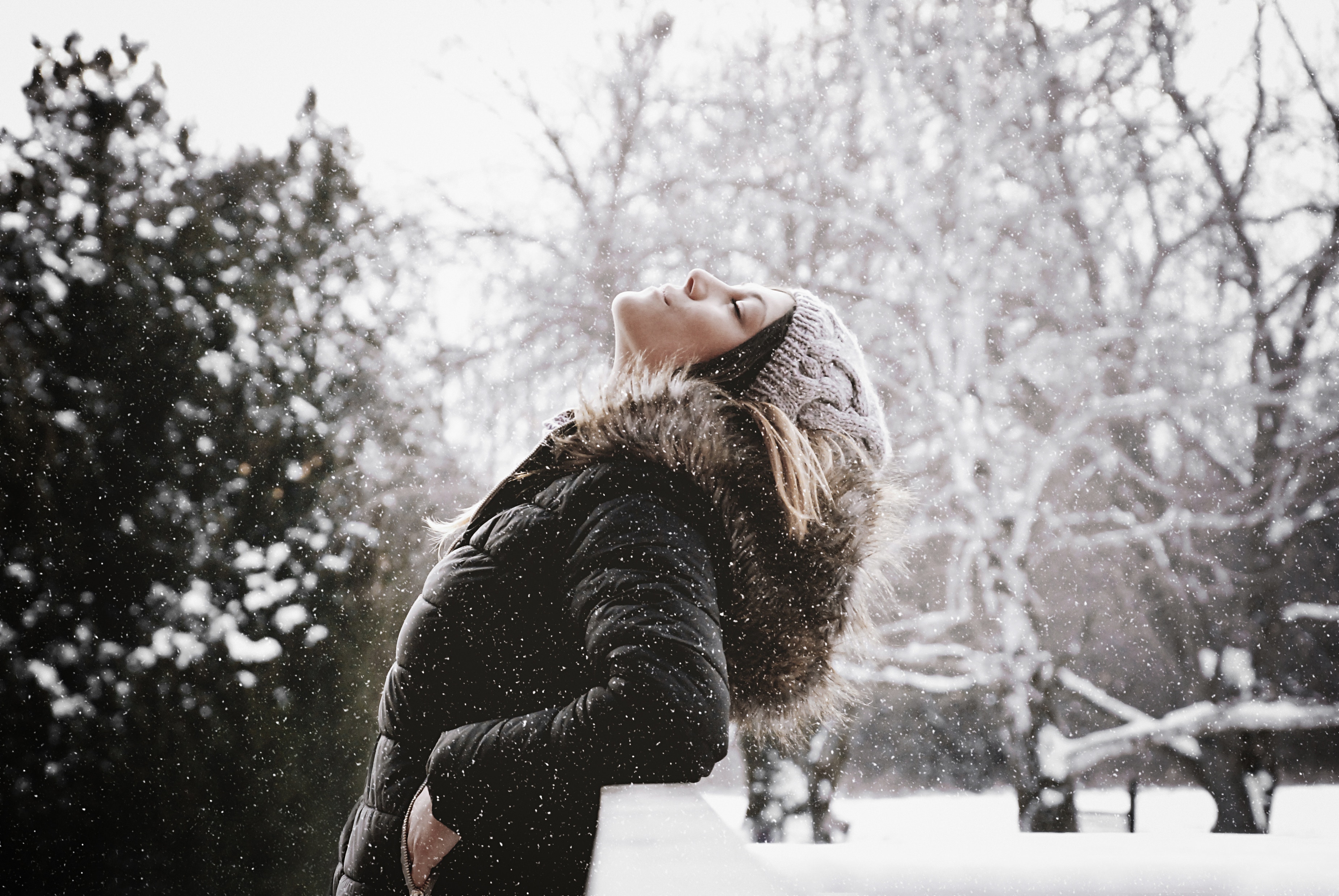 Winter fashion isn't all crazy, overdone layering and barely there leather bondage-y stuff. There are plenty of trends that fall comfortably in between, and we're here to cover them. From eye-popping, confidence-boosting color, to shimmering, holiday-ready metallics, we've got your winter fashion just the way you like it–a mix of warm and cozy easy-to-wear pieces with a chic, sophisticated streak.   
1. Shimmering Lights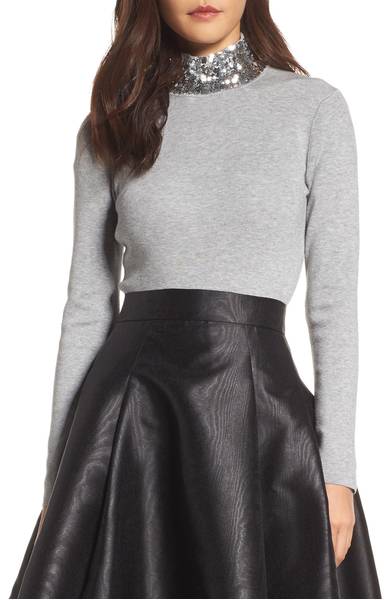 In this case, all that glitters is gold…and silver, and bronze, and rose gold, and any sparkly look you fancy. Whether you prefer just a dash of glitz, or head-to-toe sequinage, it's your prerogative to choose how much or how little. Fortunately, with this winter fashion trend, less is more, and more is fabulous when it comes to wearing metallics, making it quite easy to do. We're loving the peek-a-boo metallic neckline featured on this sweater. Pair it with faux leather pants or a skirt, as shown, and voila!, perfect party outfit. Priced at $98.
2. Duvet-Inspired Outerwear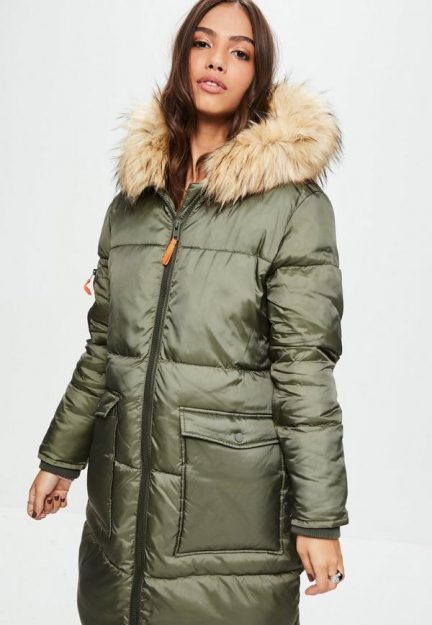 Duvet-inspired outerwear is trending hard, and the more oversized your coat, the better. A universally flattering trend, you can leave your house wearing an almost-actual-quilt and no one will be the wiser. The particular jacket we've chosen is lovely shade of khaki and features a faux fur neckline that flawlessly incorporates a second trend of the season. Not only that, but it has some seriously enviable hand-warming pockets. Pair this with rugged, distressed looks, like jeans and combat boots, or softer, boho looks featuring lots of pattern mixing and your favorite ankle booties. Priced at $119.
3. Seeing Ra-Ra-Red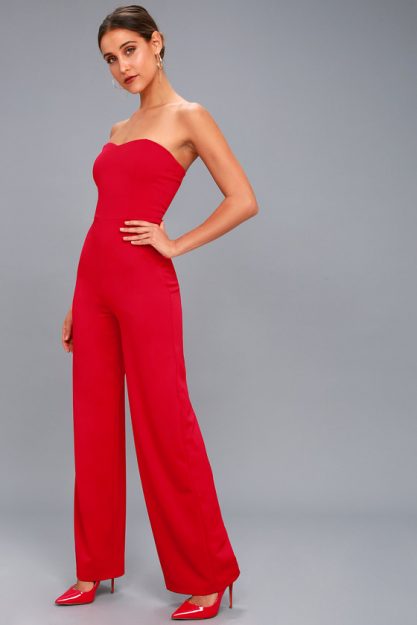 Beyond what the world of fashion recommends, psychology also suggests that wearing red is good for your confidence, making this color trend a win-win this season. Seeing red in your closet and on your body is actually a good thing, although this particular study suggests some introverts may react differently. However, we say step out of your comfort zone, and reap the benefits of wearing red. This red jumpsuit is holiday party ready. Consider pairing it with a blazer for added warmth (bonus points if it's velvet). Priced at $59.  
4. Feeling Folksy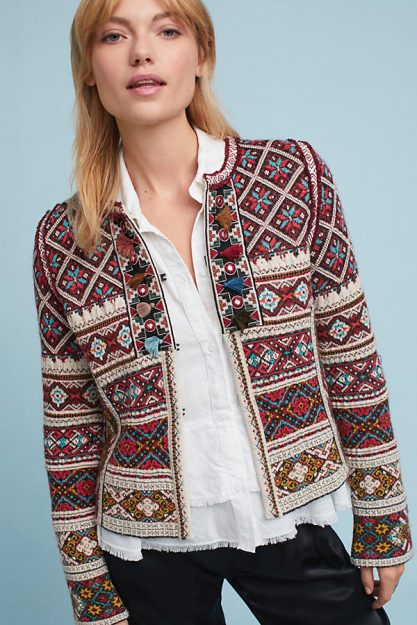 The folk trend is back in a big way and is surprisingly easy to wear. The basic rule here, if you're not a skilled pattern mixer or just don't feel comfortable attempting, is to choose your statement piece featuring the look, usually a pattern or design reflecting the genre, and then pairing it with your everyday basics. For instance, this jacket is great for wearing with jeans, trousers, and even maxi skirts or dresses. To bring it into modern day, we'd suggest layering it over a longer, lace-trimmed camisole and pairing with tapered trousers and ankle booties. You can even wear this with a form-fitting mini dress and over-the-knee boots for an edgier, youthful take on incorporating the folk trend. Priced at $168.
5. Cozy and Comfy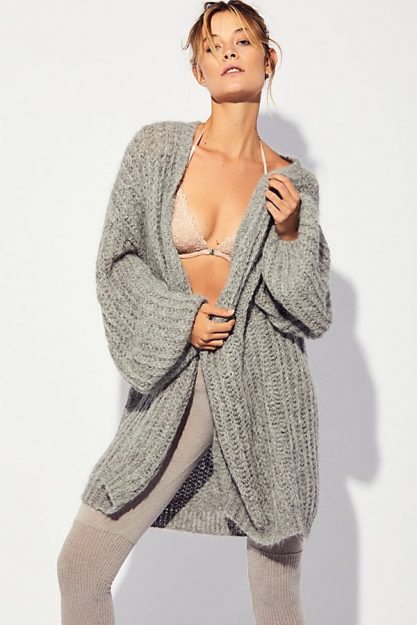 Uber softness and all the feels that hot chocolate by the fire on a cold winter's day conjure up are what this trend is all about. Extreme comfort is never something you'd hear us complain about, and we're pretty sure you can't mess up this wrapped-in-a-cloud fashion statement, but in case you weren't aware, it's time to gather your softest sweaters and cardis to live in all winter. Whether you're lounging around the house, are experimenting with your casual chic look, or want to keep warm at your office desk (we dare you not to fall asleep), you'll fall in love with this cardigan just as much as we have. Priced at $248.
*Disclaimer: Help support EcoSalon! Our site is dedicated to helping people live a conscious lifestyle. We've provided some affiliate links above in case you wish to purchase any of these products.
Related on EcoSalon
5 Ways to Crush the Velvet Trend: Friday Finds
5 Dazzling Looks That'll Have You Holiday Party-Ready in a Flash: Friday Finds
5 Edgy Menswear-Inspired Picks for Fall: Friday Finds