Hasbro? More like has been.
BIS Publishers, the Dutch version of Rizzoli, is giving Monopoly game-maker Hasbro a run for its pastel-hued money. Purveyors of prestigious tomes on graphic design, fashion, architecture, product design and advertising, the indie company has also made many star turns in gaming – the old school way.
The games produced by BIS (many inspired and created by writers featured in their portfolios) are thought-provoking, socially-extracted, culturally-relevant, self-referential nods to the collective state of being alive in the 21st century. As the side of the box on Brand Memory puts it "Most people today can identify more brands and logos than birds or tree species."
You are one of those people. Surely, one among these seven games will find a slot in your game collection.
The Brand Memory Game is being released this year. It was created by Hendrik-Jan Grievink, who sampled thirty internationally popular brands and stripped them of their names. A player's challenge is to match it to its pair, based solely on characteristic color and style elements.
The Fake for Real Memory Game is in its 4th printing. Developed in collaboration with All Media, the challenge here is to discern the real from the fake and the PhotoShopped.
We carry an "encyclopaedic image bank" around in our brains each day, hence the Visual Power Memory Game. Photograph montages are depicted on each playing card based on images "imprinted on our visual memory as icons of the mass culture in which we live."
The player who matches up the most sets of identical twins wins the Twins Memory Game. Sounds easy, doesn't it? That depends on your definition of identical.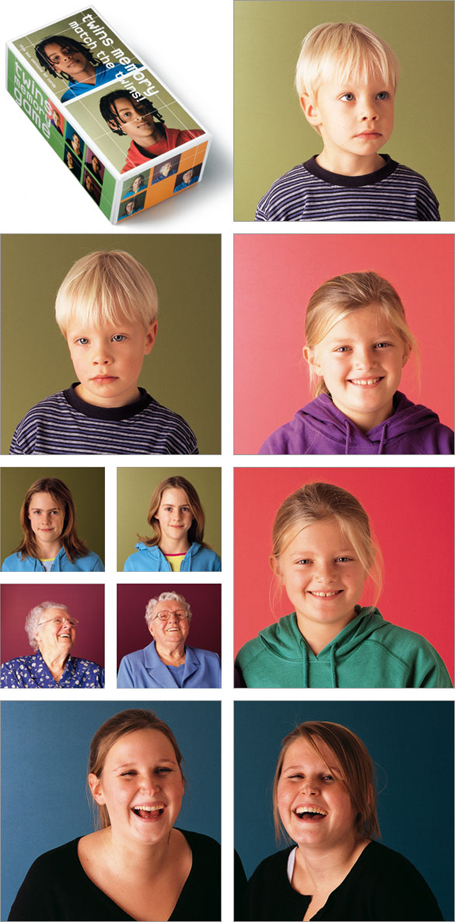 Designed for the fashion-forward and discerning player, the Street Style Memory Game tasks players with finding the correct style combination.
The You are what you eat Memory Game matches the food to the "specific and consistent effect" it has on your body.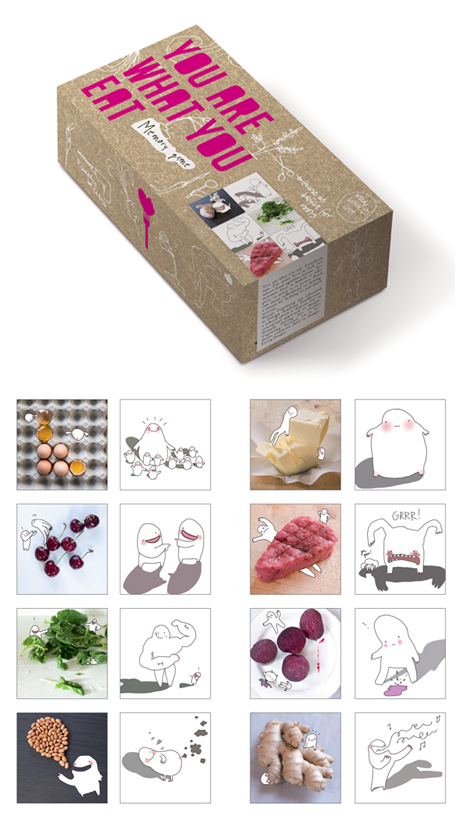 Inevitable, a font matching game. The Quick Brown Fox Jumps over the Lazy Dog Typeface Memory Game challenges the player to match 25 variations of the letter "A" with the same letter type.
Finally, a competitive way to distinguish the men from the boys, and Univers from Helvetica.
Images: BIS Publishers