Kids grow up so quickly, and a great green way to keep up with their constantly changing clothing size is to wield your craftiness and upcycle what you already have on hand to fashion darling garments for them. From cheery dresses made from pillowcases, vintage tablecloths, and daddy's old button-down shirts, to a cardigan made from a flour sack, here are seven ingenious examples of designers upcycling what you'd least expect to create showstopping wardrobe staples for little ones.
Vintage Tablecloth Sets a New Standard as a Gorgeous Dress for Girls
The dress seen at the top of this post was fashioned from a vintage 1950's tablecloth! The next time your tablecloth gets an indelible stain, consider repurposing it into a sweet summer dress for your daughter.
Vintage Ties Upcycled into One-of-a-Kind Onesies
Your little guy can mix business with pleasure by wearing one of these tiesies to his next formal event, or just to be hip on a daily jaunt! This organic cotton bodysuit features a vintage tie applique that is sure to cause heads to turn, and lots of cooing from admirers.
A Pillowcase Becomes a Bright & Cheery Dress
Your daughter really could make anything look adorable, as evidenced by this pillowcase dress. Who knew bedsheets could look so amazing outside the boudoir? Once you update or redecorate your bedroom, don't throw old sheets to the wind. Make them into clothing instead!
Upcycled Knits Turn Patchwork Girl's Dress
Do you have a ton of t-shirts tucked away? Piece them together into a patchwork dress of various colorful knits, as seen here in this upcycled 'Pocka Pookah Posies' Soren Dress. This is also a great way to preserve the memories often tied to T-shirt purchases, on a snipped scale.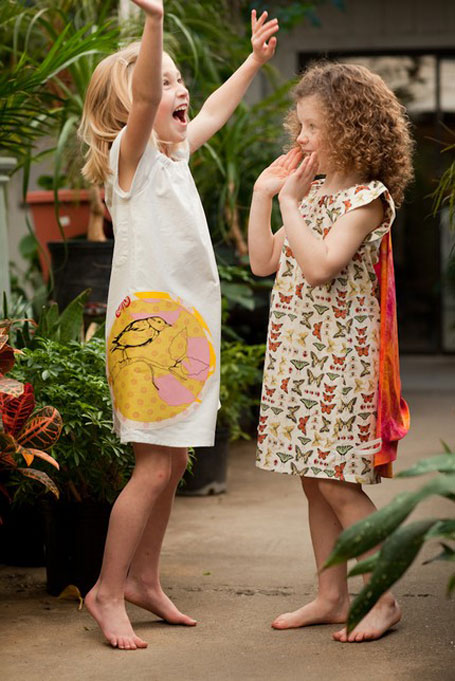 Upcycling Mens' Button Down Shirts into Girls' Summer Dresses
Father's Day is around the corner, and the dresses above were created from daddy's button-down dress shirts. If the dad in your house has retired some of his duds, what cuter way to celebrate his day of honor than by dressing his little girl in one of his shirts, by turning it into a dress?
Woman's Skirt Twirls into a Knot Dress for Girls
Speaking of cast-off clothing. We all have funky patterned skirts hanging around that we're never going to wear again! Turn yesteryear's fashion blunder into today's fabulous dress for your daughter. Can you believe this knot dress was upcycled from a woman's skirt?
A Summer Cardigan Cooked Up from Reclaimed Flour and Seed Sacks
One of the most impressive upcycling feats yet, these handcrafted, one-of-a-kind enchanting summer cardigans were made from reclaimed flour and feed sacks!
Inspiration is in the materials all around us. Before purchasing clothing for your kids, consider upcycling the fabrics in your home to create clothing as unique and original as your child.
Images: Blue Eyed Betty, Chirp and Bloom, The Measure