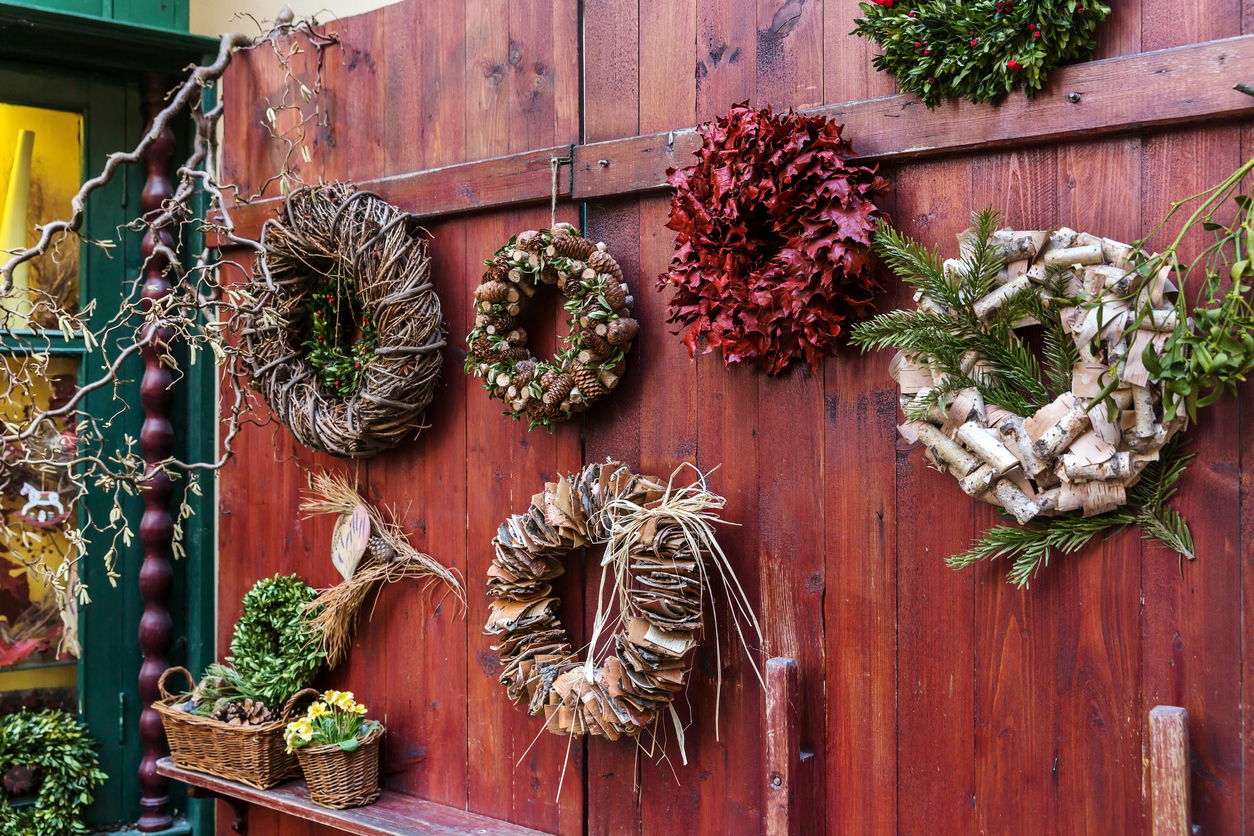 While it certainly seems like the emphasis is on buying at the holidays, it doesn't have to be that way. After all, the focus of the holidays is family, and nothing brings us together like a DIY project. From homemade cookies to handmade gifts, previous generations knew that the secret to the holidays was keeping it simple–and not buying a bunch of stuff that will end up in the landfill — including holiday wreaths.
Keep the holidays handmade and decorate your home with these simple DIY holiday wreaths. Most likely you have some of these materials laying around your house already, or can easily source them from thrift stores, yard sales, or the recycling bin.
Repurposed DIY Holiday Wreath Ideas
1. Tinsel Garland Wreath
While tinsel garland is genuinely horrible stuff to buy new, the chances are that you have some taking up space in your holiday decoration storage bin. Or you might come across it at the thrift store. Wrap it around a wreath frame of your choice.
2. Christmas Ball Wreath
Somehow those of us who celebrate Christmas seem to end with more ball tree ornaments than we can use. Repurpose them by gluing them to a wreath frame for a festive front door wreath.
3. Wrapping Paper Wreath
I recently cleaned out the attic and discovered an old box of holiday wrapping paper. While it wasn't ideal for use as gift wrap, it would have been perfect for making a decoupaged wrapping paper wreath!
4. Toilet Paper Tube Wreath
Believe it or not, toilet paper tubes are great fodder for DIYing up handmade goodies. Cut toilet paper tubes into sections (the thickness depends on your taste preference). Glue them together to form a wreath. Decorate with toilet paper snowflakes (tutorial found here).
5. Mason Jar Lid Wreath
Anyone who uses mason jars knows that the lids rust and are no longer suitable for food storage. They are ideal for repurposing, though. Firstly, paint them, decorate them with washi tape, cover them in fabric, or what have you. Then, string them on a large piece of ribbon for some colorful repurposing holiday cheer.
6. Cookie Cutter Wreath
By the same token, those old cookie cutters you were going to take to the thrift store can also be repurposed into a festive DIY holiday wreath.
7. Christmas Card Wreath
Have you ever wondered what to do with holiday cards after the holidays? Save them and turn them into next year's holiday wreath, of course. The heavy cardstock makes cards the perfect material for cutting out shapes like poinsettias, mistletoe, trees and more. Old cookie cutters make the perfect templates too!
Related on EcoSalon
10 Super Easy Repurposed DIY Holiday Decorating Ideas to Pull Off in an Afternoon
Sip on 5 Fresh Holiday Cocktails, Coffee, and More (Booze Optional)
5 Holiday Cookie Recipes You Have to Make This Winter