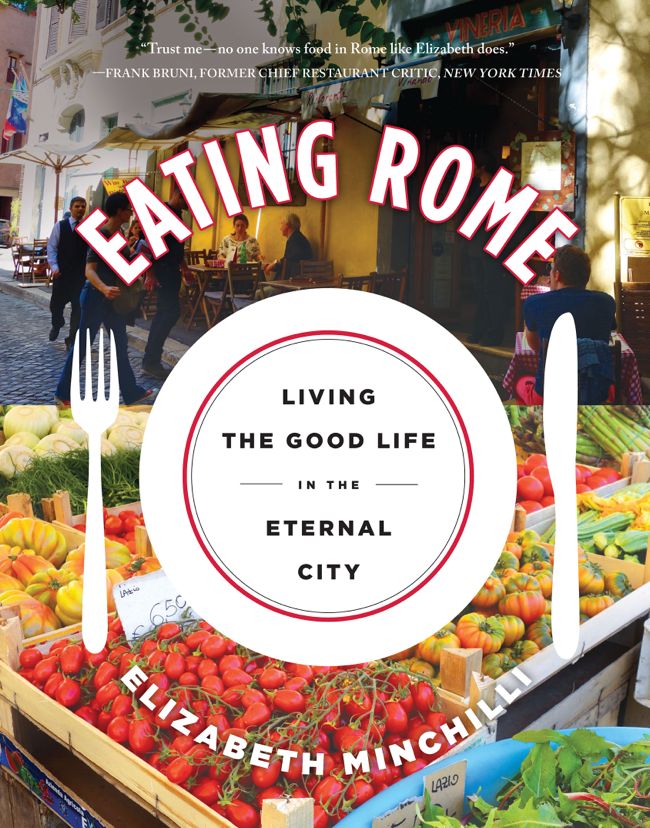 If you're looking for a delicious book that's part cookbook and part travel memoir, you've found it. Elizabeth Minchilli's "Eating Rome: Living the Good Life in the Eternal City" is a unique, honest romp, not through Rome, but through Elizabeth's Rome — and it's a fascinating journey.
Minchilli is an American with a strong connection to Rome. She lived in the city for two years as a child, moved back as a student, and now lives there full time with her Italian husband and two daughters. As a result, she's the perfect authority on food, recipes, culture and addresses for tracking down the best in pizza, pasta and gelato.
Minchilli's voice is everywhere in this book. Each chapter reads like a story and follows a theme: shopping at local markets, ordering coffee, the tradition of cucina povera, the elusive Italian breakfast or imposing Sunday dinner. Elizabeth's personal experience is the thread holding the stories together, but at the end of each chapter, salient tips are listed for those who would take to the Roman streets themselves, along with her favorite Roman addresses and, of course, recipes.
That being said, this definitely isn't a cookbook in the traditional sense — some of the chapters only have one or two recipes, and many have none. But by the end of the book, it feels as though you've been to Rome, eaten Rome. And you have more than enough addresses for the next time you find yourself in the eternal city.
Image: Emily Monaco
I sampled two recipes from the book. After her waxing poetic about the smell of artichokes — for Elizabeth, whose first childhood experience of a market was in Rome, this smell is the quintessential market smell –, I knew I had to make one of the artichoke recipes. I chose the artichokes with peas and mint pesto — the recipe was easy to follow, and the result perfectly executed thanks to Minchillo's tips.
Image: Emily Monaco
The recipes reflect Minchillo's Italian attitude towards cooking: fresh ingredients are key, amounts may be approximate but will always lead you in the right direction, and seasoning is at the diner's discretion. The combination of the freshness of mint with new, sweet spring peas and baby artichokes was delightful; I chose her husband's native Pugliese orecchiette for this dish, and I wasn't disappointed.
Image: Emily Monaco
The second recipe I tried was a favorite of my father's from the first time he visited Rome — the experiences that Elizabeth details of her parents' first journey there reminded me of the memories my father tried to recount of discovering trattorias with effortlessly delicious dishes. I wondered if Elizabeth could finally open the doors to the secrets of this elusive dish.
Image: Emily Monaco
I have tried for years to replicate amatriciana, my father's favorite, to no avail, but with Elizabeth's recipe, simplicity becomes the key to success. Slowly rendering the fat from the guanciale and sautéing the onions in this reserved fat makes for an unctuous sauce that clings perfectly to the bucatini. Elizabeth knows what she's talking about.
Of course, this isn't Minchelli's first foray into the subject. Some may be familiar with her blog, where she details life and food in Rome. In fact, her gift with blog writing is evident in the style of the cookbook: many of the stories seem pulled from the blog, which means that occasional repetition can be found, but each chapter is such an individual gem that it doesn't really matter.
Some will come to this book for the recipes, others when they plan to visit Rome, for the addresses that Elizabeth has spent years curating — she's even developed three food apps for exploring the best places to eat in Florence, Rome and Venice. But while I'll definitely be keeping bookmarks on recipes and addresses, coming back to this book will most definitely be due to a desire to revisit some of her nostalgic, often funny but always fantastically honest stories
Related on EcoSalon
Book Review: Most Good, Least Harm
Book Review: Farm City, The Education of an Urban Farmer
Lisa Jervis's New Cookbook: A Manualfesto for Easy, Healthy, Local Eating
Top Image copyright Elizabeth Minchilli and St. Martin's Press