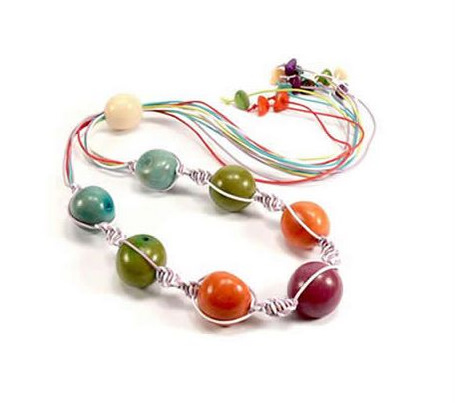 A Boticca necklace giveaway for two lucky winners.
How long do you think it'd take to establish the following: an online boutique offering in excess of 6,000 items from over 240 designers in more than 40 countries on 6 continents, and a total of $2.5 million in investments from the likes of Links of London and the founder of Saba? Whatever your wildest guess, we're betting it's not 12 months.
Even though Boticca was only founded in October 2010, its rise has been meteoric – partly due to some very high-profile customers including Eva Longoria, Cameron Diaz, Pixie Lott and Victoria Beckham, but also because it's a brilliant idea, brilliantly executed. It's free for an independent designer to set up shop on the site (although there's a selection process, equating to invite-only, to ensure the quality remains high) – and Boticca takes just 25% of any sales revenue, with the remaining three quarters of the sale price going directly to the designer. Compared with the 60%+ deductions of going through a luxury retailer, it's an attractive business model.
The Happy Mood Adjustable Necklace (top image) is created by Caipora, a collective of designers working through Boticca – and it's crafted from vegetable ivory, a material we've been fans of for years.
We were lucky enough to catch up with Caipora's founder Zel Albuquerque, to find out why she's chosen ethical jewelry-making as a way of life and as a platform for change…
1. Give us a little insight into what it takes to run an ethical jewelry business.
I think that you need to have the ability to combine a love of fashion with a passionate belief in being environmentally responsible.
2. How do you source your materials?
The natural materials are sourced through riverside communities' native knowledge as well as through eco-friendly merchants. Golden grass and seeds are collected during periods of harvest and off-cut materials from other industries are recycled. Most of these recycled materials are regulated by bodies such as the Forest Stewardship Council.
3. What sustainable practices do you follow?
We follow a bunch of sustainable practices such as:
– Recognizing the importance of recycling all materials
– Contribute to the sustainability of endangered areas
– Protecting the environment as our designers ensure to use only easily replaceable natural materials
– Improving the social condition of those who are involved in the creation of the jewelery
– and finally, guaranteeing impeccable quality and finish in every one of our designs
4. What provided the inspiration for a line that embraces sustainability principles?
The ideal of adding more beauty and meaning into people's life.
5. How do you think design has the potential to influence how people think about sustainability and the environment?
Through meaning and its positive attitude. Some choices in design can represent accomplishments, such as – respect, beauty, happiness, health, wealth and meaning. Some choices in design can preserve valuable principals, embrace restrictions and strive towards a better relationship between the environment and ourselves. I believe beautiful and ethical designs can make people feel proud about their purchases and naturally provide something extra, unique and representative. It reinforces the aesthetic and what it brings to the wearer.
To celebrate the spirit of Boticca, we're offering a Caipora necklace giveaway!
We're giving away two of them to two very lucky readers – and one of them could very well be you. How do you make yourself eligible? By subscribing to our very own Boticca newsletter or Boticca's (if you haven't already), by following these links:
 Boticca: enter your e-mail address at the top of their homepage…
…and EcoSalon: click "Subscribe", handily lit up in red on the right, here!
Subscribe by December 20 and you'll be entered!