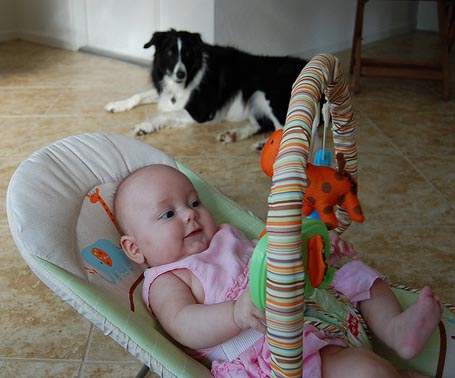 Nothing is more exciting than bringing home your brand new bundle of joy! But for your dog or cat, a new baby can be a stressful change. However, there are a few steps you can take before and after your baby comes home to make the transition easier on your pet.
Practice Makes Perfect
Dogs are creatures of habit. Before baby is born, habituate your dog to baby-related sounds, smells, and routines. Je'ree Hamlet, a dog coach and owner of The Dogspert in Washington, DC, suggests setting up the crib, baby swing, bouncer seat, and even the car seat several weeks before your baby is born to allow your dog to sniff and explore. Purchase a small baby doll and put the lotion you plan to use on your baby on the doll to let your dog adjust to new smells. If your dog is noise-sensitive, download baby sounds to play for your dog. Desensitize your pet to as many things as possible before baby comes home.
Training tip: If your dog seems nervous or scared of all the new baby products, encourage him to be brave! Each time he sniffs or peeks at a new item, praise him and give him a treat.
Arrange Introductions
If it's possible, arrange for your dog to have some exercise on the day you're coming home with your new baby. Ask a friend or neighbor to take him for a walk or to the dog park to expel some of his energy. When you get home, hold your bundle of joy close to your chest while allowing your dog to sniff. Do not discourage your dog from sniffing – and maybe even giving a little lick – because you don't want him to make a negative association to the newest family member. If your dog becomes overexcited or tries to jump, simply turn your back to your dog until he settles down. Then turn back and allow him to sniff more.
Keep the Peace
Consider whether you want to allow your dog into the nursery or if you want to keep that room off-limits. Hamlet suggests waiting a couple days to make sure your pet is respecting your new baby. "You especially don't want him wandering into the nursery at night, when you're sleeping," she said. So even if you are going to allow your dog into the nursery, be sure to close the door or set up a baby gate at night.
Maintain Order
While caring for your little one requires all your time and attention, it's crucial to still pay attention to your dog or cat. Consider spending the first five minutes of your baby's naps to scratch your pet or throw his favorite toy in the living room. Make sure you're exercising your dog consistently – a bored, pent-up dog can be a troublemaker. Put baby in a sling or stroller and head out for family walks, which are not only great for exercise, but they're great for reinforcing your bond with your dog.
Most importantly, never leave your baby unattended with your dog. No matter how friendly your dog might be, dogs can become overexcited or playful and accidentally hurt a delicate little baby.
Images: jilbean3, Lunchbox Photography