Americans are no strangers to authentic Italian food, and Bay Area residents know it well.
In the 19th century, there were more Italian immigrants on the Pacific coast than in New England, and their influence has not waned: today, San Francisco's North Beach neighborhood is a bustling epicenter of Italian-American cuisine. But Italian and Italian-American are not synonymous, as Chef Valentina Guolo-Migotto noticed when she arrived in 2006 and founded Ca' Momi, a restaurant and vineyard that seeks to provide authentic Italian food to the Bay Area.
Ca' Momi is a complete food experience, encompassing a vineyard, restaurant, and casual go-to market. It describes its food as "Obsessively Authentic Italian," something that Chef Guolo-Migotto says is often surprising to clients accustomed to Italian-American food.
"It's challenging and at the same time extremely rewarding to both disappoint and exceed our guests' and clients' expectations at the same time," she says. "Often guests walk through our door with a predetermined concept of what Italian cuisine should be, but when they don't find the garlic bread and spaghetti and meatballs, they've got to take a leap of faith to trust in our heritage and commitment to the history and culinary authenticity of our home; to let go of their preconceptions and love us."
Neither the red-sauce type of joint that most Americans think of when they evoke Italian food nor the sort of Italian-inspired product-based restaurant that seems to be so popular these days in a region where chefs are constantly renewing and revisiting recipes, Ca' Momi is all about authentic Italian food, made with time-tested recipes.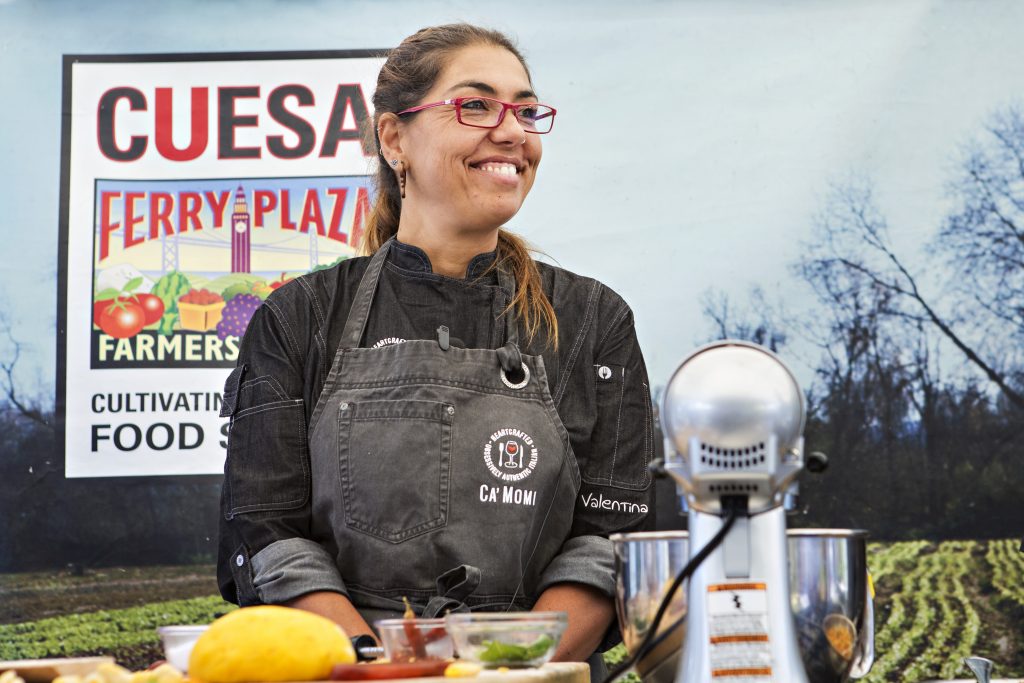 "Everything we serve is culled from history," says Guolo-Migotto. "It's sometimes a hardship, but the creativity in our cuisine comes from the mission to produce our recipes with historic accuracy with the best quality ingredients we can."
But finding the ingredients of truly authentic Italian food wasn't as easy as it seems. When Chef Guolo-Migotto realized that she didn't have easy access to certain key items from her native Veneto region, like delicate puntarelle chicory, Chinese dates, and different varieties of radicchio like castelfranco and Treviso, the team decided to grow them on-site.
Today, the Nicadado farm supplies about 30 to 40 percent of the produce for the restaurant and 100 percent of that of the Osteria and Enoteca.
In the winter season, this means that guests can enjoy traditional dishes like cappelletti con radicchio e zucca, a recipe that Guolo-Migotto says is "a perfect amalgamation of my favorite flavors."
"It takes on this wonderful bitterness from the radicchio that is perfectly offset by the nutty sweetness of the butternut squash," she says. "These two ingredients just play perfectly in the pan to create the most buttery and creamy sauce without the need of dairy to bind them."
A heavy hand of piave, the indicative cheese of Guolo-Migotto's region, does add a bit more richness to this dish.
Puntarelle chicory, meanwhile, is served with an anchovy vinaigrette and a nice amount of lemon.
"Think of the best aspects of the Caesar salad," she says of this dish that flies out of the kitchen so quickly that the farm can hardly keep up with the puntarelle demand.
While the folks behind Ca' Momi are resolute about not caving to outside influences as far as the menu is concerned, they have been inspired to create as sustainable a production as possible. While Nicadado does not yet hold an organic certification, composting is key — everything from pizza oven ash to vegetable scraps, and everything is grown as naturally as possible.
It's clear that aspiring to serve food that is good, clean, and fair, is as important as authenticity in this restaurant, which is remaining resolutely and refreshingly grounded in tradition.
Related on EcoSalon
7 Cool, Local Restaurants Where You Can Get a Meal You Can Feel Good About
Is Stealing Food Legal If You're Hungry? Italy Says Maybe
Book Review: 'Edible Memory: The Lure of Heirloom Tomatoes and Other Forgotten Fruits' by Jennifer A. Jordan