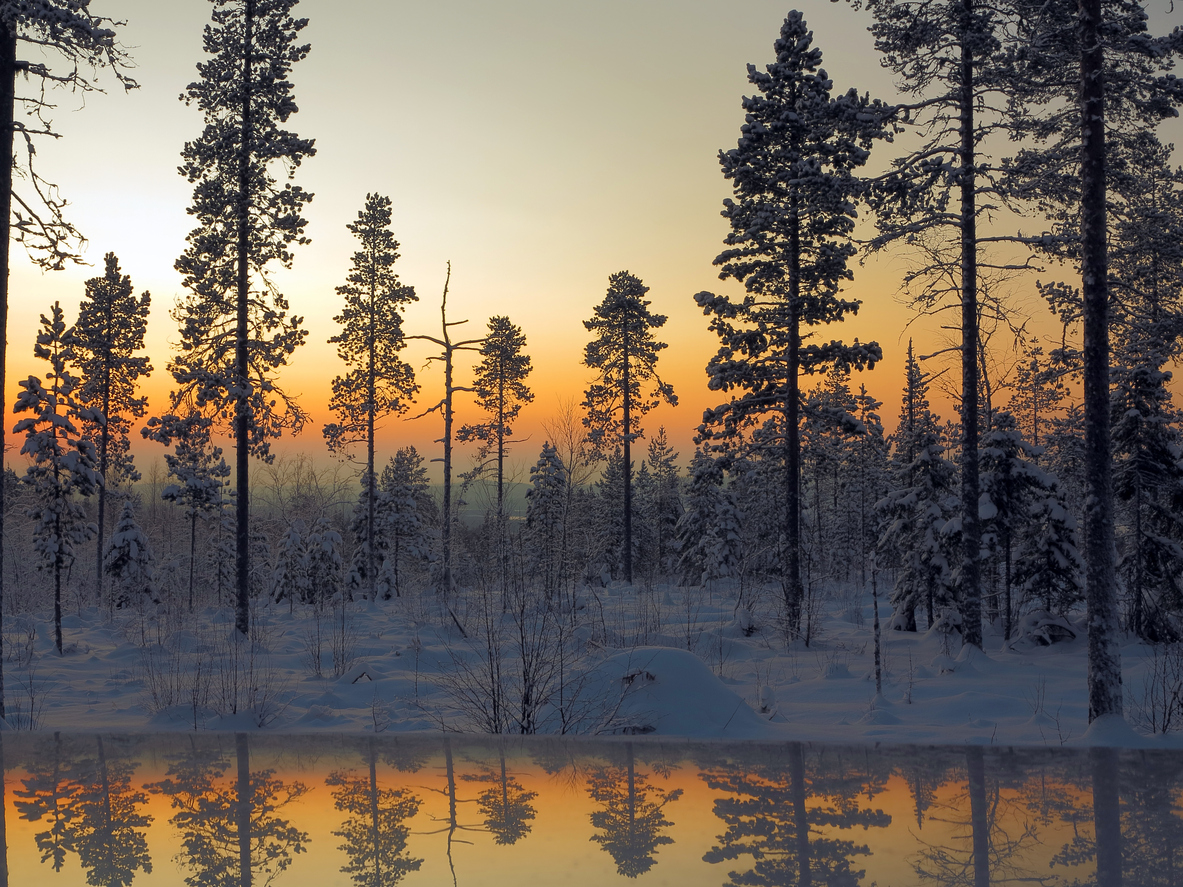 A lot of people had a pretty sucky 2017. Although many of these  changes happened at an international and national level, their effects got real personal. Thankfully, the winter Solstice, the first day of winter, or Yule, is also the perfect time to look inward, reflect on it all, and then of course, let it go.
The meaning of the Winter Solstice
Winter is the ideal time for reflection because it's the time the world becomes still. Plant life ceases, animals hibernate, and the snow and cold often force people to stay indoors. In addition to reminding humans to stay still and reflect, the solstice also marks the shortest day of the year. This lack of light can cause a lot of distress for many people. However, on this day—the shortest day of the year—the solstice should remind us that longer days, and more light, are just around the corner.
"When we look to the symbolism of this season, it is a time of new beginnings and the formulation of new intentions," writes Bri, founder of the Hoodwitch, a website dedicated to reporting on everyday magic for the modern mystic.
"For as dark as it is, it is a time of rebirth. It represents the time of the first planted seed, that with the gift of the returning sun, will begin to grow. Its also no coincidence that New Year's holiday, so close to the Winter Solstice, marks the time of the new year and a time of setting intentions."
Reflect and welcome the light
2017 was rough for most everyone I know. After all, constant news of depressing political decisions, nuclear war scares, multiple sexual assault allegations, and overt racism and homophobia, will get any well-meaning human being down.
But even though all the negative news wore on me and my friends and family, we've all made it. In fact, we're more educated about political and social issues than ever before. In a way, this year has "gifted" us insight.
So, if you've also had a rough year, I welcome you to sit down on December 21 and reflect on the positive things you learned from 2017's trials.
And if you'd like to travel deeper into personal reflection, you also can try the Hoodwitch's simple and short winter solstice ritual.
The ritual
The Hoodwitch recommends sitting in a dark room and meditating on the evening of the winter solstice. During your meditation, ask yourself how the darkness feels and what these feelings mean to you.
Then, light a single candle and meditate on the light—this is a yogic meditation practice called trataka, reports the Hoodwitch. "Let your gaze be soft, your lids heavy, and focus your eyes on the light of the candle. Again, notice what your experience is and how you feel."
After you've completed this ritual, consider journaling your intentions for the coming year. "You might even set intentions for the following time frames: 3 months, 6 months, 9 months and 12 months," adds the Hoodwitch. "These times marks the equinoxes and the solstices of the coming year and on these special days give you the opportunity to check back in with your intentions and explore how your journey has unfolded thus far."
Related on EcoSalon
5 Winter Packing Tips and Product Picks for a Greener Holiday Vacay
6 Wonderfully Simple Ways to Celebrate the Winter Solstice
5 Cozy Loungewear Picks for Luxurious Winter Lounging: Friday Finds