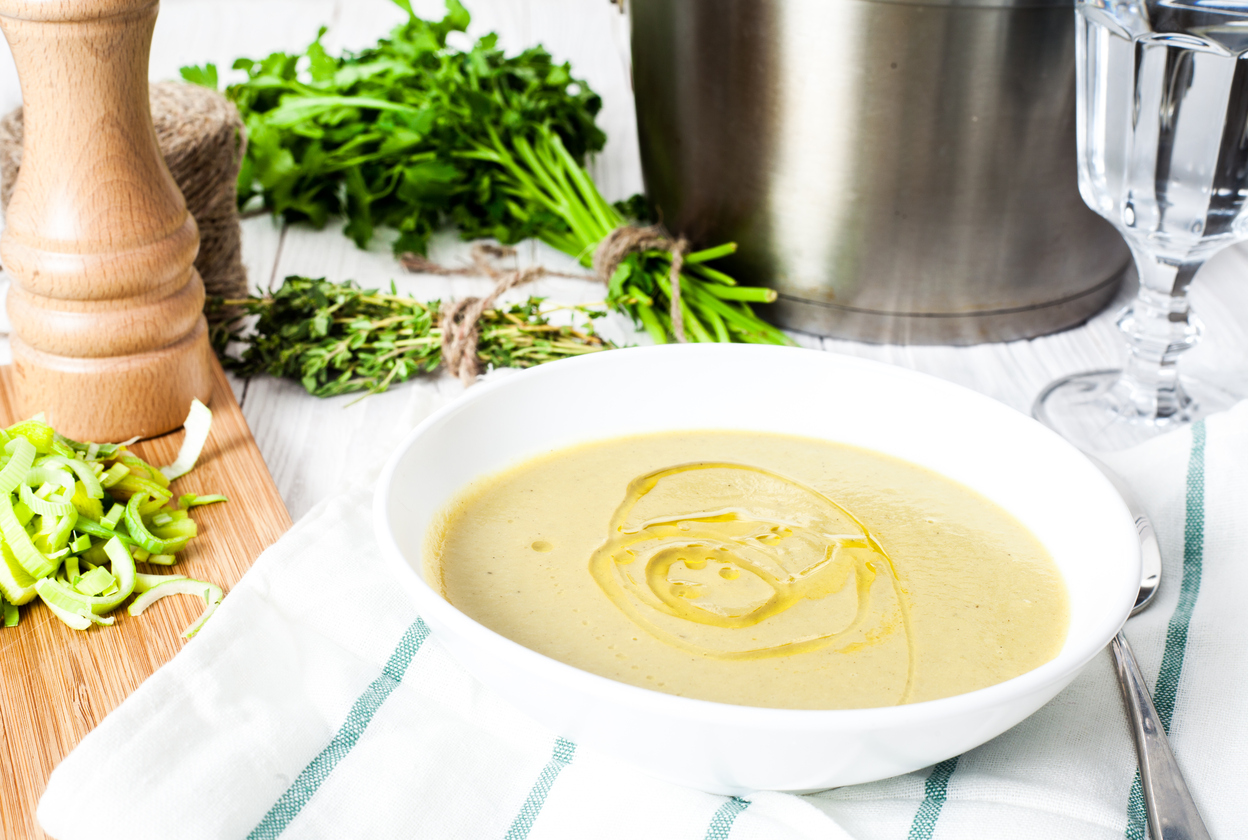 If you are under the impression that you need the cream, butter, and cheese to make a rich, velvety soup, then prepare to be pleasantly surprised with this cheesy vegan potato soup recipe.
When I consume soup, I want to eat it, not drink it. That is, I want it thick, creamy, and filling all at once. But usually those attributes are found in a version filled with high-fat, high-calorie, animal-unfriendly ingredients, which is so not my thing. I want it all – every face of comfort in a bowl that happens to be body and animal friendly. Enter: this cheesy vegan potato soup recipe.
Don't Fear the White Potato
In this soup recipe, the white potato lends a thick, creamy consistency that rivals what is usually offered by a white flour/butter roux and cream.
The white potato often gets a bad rap because it's considered high in carbs and glycemic index and low in nutrition – typical diet trap. This has led to the replacement of the white potato and its so-called "empty calories" with the sweet potato and its oft-proclaimed nutritional prowess. But these assumptions and righteous claims couldn't be further from the truth. Sure, potatoes have carbs, but the body needs carbs to survive, and sweet potatoes can even be packed with more carbs (34 grams to white potato's 27 grams). If your body is particularly sensitive to carbs, then avoid potatoes. But if you are choosing between white potato and sweet potato, don't consider it a competition, but rather a tradeoff. Sweet potatoes have more fiber and vitamin A while white potatoes have more iron, magnesium, and potassium.
Bottom line: don't fear the white potato with as much enthusiasm as you embrace the sweet potato. Just eat it! And in this recipe, the white potato is key to the soup's consistency.
What You'll Need
This cheesy vegan soup recipe is filled with a lot of other simple ingredients. Leeks also take main stage, as do the "cheesy" nutritional yeast, rich white pepper, and acidic white wine vinegar. Fresh chives and dried thyme add a dose of fragrance and earthiness to finish the dish off.
Equipment wise, all you need is a cutting board, a knife, and a pot. Now, let's get cookin'!
Cheesy Vegan Potato Soup Recipe
Serves 4
Ingredients
2 tablespoons olive oil
2 leeks, finely chopped and rinsed
3 garlic cloves, minced
2 cups water
1 cup homemade almond milk

2 pounds Yukon Gold potatoes, peeled and chopped into one-inch pieces
1 teaspoon dried thyme
1/3 cup nutritional yeast
1/2 teaspoon white pepper
1 tablespoon white wine vinegar
Salt and pepper to taste
Chopped fresh chives for garnish
Directions
Warm a large pot over medium-high heat. Add in the olive oil and leaves. Stir while cooking for about five minutes. Add in the garlic and stir and cook for another minute.
Pour in the water, almond milk, chopped potatoes, and thyme. Bring the mixture to a boil and then reduce heat to a simmer. Let the mixture simmer, uncovered, for another 15 to 20 minutes, or until the potatoes are tender.
Remove the pot from the heat and carefully ladle the mixture into a blender. Let the mixture cool slightly before blending, or be sure to allow the heat to escape while blending, using a thick dish towel to hold the blender's top closed while avoiding getting burned.
Once blended until smooth, transfer the mixture back to the pot and place the pot over low heat. Add in the nutritional yeast, white pepper, vinegar, salt, and pepper. Stir until the nutritional yeast breaks down and give the soup a lightly yellow hue.
Serve the soup in bowls and garnish with chopped fresh chives. Enjoy!
Related on EcoSalon
Immunity Boosting Winter Vegetable Soup Recipe
10 Best Winter Vegetarian Soups
7 Homemade Chicken Soup Recipes from Around the World