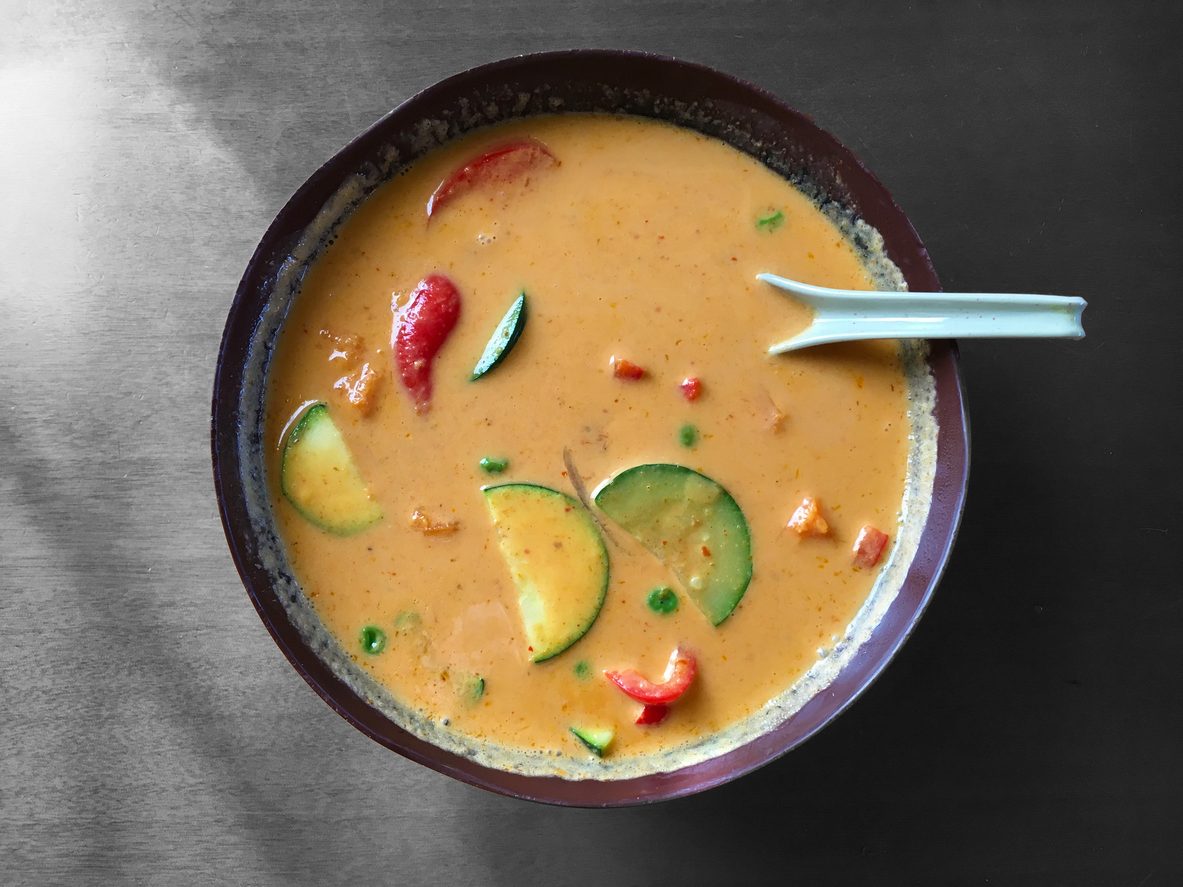 Whipping up a vegan coconut curry bowl is as easy it gets, but far from boring.
Food prep can be quite the 'itch but so too can cooking up an elaborate meal every night. For this reason, I've resorted to some tried-and-true recipes whose basic outline can be easily altered whenever I am craving different grains, herbs, spices, vegetables, or savory/sweet tones. This coconut curry recipe is one of those staples for me. In this version, I pair zucchini and brown rice with curry spices and coconut milk. The result is nothing short of delectable. Each time you make it, you can add, swap, or takeaway an element according to your taste preferences of the day.
This recipe is heavy on the curry spices, but there may be days when you want more neutral flavors. If so, reduce the spices to this recipe down to the salt. Meanwhile, if you're craving more crunch or chew, try adding in dried currants or pistachios. Whenever zucchini is no longer in season, replace it with another vegetable, such as broccoli, cauliflower, Brussels sprouts, or leeks. You can't go wrong and you definitely won't get bored!
Coconut Curry Recipe with Zucchini
Serves 4
Ingredients
1 large zucchini, chopped
1 onion, chopped
1/4 teaspoon sea salt
1 teaspoon coconut oil
1 1/2 cup coconut milk
1/2 teaspoon ground cumin
1/2 teaspoon ground cardamom
1/2 teaspoon ground coriander
1 teaspoon ground turmeric
1/4 teaspoon dry mustard
Dash of cayenne
1 tablespoon arrowroot powder
2 cups cooked brown rice
Directions
Cook the brown rice according to package instructions. Once finished, set it aside to await serving.
In a saucepan over medium-high heat, add the coconut oil, zucchini, and onion. Season with salt and stir. After three to five minutes, or when the onion begins to turn translucent, transfer the mixture to a plate and return the saucepan to the stove.
Using the same saucepan, add in the coconut milk and spices. Whisk. Next, whisk in the arrowroot powder. Whisk until all of the clumps are dissolved and the mixture has thickened.
Scoop the rice into serving dishes and top each with an equal amount of the zucchini mixture followed by an equal amount of the coconut curry sauce. Dig in!
Related on EcoSalon
The Sexism of Food and Our Kitchens
Eco-Friendly, Healthy Dining Starts with the Proper Tools
Is 'Authenticity' Ruining Good Food?