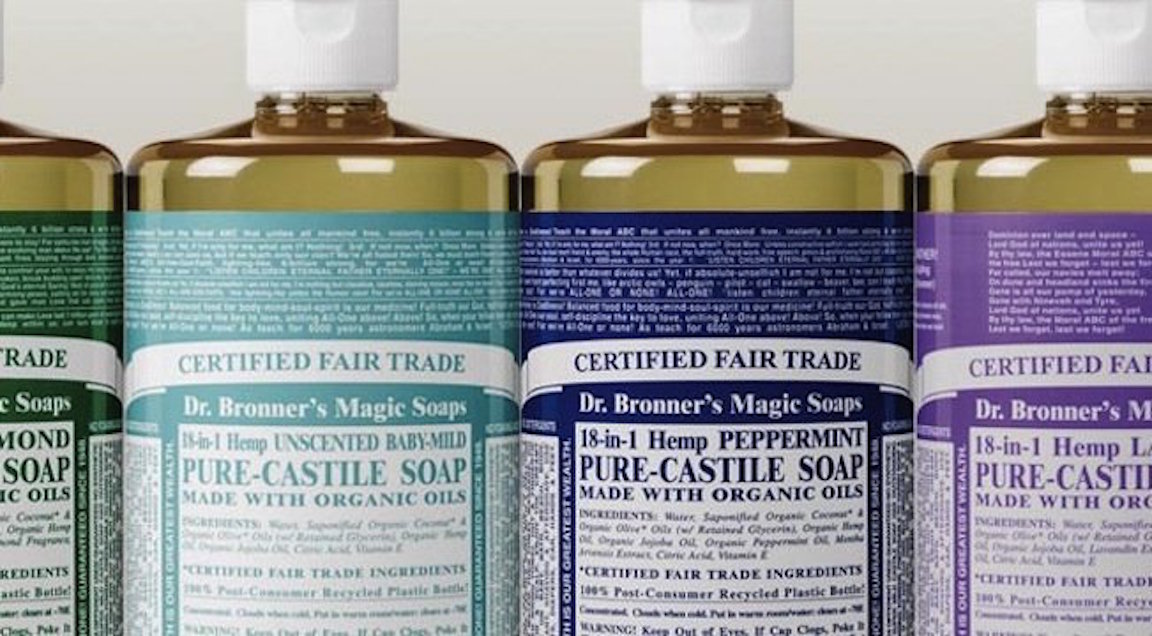 What does the future of PTSD treatment look like? If you ask the folks at Dr. Bronner's, the leading natural brand of soap and personal care products known for iconic labels and a culture of supporting numerous social and environmental causes, it's pretty psychedelic.
Dr. Bronner's has announced plans to contribute $5 million over the next five years to the non-profit Multidisciplinary Association for Psychedelic Studies (MAPS), in support of its work in exploring MDMA-assisted treatment for sufferers of PTSD(post-traumatic stress disorder).
If funding psychedelic drug trials seems a little outside the wheelhouse for a soap company, it's not — at least, not for the Bronner family.
Founded by Emanuel Bronner in 1948 , soap making became a vehicle for his "all one" message of love and unity, one that underscores the Bronner family commitment to healing both on the personal and on the planetary levels.
"There is tremendous suffering and pain that the responsible integration of MDMA for treatment-resistant PTSD will alleviate and heal," says David Bronner, Cosmic Engagement Officer (CEO) of Dr. Bronner's. "To help inspire our allies to close the funding gap, my family has pledged $1 million a year for five years—$5 million total—by far our largest gift to an NGO partner to date. In part, we were inspired by the incredible example of Ashawna Hailey, former MAPS Board member, who gave MAPS $5 million when she died in 2011."
"MAPS intends to use the income generated from selling MDMA once it's an FDA-approved medicine to train therapists and set up treatment clinics around the world," says Rick Doblin, Ph.D., founder and Executive Director of MAPS. "Investment into making MDMA a legal medicine will turn MAPS into a self-sustaining organism, exponentially increasing our ability to heal suffering in the world."
The generous gift comes after the FDA gave its approval for Phase 3 drug trials of MDMA-assisted psychotherapy. MDMA (3,4-Methylenedioxymethamphetamine) is the active ingredient in the street drug Ecstasy. It's been successful in treating PTSD and other mental and emotional issues because it increases the release and slows the reuptake of serotonin, dopamine, and norepinephrine—chemicals released in the brain that help to regulate mood, feelings of love, happiness, and compassion.
While its mood-enhancing benefits make it a popular party drug, it's those same benefits that make it a successful tool in processing emotional trauma with the assistance of a trained therapist.
"Our family company, Dr. Bronner's, donates a lot of resources to social justice NGOs and campaigns, including over $1 million to various state-level cannabis legalization campaigns in 2016," notes Bronner. "Collectively, well north of $40 million was raised in the 2016 election cycle alone to end prohibition and stop the enormous waste of taxpayer and law enforcement resources from ruining the lives of upstanding citizens and their families. Even with the Trump administration, momentum is growing to recognize medical cannabis at the federal level and remove it from Schedule 1 of the Controlled Substances Act. Now, we have the opportunity to legalize MDMA as a U.S. Food and Drug Administration (FDA)-approved medicine, to be available in all 50 states, for a total cost that is substantially less than what we as a movement are investing into legalizing medical and recreational cannabis."
MAPS, which was founded in 1986, has been leading the charge in the MDMA pilot studies, having recently concluded Phase 2 pilot studies that led the FDA to approve the further research. If those results are promising — which MAPS is confident they will be — it could usher in legal prescription doses of MDMA for use in therapeutic settings.
"We face enormous challenges globally, and psychedelics—used responsibly—can help us solve them," says Bronner.
If approved for legal use in the U.S., MAPS would use profits generated through sales of MDMA prescriptions to train more therapists, set up more clinics, and continue its research on other psychedelics — a mission both organizations agree couldn't come at a more critical time.
"Our larger goal is to see psychedelic medicine responsibly integrated into American and global culture, readily available to those who need it most," Bronner and Doblin explain, "while helping the rest of us open our hearts and minds to each other and to the miraculous living world we live within."
Last month, EcoSalon ran a series of short films on PTSD including several on the use of psychedelic medicines in the healing process.
Find Jill on Twitter and Instagram
Related on EcoSalon
The Future of PTSD Treatment is Scientific and Spiritual
For the Health Seeker, Micro-Dosing Psychedelics May be the Secret
The Agony & The Ecstasy: 'At Home in the Dark'