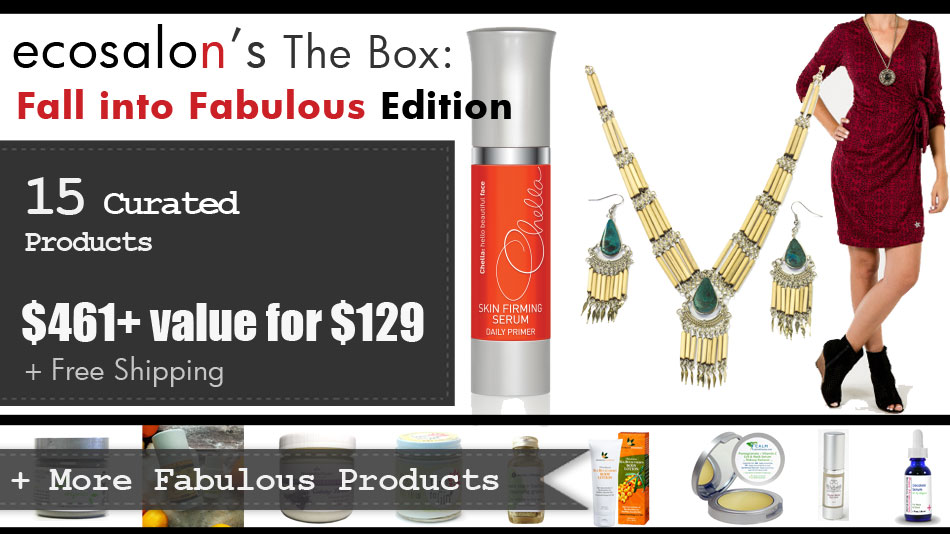 EcoSalon's Fall Into Fabulous Box features items that will keep that glow going strong! September is delightfully colorful and transitional, so celebrate one of the most beautiful months of the year with a box of products worth $461.36–all for just $129 + free shipping!
Sold Out!
We love the spring. We love the summer. But let's be honest: Is there any time of year better than fall? Is there any better sensation than that of an ever-so-slight bite in the air, the fresh, crisp smell of falling leaves? We think not. What better way to celebrate this refreshing time of year than treating yourself to some invigorating new products? Fall into fabulous with our latest Box!
There are only 40 Boxes available.
Beginning on Friday, September 11th, we will reveal between three and four of our fabulous participating brands per day. The Box will go on sale Monday, September 14th, at 8 o'clock AM Pacific Time. So set your timers and mark your calendars–these will sell out fast! Check back daily to see the latest reveals, and read on to discover today's products!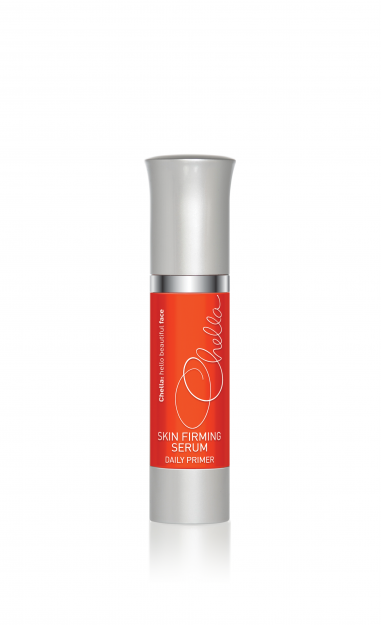 Chella Skin Firming Serum Daily Primer
Is it possible? Immediate results that also last for the long term? It's true! The Chella Skin Firming Serum slips under your daytime facial cream to create the ideal canvas: Skin that's firmer, fully hydrated and closer to perfection. Regular use promotes all-important collagen to stay strong and proliferate, while the primer's rich amino and hyaluronic acids noticeably boost elasticity, firmness and skin tone. Use before make-up application as the perfect pallet prep for optimum foundation coverage!
Value: $90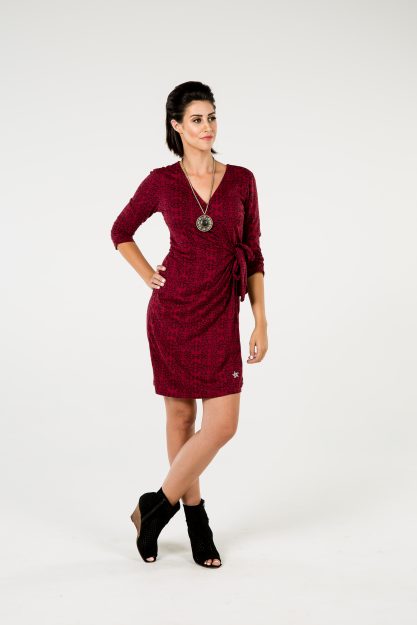 Satva Jaya Dress
Is there anything more universally figure-flattering than the wrap dress? If Diane Von Furstenberg herself said so, it must be true. Fall Into Fabulous Box buyers, you're in luck: Treat yourself to the ultimate day-to-evening look with this v-neck wrap dress from organically-made clothing company Satva. Each box comes with this classic staple dress in a size medium, redefined by an exotic print that expresses elegance and versatility. Made from certified organic cotton, the Jaya dress is also pre-shrunk & bio washed for extra softness.
Value: $59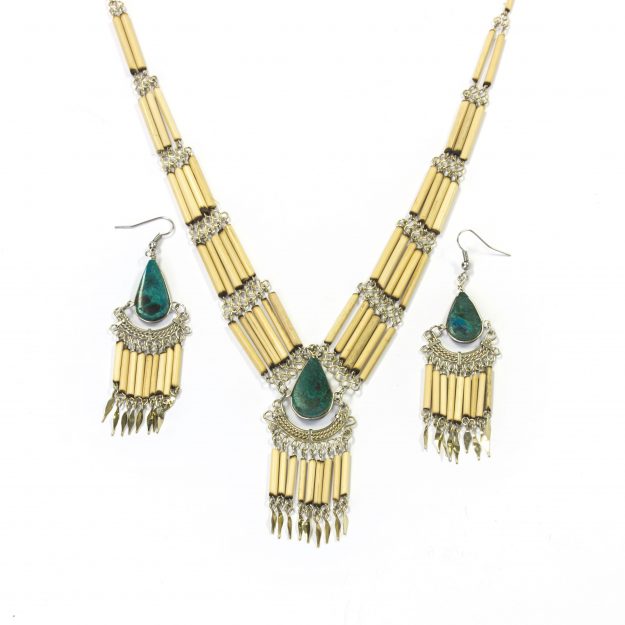 Vavavida Wondrous Feather Set (necklace + earrings)
The Wondrous Feather Set is truly a statement piece. Mixing semi-precious stones and bamboo, this set is evocative of the hippie generation of the '60s and '70s, and perfect for your inner free spirit. This set was ethically handcrafted by skilled and creative Peruvian artisans. Whether painters or wire workers, they all have a passion for what they do and, thanks to fair trade business practices, they have broken the cycle of poverty and started an upward spiral of empowerment and opportunity. Fall Into Fabulous buyers will receive the necklace + earrings set in one of five color variations (sorry, no exchanges): Dark green, dark blue, quartz, black, or light green.
Value: $55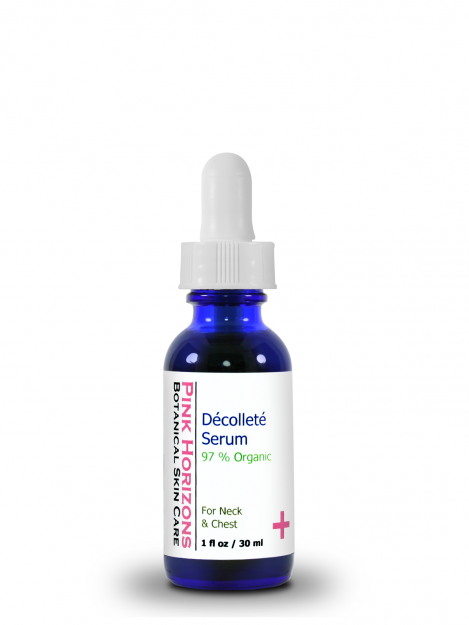 Pink Horizons Botanical Skincare Décolleté Serum for Neck & Chest
NMFs: It might sound dirty, but really, it stands for "natural moisturizing factors". Pink Horizons' Décolleté Serum is rich in these lovely little factors, which work to strengthen the skin's intercellular matrix. That means visibly reduced wrinkles, imparting deep hydration and nutrition to the delicate area of the neck and chest. Made with 97% organic ingredients, this distinct fusion of plant oils provides protection against moisture loss, restoring elasticity to dry or environmentally damaged skin. Rich in vitamins and antioxidants, the Décolleté Serum is a powerful companion to have in your daily skin care regimen!
Value: $48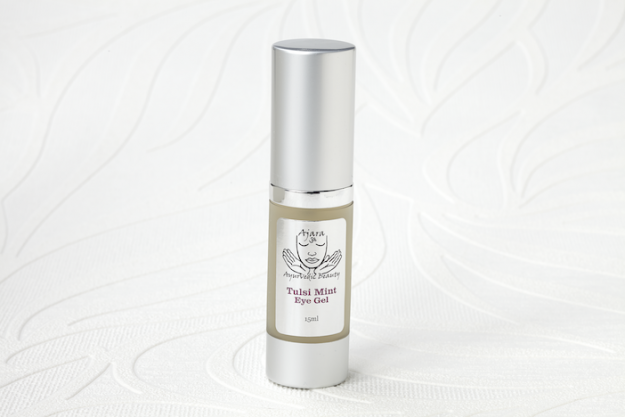 Ajara Ayurvedic Beauty Tulsi Mint Eye Gel
For many of us, it seems, loose skin or puffiness around the eyes has always got us down. Enter Ajara Ayurvedic's Tulsi Mint Eye Gel: A virtual miracle in a bottle. Cools and soothes tired, hot eyes, while diminishing the look of sagging skin and dark circles, adding moisture to the skin. You won't want to leave home without it! Directions: Use twice daily. Tap a drop of gel around entire eye area anytime your eyes need a pick me up!
Value: $36
Revealed 9/12: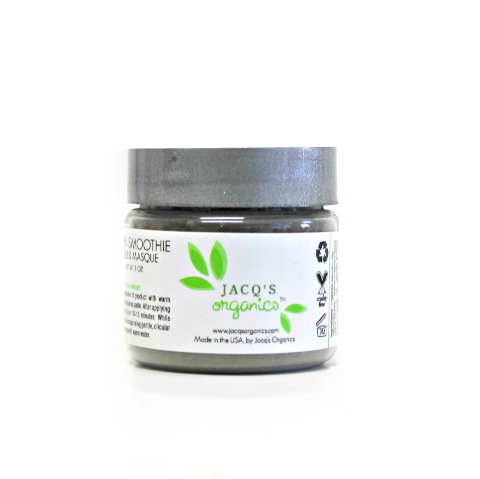 Jacq's Organics Green Smoothie Face Masque Scrub + BONUS $17.50 Exclusive EcoSalon Gift Code
With its refreshing and cooling mint, geranium, ginger and rosemary scent, this two-in-one facial masque and scrub will leave skin feeling revitalized and soft. Jacq's Organics' blend of organic sea kelp, activated bamboo charcoal, rhassoul, and bentonite clay, combined with fresh ground organic almond meal, creates a gentle and effective masque and scrub that provides the skin with a rich source of nutrients, vitamins and omega fatty acids. The active ingredients, omega fatty acids and antioxidants from nuts, herbs, and flowers including Tamanu, ginger rosemary, and peppermint all make up the Jacq's Organics special in-house blend of essential oils that will leave your skin feeling clean and refreshed. BONUS: EcoSalon readers are also entitled to a special $17.50 purchase of their choice on jacqsorganics.com, using the code LOVEECOSALON!
1-oz jar Green Smoothie Face Masque Scrub: $17.50
Exclusive EcoSalon Web Purchase Gift Code: $17.50
Total value: $35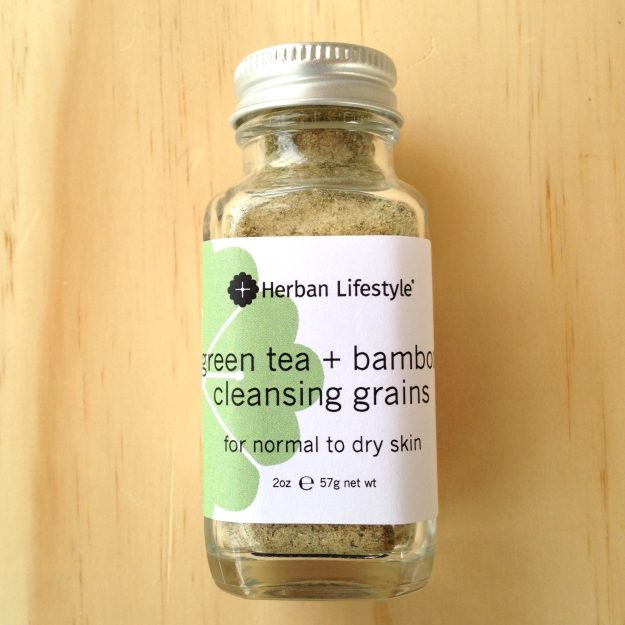 Herban Lifestyle $25 Gift Card Redeemable For NEW Green Tea + Bamboo Facial Grains
Herban Lifestyle's newest line of products, its facial cleansing grains, is designed to keep your skin healthy, glowing and feeling smoothly soothed. These little miracle workers are especially great for gently cleansing, mildly exfoliating, and retaining your skin's natural moisture balance. The grains are made with a rice powder base, a centuries-old Asian skincare supplement, and known for oil-absorbing, soothing, and emollient properties. This 2-oz glass bottle of grains is enough for approximately 30 washes!
Value: $25
NovemberTouch Lavender Whipped Sugar Scrub
Indulge yourself in this completely natural lathering and exfoliating whipped sugar scrub. NovemberTouch's lavender whipped sugar scrub is one of the few the will actually allow you to wash and exfoliate at the same time, without any bad stuff! The natural calming effect of lavender essential oil joins forces with our gentle olive-derived cleanser for a spa experience that is truly one-of-a-kind. NovemeberTouch prides itself on making products that provide a total body experience, with this particular scrub suitable to use as a complete body wash, facial cleanser, makeup remover, softening and nourishing rough or dry skin, or even a foot softening scrub.
Value: $24
Rustic Maka Autumn Pampering Set
Bath salts might just be one of the most underrated skin-pampering resources. Skora Natural Bath Salts combine the power of natural, organic and vegan ingredients with simple formulas that nourish body skin-deep. The mineral-rich combination of Epsom Salts and Dead Sea Salt aim to detoxify and then soften your skin without any harsh or toxic ingredients and perfectly combined with an energizing blend of sweet orange and lemon essential oils – ideal for a refreshing bath soak. This formula was created to work with your body's naturally occurring oils, making it work with your skin, not against it. Also included in the set is Rustic Maka's Pachy Deodorant ​travel ​stick: An effective odor-fighting solution handcrafted with natural, organic and vegan ingredients. Pachy deodorant sticks are formulated to look like a solid but apply smoothly like a cream. And remember, like Rustic Maka's philosophy, less is more: Only need two or three swipes are required!
Skora Bath Salts: $13.95
Pachy Deodorant: $7.50
Total value: $21.45
Revealed 9/13: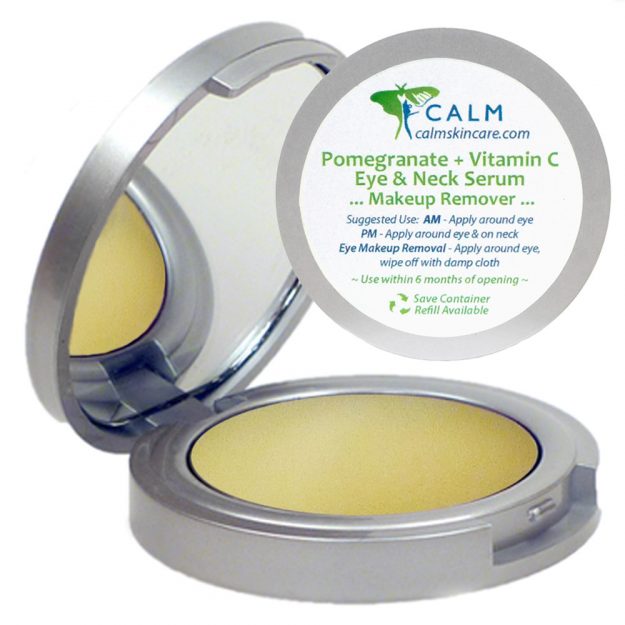 CALM Skincare Pomegranate + Vitamin C Eye & Neck Serum + Eye Makeup Remover
Imagine it: intense moisture for your eyes and neck that doubles as an eye makeup remover. CALM Pomegranate + Vitamin C Eye & Neck Serum + Eye Makeup Remover is replete with antioxidant-rich vitamin C, working in tandem with pomegranate oil to provide soothing moisture and stimulate the growth of collagen, while jojoba oil (which, fun fact, is the closest oil to our skin's natural sebum) reduces water loss and enhances flexibility and suppleness. This mutli-purpose serum helps reduce fine lines and improve texture for eyes and neck and, as an alcohol free eye makeup remover, can also gently remove your smoky eye after a night out, without irritating side effects. As an added benefit, this serum contains olive and coconut oils to leave skin soothed, deeply moisturized, and protected against environmental stress. It's delicate and lightly scented for men and women!
Value: $20
Farm To Girl Fountain of Youth Face Cream
Namibian women rely on marula oil, a rare, exceptionally light and delicate African nut oil, rich in essential fatty acids and antioxidants—to hydrate and rejuvenate skin. Farm to Girl has created a simple, yet revolutionary Fountain of Youth Face Cream by fusing marula oil, a superfruit emollient, with some of the finest natural ingredients from around the world. Sun-kissed Pacific coconut oil, lavender oil and Randy Oliver's Californian Happy Bee beeswax work together to create this lotion's powerful antioxidant properties and its ability to smooth the appearance of fine lines and scavenge free radicals that contribute to skin aging. At Farm to Girl, the passion is empowering women. The company gives back 20% of profits to support women's health and education and, in April 2015, the company's founders traveled to the Limene Nelumbu Marula Cooperative to create a Farm to Girl College Scholarship to aid young women in the cooperatives where their marula oil is sourced attend university. By linking women consumers, growers and small producers, Farm to Girl not only supports rural livelihoods, but also aims to help uplift an entire generation.
Value: $17.95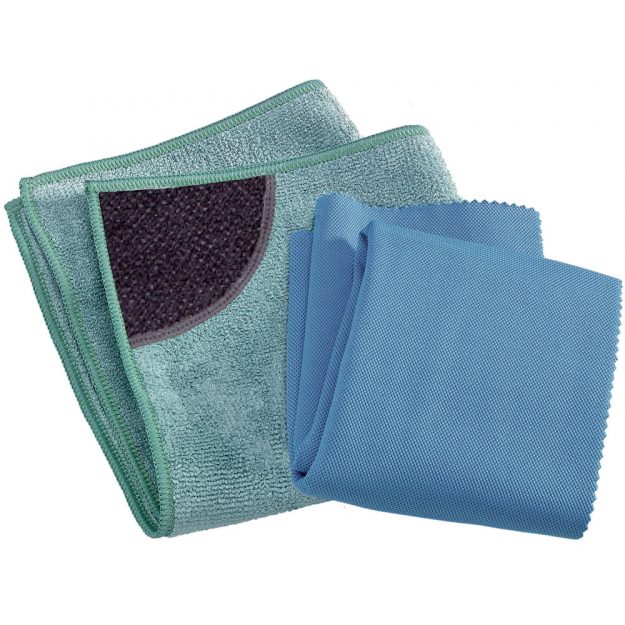 e-cloth Kitchen Pack
Using just water, e-cloths provide the best clean and are proven to remove over 99% of all bacteria (including e-coli and listeria) from hard surfaces. It's the e-cloth products' special fibers: They attract moisture and oil, then lift and trap dirt, grease, grime, mildew, and bacteria in the cloth. Each cloth is guaranteed for 300 machine washings! Fall Into Fabulous buyers will be treated to e-cloth's Kitchen Pack, featuring the Kitchen Cloth, which contains a unique scrubbing pocket with extra cleaning power to stuck-on and dried-on messes. Using just water, the Kitchen Pack offers perfect, chemical-free cleaning for all hard kitchen surfaces including stainless steel, enamel, ceramic, glass, chrome, granite, marble, slate, quartz, tile, and wood. Also in the Kitchen Pack is e-cloth's Glass and Polishing Cloth, which, when used dry on water-dampened surfaces, brings a smear- and lint-free finish to windows, mirrors, stainless steel, chrome, granite, marble and all other shiny surfaces. It's true chemical-free cleaning!
Value: $14.99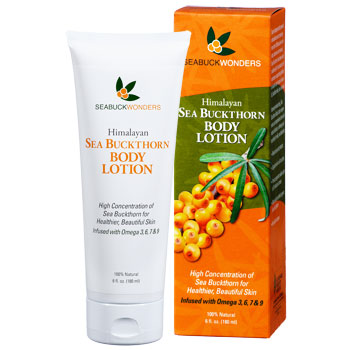 SeabuckWonders Sea Buckthorn Body Lotion
With a potent infusion of Omega 3, 6, 9, and the powerful skin-healing Omega 7, SeabuckWonders Body Lotion provides nourishment with age-defying properties for soft, healthy skin. It's intensely moisturizing! Sea Buckthorn Body Lotion rejuvenates and replenishes the skin's natural balance, softening and nourishing for silky, touchable skin. Its high concentration of sea buckthorn oil allows for superior moisture retention while protecting the skin from signs of aging and the effects of exposure to the sun. Made with certified organic Sea Buckthorn, this body lotion is vegan, non-GMO, and suitable for all skin types.
Value: $14.97
Total Value for the Fall Into Fabulous Box: $461.36
Sale Price: $129 + free shipping! That's a 72 percent savings. It's our way of saying, "Go ahead. FALL in love" …with these eco-fabulous products!
Sold Out!
The Box will go on sale Monday, September 14th, at 8 o'clock AM Pacific Time. So set your timers and mark your calendars–these will sell out fast (the last one sold out in under one hour)!
Note! We recommend purchasing The Box from a desktop device vs a mobile device (while we dial in mobile purchases).
Offer good anywhere in the continental U.S. International shipping is not available at this time. Buy, one, two, or three boxes! Please allow up to three weeks for delivery. All sales are final. Due to the nature of this exclusive one-time sale, we cannot accept any returns or exchanges. Any inquiries or concerns regarding purchased Boxes must be submitted via Customer Service within 30 days from date of purchase.
Say hey to Amanda on Twitter or Instagram
Related on EcoSalon
5 Fall Makeup Colors We Can't Wait to Wear
6 Spicy Fall Beauty Trends to Wear Now
5 Stylish Cover-Ups for Late Summer, Early Autumn Nights