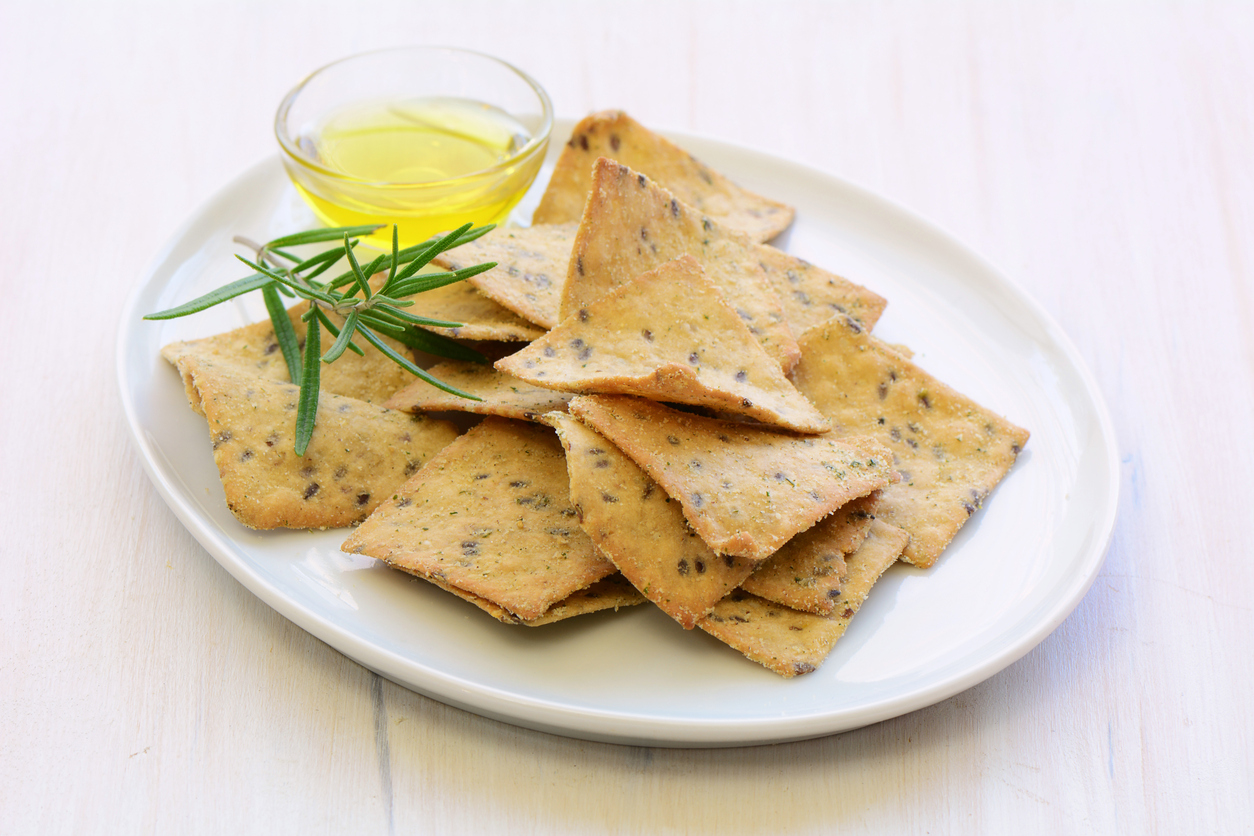 You're just five ingredients away from enjoying the crisp and crunch of this gluten-free and vegan rosemary crackers recipe.
It's easy to feel reckless with your diet when you're a snacker. But if you reach for unprocessed snacks instead of processed, high-sodium ones, there's no room for shame in your snacking game. This gluten-free and vegan rosemary crackers recipe is a five-ingredient concoction that has as much snap and flavor as it does wholesome nutrition.
What's in Them

I'll keep this section as short as the ingredients list: gluten-free flour mix, flax meal, rosemary leaves, coconut oil, and water. We're talking high-fiber, high-protein crackers with the high-heat resistant fat coconut oil and the earthy fragrance of rosemary.
Why Homemade
Not many people make their own crackers, especially when there are so many varieties on the market, including gluten-free and vegan ones. But even when something seems perfect – say, a brand that checks off all of your dietary preference boxes – there is that silenced understanding that any company will still try to cut corners in ways the home cook (that's you!) wouldn't dare.
The idea of homemade crackers also feels intimidating – it seems like it would involve special mass-production machinery to achieve that iconic cracker crisp, thinness, and uniformity. But crackers are actually very easy to make. In fact, they're nearly foolproof. So, why not spice up your cracker game with a little homemade flair? There's nothing more delicious than the fruits of home kitchen labor, so roll up your sleeves for a whopping 30 minutes, make this five-ingredient gluten-free and vegan crackers recipe, and thank me later.
How to Serve
You can serve the crackers on a cheese plate, filled with a variety of raw goat and sheep cheeses (easier to digest than regular cow's milk cheese), or give delectable vegan cheeses a go. You can nosh on the crackers without any topping, too — they're that good! There are hundreds of ways to enjoy crackers, so don't hold back!
Gluten-Free Rosemary Crackers Recipe
Serves two to four
Ingredients
2 cups gluten-free flour mix (I use Bob's Red Mill's flour)
5 tablespoons flax meal
2 tablespoons fresh rosemary leaves
1/2 teaspoon sea salt
5 tablespoons coconut oil, melted
1/2 cup water
Directions
Preheat the oven to 400 degrees Fahrenheit.
In a food processor, pulse together the flour, flax meal, rosemary, and sea salt. Slowly add in the coconut oil and water. Continue to pulse the mixture until it begins to form a ball. If it is too wet, add more flour. If it is too dry, add more water. You should be able to work with the dough, forming a ball, without it sticking to your hands.
Remove the dough from the food processor and form a tight ball. Place it between two sheets of parchment paper and use a rolling pin to roll the dough thin. Remove the top parchment paper and use a pizza cutter to slice the rolled-out dough into cracker shaped sizes. You can keep the dough as it is – sliced without separating the individual crackers.
Transfer the parchment paper to a baking sheet and bake the crackers for 10 minutes, or until the dough is lightly browned and crisp. Let the crackers cool and then carefully snap them apart from one another. Serve and enjoy!
Related on EcoSalon
Sunday Recipe: Gluten-Free Five Seed Crackers with Olive and Cilantro Tapenade
3 Leftover Juice Pulp Recipes that Turn Food Waste into Freaking Deliciousness
Honey Ginger Sparkling Lemonade with Rosemary