Asher Brown is no celebrity. Although widely recognized among the vegan creatives and brands of Los Angeles, Brown is little known to the mainstream audience. However, there is no doubt you have seen his work. From Tide commercials to niche animal rights YouTube Videos, Brown helps brands and influencers expand their reach and tell their stories via his creative content lab, Pollution Studios. His exceptional work has allowed him to run a successful business while advancing social change, specifically within the plant-based movement. In between a Little Tykes commercial and a fire dancer shoot, we sat down with Brown over a jug of ginger kombucha to chat about content creation, passion projects, and the power of community.
Unlike many within the film industry, Brown did not grow up with stars in his eyes. He is soft-spoken and relaxed, a complete foil to the megaphone-toting, high energy personality associated with the director's role. In college, he declared Pre-Med. He said he was a "science and numbers guy." Brown stumbled into a film course "so [he] could watch movies with [his] friends." He then found his true calling after enrolling in a film production class.
"Everything changed for me. I had never seen myself as an artist or a creative person, but working in film collaboratively with all these amazing people spoke to me in a way that nothing ever had before that."
Brown graduated and began working in the industry, first in Australia, then in Los Angeles. He became a set lighting technician and worked on feature films and prime-time television shows, where he was exposed to what could be accomplished with a top budget and unlimited resources. "Even now when I work on small Instagram and YouTube projects, I still come from the idea of what could we do if we had as many resources we needed, and then how do we scale that down to fit the budget."
During his free time, he shot "passion projects" with his film friends. Eventually, the group decided to take the plunge and devote their time to these projects. Pollution Studios was born. They rented out a warehouse, filming whatever they could get their hands on (mostly music videos). Over the past nine years, the company has blossomed into an expansive, three studio lot with back offices, a kitchen, and parking lot. Pollution is now the go-to for Perrier, Tide, Little Tykes, and a plethora of music artists, such as Charli XCX.
Despite its growth, Brown asserts that the studio's core has not changed. "Its heart is still this amazing community of creative people. Pollution is a toolkit that everyone can use. We run it like a business but that's so we can do non-profit work and passion projects. Nobody came out here because they wanted to make money doing things they didn't love. They do this because they're passionate about it."
A vegan for over a decade, Brown's passion lies within the animal rights and plant-based movement. He uses his platform to advance these causes, from big-budget brands to up-and-coming social media activists and influencers. Established plant-based clients include Gardein, Beyond Meat, Follow Your Heart, Veggie Grill, and So Delicious. In contrast, Pollution has created content for local, home-based chefs, such as The Vegan MacGyver, a YouTube channel showcasing how to make substantial vegan meals out of a hotel room.
No matter the size of the project, Brown is dedicated to helping them tell their story. It's not about selling, its about creating a narrative to engage the consumer and incite action. According to Brown, "Broadcast commercials aren't the thing anymore. Its social media content. Facebook, YouTube, and Instagram campaigns. Brands are focusing on social engagement."
For example, Brown recently produced a social media campaign for GoodBelly Probiotics by partnering with Instagram celebrity, Vegan Fat Kid, and farm sanctuary non-profit, Gentle Barn. The campaign, "How to Hug a Farm Animal," showcased the celebrity hugging various rescued farm animals. This collaboration between a celebrity, private business, and a non-profit not only spurred business for the brand, but also brought positive attention to Gentle Barn and its animal advocacy. It was a smaller campaign with a restricted budget, but Brown's excellent reputation made it work. "I am invested in this community. I know if I call them and say this is important to me, I can count on them. For us, its not about money; its about telling a story. These people are my family. We work because we want to do something meaningful."
On a larger scale, Brown documented Leilani Munter's campaign at Talladega to introduce vegan food to the masses. Munter, a female NASCAR driver, uses her platform to advance the environmentalist and vegan movements. She partnered with Follow Your Heart and Gardein to serve free samples of vegan chicken wings and ranch dressing to thousands of race attendees. The fans were pleasantly surprised to find that vegan food is just as satisfying (or more so) than its animal counterparts.
Like Munter, Brown leverages his resources to help vegan brands launch into the mainstream, without using bullhorn tactics. "I think we've hit critical mass in the plant-based market. People used to buy a product because they felt bad buying something else, but now they buy it because its better than anything else. They might not even care about the issues; they just love the Beyond Burger. With that, plant based food is able to tap into this broader market."
Brown also helps to connect and expand the vegan community by hosting three annual parties at the studio each year. His Birthday Bash in August, Friendsgving in November, and Spring Fling in May or June draw hundreds of people from a variety of backgrounds. Film makers, freelancers, influencers and creatives all gather to indulge in exceptional vegan food and endless entertainment within an open and accepting environment. Brown hopes to foster relationships and encourage collaborations to support the plant-based community and help it thrive. "I know how incredible each one of these people are. The goal of our parties is all about using our physical space to connect these really great people."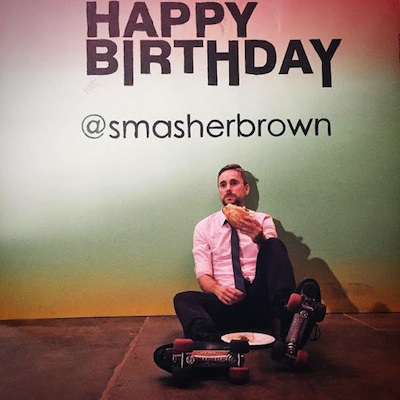 "In L.A.," Brown says, "you can be anything." We all have the power to decide what we want to be, and what we choose to do. Brown reminds us that we are not alone in the pursuit of our passions; it takes a community. "I very intentionally want Pollution to physically and emotionally connect all these people."
Find Tanya on Instagram and The Vegan Potluck Podcast. 
Related on EcoSalon
Eating Meat Isn't Manly and Vegetables Aren't Girly
4 Vegan Lifestyle Leaders: Influential People You Should Know
This Short Film Looks at the Harms of the Industrialized Food System