Inspired by vintage slips, the Femme "popover" dress adds a distinctly feminine layer to workout wear.
The focus and concentration that it takes to realize a personal vision can be a kind of meditation all of its own. It's fitting that Clary Sage Organics' yoga-inspired lifestyle collection is so replete with meticulous attention to quality and detail that the need for anything else seems to fall away.
I had the pleasure of previewing the fall 2011 collection last month in the well-appointed flagship store at the corner of Fillmore and Clay streets in San Francisco. Chatting to co-founder Patti Cazzato uncovered some of the essential passion and dedication behind one of the industries leading lights – a line synonymous with quality, fit and earth- friendliness.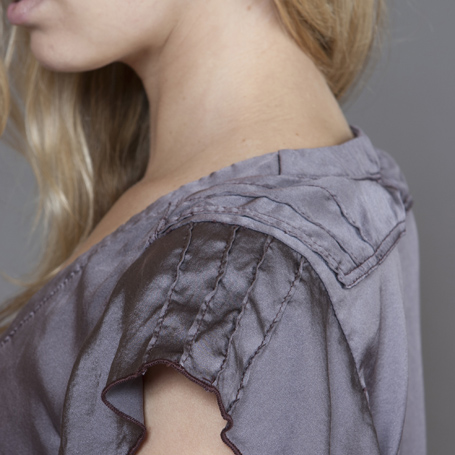 Part of this season's collection, the Girl Henley Dress illustrates the line's meticulous detailing. 
In addition to their essential yoga wear, this season's expanded collection – in a palette drawn from "nature, boudoir and uniform" – includes luxurious foundation pieces – tees, tops, fashion leggings – cozy chic jackets and a line of appealingly romantic silk dresses designed to be "popovers" over leggings and tanks.
This season also sees the introduction of a revolutionary new performance "slick yoga" fabric that was designed to compete with "dri-FIT micro" type fibers. Engineered by Cazzato and her team from discarded water bottles, this soft, recycled alternative saves fitness lovers from sweating into petro chemicals.
An industry veteran who's worked at Esprit, Gap International and Levi's, Cazzato's ability to develop and tinker with the washed silk, organic cotton, bamboo and new fabrications like the "slick yoga" until they become the soft hand, slightly slubby luxurious materials she envisions, is at the foundation of the collection's success.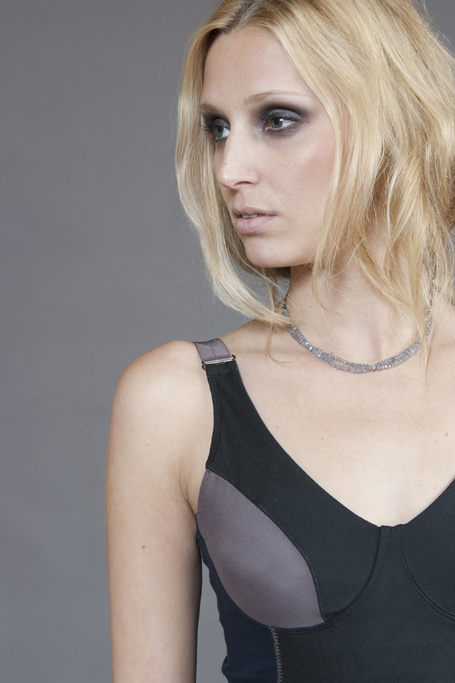 The pieced Vintage Swim Girdle's intricate lingerie construction shows off the line's signature aesthetic.
And then there is that extraordinary attention to detail. I'm amazed by the thought and precision that goes into each piece. The scallop seamed leggings available in four dusky hues have delicately shaped hems, a pieced knee and an irresistible 40s pinup-style stocking back seam detail. Admitting to accepting the inevitability of limp workout wear, Cazzato invites me to see for myself, "Wash and its gorgeous." (As I have practically lived in my pair for the last month, I can attest it's true. Stunningly, they don't bag, sag, drag or fade like others tend to.)
Another of my favorite pieces is the vintage swim girdle tank with power mesh and built in bra – "nothing's coming out" – that were collaborated over with a colleague who designed Olympic bathing suits for years. Highlighting the line's signature corsetry craftmanship, the tank has an intricacy I only see in vintage lingerie from the 1940's.
Cazzato likes to talk about the "Clary Sage girl." Her style," a blend of classic old world femininity and punk rock;" what's she's looking for, "she doesn't have a lot of time so she need styles that are easy to wear and layer nicely;" and her lifestyle, "she wants pieces that last and a look that can transition from work, to the studio, to art openings." She could be talking about the best self -"confident, creative, radiant"-  ideal of most women I know.
Perhaps more tellingly, she could also be describing herself. Because Patti Cazzato is a woman on a mission. Rightly proud of the line's sterling eco credentials and her dedication to holding her prices and standards when others are faltering under the skyrocketing costs of cotton, she explains simply," If we don't love it, its not worth it."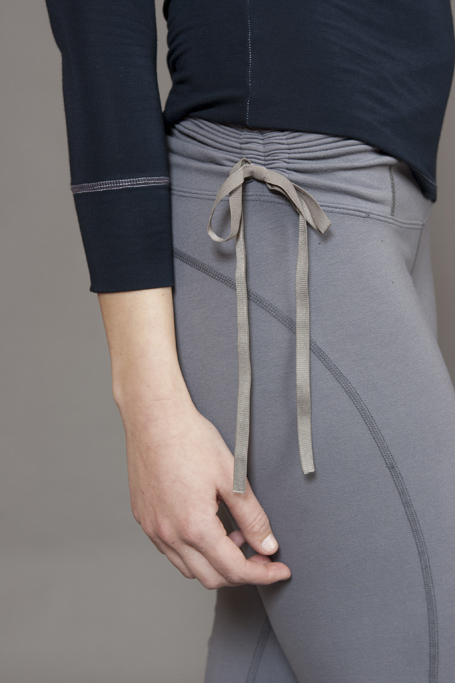 The Ribbon Pant is durable, silky soft and built to last.
Made entirely in Northern California, Cazzato is increasingly seeing customers preference for the line's "made-local" value over its eco friendly qualities. Clary Sage's impact goes beyond keeping 110 local sewers and their families fed, "it's part of the SF local economy." She's emphatic on this point, "It can be done here, you just have to break a paradigm a little bit."
There's a good reason why "Clary Sage girls" return and remain loyal to the brand and the aesthetic. A typical customer comment on the company's Facebook page reads, "not sure when I'll return but hopefully soon, I need some Clary in my life!"
With the endless distractions and stresses of daily life, maybe we should all be asking if we "need some Clary" in our lives.