Our top Etsy handmade and exclusive vintage picks for decidedly sleek and stylish vintage androgyny, Katharine Hepburn style.
Katharine Hepburn's style can best be described through her famed words to any man that preferred a woman in a skirt – "Try one. Try a skirt." The star of Hollywood's Golden Age made waves with her style choices which included menswear-inspired khakis, jackets and button-up shirts that were in complete opposition to the feminine dresses worn by many of her contemporaries. Miss Hepburn advocated feminist values of comfort and simplicity over the established rules of female dress such as the use of girdles, waist accentuating dresses, or impractical ornamentation. 
Through her headstrong personality and distinct choices in attire, the four-time Oscar winner paved the path for the style freedom of the modern woman. As the leading lady herself said "If you obey all the rules, you miss all the fun."
Start off with this gorgeous yellow silk blouse from  SavvySpinsterVintage that is so easy to pair with some high-waist slacks or even a skirt to mix it up a litte. Roll up the sleeves for an effortless and relaxed look like Katharine's.
Pair your button-up blouse with this pair of purple high-waist pants in luxurious velvet from ManyAMoonVintage, perfect for cooler autumn weather. An authentic pair from the late 1930s, these pants were made by high end women's clothier Jay's on Temple Place in Boston.
These tangerine high-waist shorts from SingularitieVintage are perfect for your mid-winter get away when your body and mind yearn for warmer weather. Pair them with your favorite vintage bikini top or a short-sleeved button-up to channel Katharine Hepburn's style into your vacation wardrobe.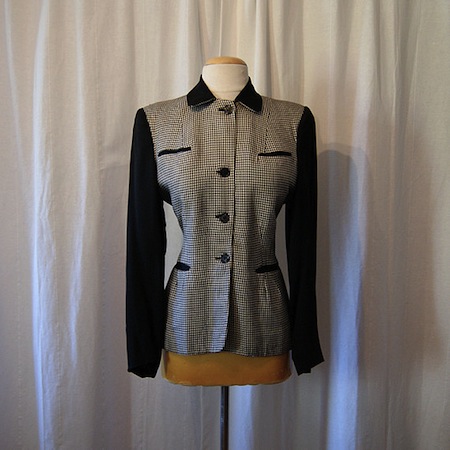 This classically chic 1940's two tone black and white hounds tooth gabardine jacket from wearitagain epitomizes Katharine's love for menswear. Don it with a pair of high-waist black trousers and a pristine 1940's hair-do, and you'll  have independent and self-confident written all over you.
Although Katharine was known to often opt for tennis shoes or loafers, her masculine garment choices were occasionally offset with a pair of sexy heels. We think the star would approve of this vintage pair of strappy suede baby doll pumps from  FabGabs especially since they were made by Bally, a high quality shoe manufacturer. Pair them with your high-waist trousers for a sleek but sultry look.
Image: Maria Luisa
Related on EcoSalon:
 The Top 15 Feminist Film Stars
Etsy Handmade and Vintage Fashion Hunt: Get the Brigitte Bardot Bombshell Look