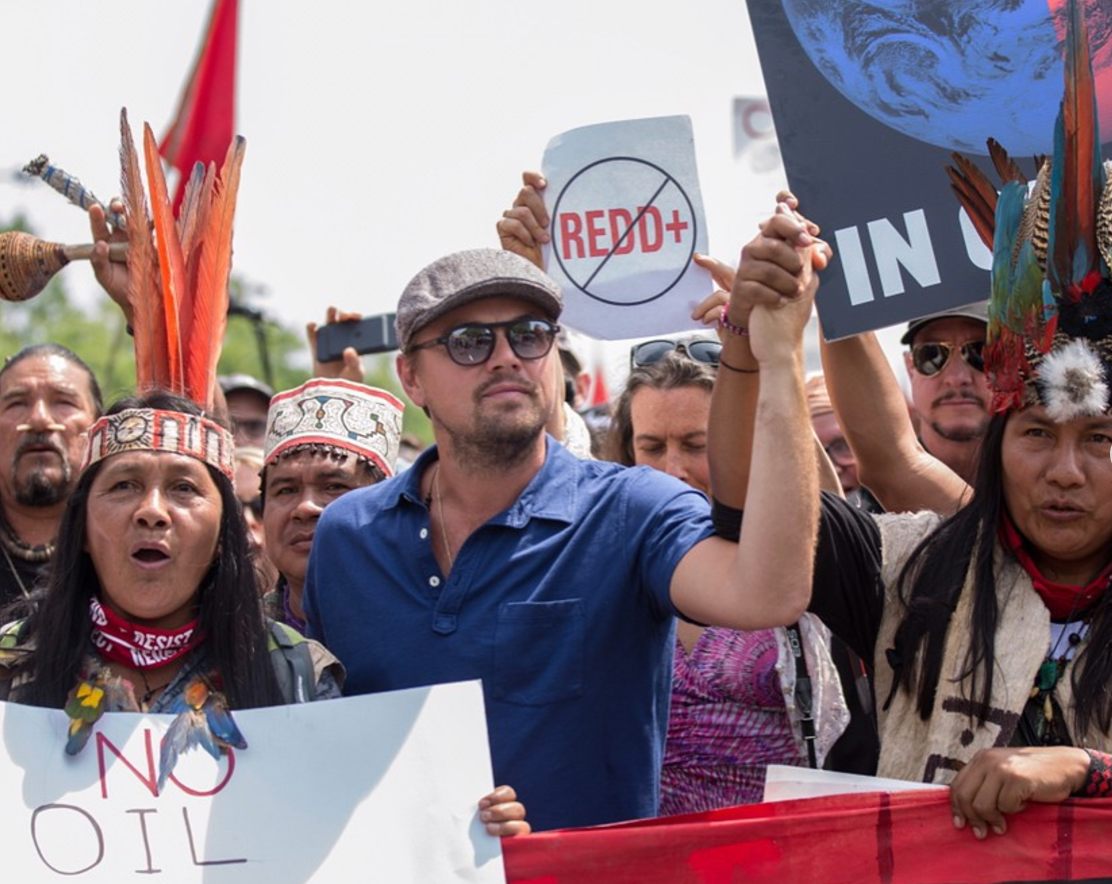 Oscar-winning actor and activist Leonardo DiCaprio along with billionaire Carlos Slim and Enrique Pena Nieto, Mexico's president, have promised to protect marine ecosystems in the upper Gulf of California. The Mexican president and DiCaprio and Slim's personal foundations, signed an agreement that aims to help buoy the vaquita porpoise population.
About two dozen vaquita porpoises are native to the upper gulf. However, now, the animals are facing extinction thanks to the use of illegal gillnets—an apparatus used to catch a certain kind of fish that's popular in China.
"This action is a critical step towards ensuring that the Gulf of California continues to be both vibrant and productive, especially for species like the critically endangered vaquita," DiCaprio said in a statement.
Does celebrity activism work?
DiCaprio's bold move got us thinking: Does this type of celebrity activism make real change?
We asked a few environmental activists about their thoughts to get a better idea about why, if at all, celebrity activism matters.
Momentum
When a celebrity puts their name behind an environmental cause, the issue gets attention.
"For better or worse, when celebrities speak, people listen," John Oppermann, executive director of Earth Day Initiative, says.
"In a perfect world, people would pay attention to all of the most pressing issues we're facing and seek out ways to help. But in the absence of that perfect world, celebrity involvement in causes can help to move the needle toward positive change. They can shine light on issues and channel support, money, and enthusiasm into real and lasting impact."
Momentum leads to awareness (if the celebrity knows their stuff)
When a person—any person—talks about something that they truly don't understand, no one cares. But when someone passionately talks about their interests, and has facts to back those interests up, people care.
For example, remember when Al Gore was America's environmental warrior? Gore put his intelligence and interest about the environment into the "An Inconvenient Truth" screenplay, and people listened. Some celebrities have this talent, too.
"DiCaprio does [it] well—so does Robert Redford. And Susan Sarandon is very articulate about prison causes," Shel Horowitz, green/transformative business profitability expert, explains.
"[And] when these folks step up to the plate with research-based information, it can move mountains."
And DiCaprio knows his stuff
DiCaprio has always had a soft spot for the planet's oceans.
In March, the celebrity announced that he invested in LoveTheWild, a company that specializes in sustainable aquaculture (frozen seafood meals).
And in autumn 2016, DiCaprio and the National Geographic Channel released "Before the Flood", an environmental documentary. The film discussed the melting rates of ice sheets in the Arctic.
So, keep at it, Leo. Because the Earth could use all the help it can get.
Related on EcoSalon
Ex-Black Panther Elaine Brown Has a New Kind of Activism
Timing is Everything: Why Leonardo DiCaprio's Oscar Speech Matters So Much Right Now
15 of the Best Responses to Trump Withdrawing from the Paris Agreement on Climate Change