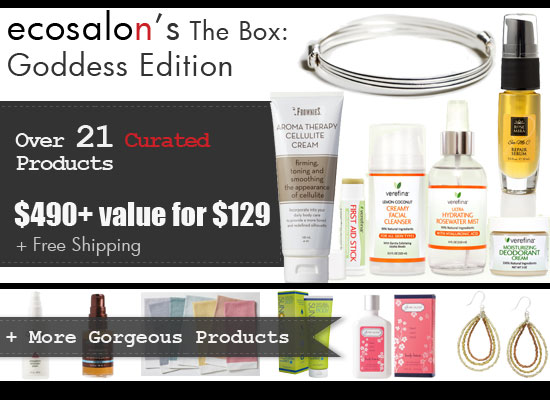 Summer is just around the corner and it's time to look and feel radiantly sexy for those hot summer nights. EcoSalon's The Box is here to help! This fun, flirty box features more than $490 worth of refreshing, restorative treats to help you welcome summer with open, super moisturized arms. Let your inner goddess shine! It's all yours for just $129 + free shipping!
Sold Out!
Heal what the harsh winter and bumpy spring left behind and let your inner goddess shine at an impressive discount (74%, in fact!) with deluxe skincare goods, chic (yet conscious) jewelry, colorful kitchen accessories, and much more! Running behind on your warm-weather cleaning? Not to worry: We've got some eco-friendly home goods to leave your domicile sparkling. And those pesky hibernation pounds? We've got you covered there, too. Breathe deep, and get outside with only the best products in your corner.
There are only 40 Boxes available.
Beginning on Friday, May 29th, we will reveal between three and four of our fabulous participating brands per day. The Box will go on sale Monday, June 1st, at 8 o'clock AM Pacific Time. So set your timers and mark your calendars–these will sell out fast! Check back daily to see the latest reveals, and read on to discover today's products!
Frownies Aroma Therapy Cellulite Cream
Cellulite, technically, is a skin condition that affects at least 90 percent of women over the course of their lifetime; especially, it seems, when the weather begins to call for fewer layers. Luckily, the good folks over at Frownies have introduced the Aroma Therapy Cellulite Cream: An innovative topical formula uses aromatherapy, plankton and caffeine to rid women's bodies of cellulite and improves the overall condition of their skin.
Aroma Therapy Cellulite Cream targets areas including the legs, hips and under arms using its distinct formula of pure, therapeutic essential oils and natural caffeine to reduce the appearance of cellulite. The plankton extract contours the skin–tightening and toning it, while redefining the silhouette of the body. Properties within the plankton provide results that mimic those of endurance training along with shaping the abdomen and thighs. Therapeutic grade essential oils in the cream play a crucial role in breaking down the fat that is stored and stimulating the lymphatic and circulatory systems at the same time as disrupting the production of new cellulite.
Value: $80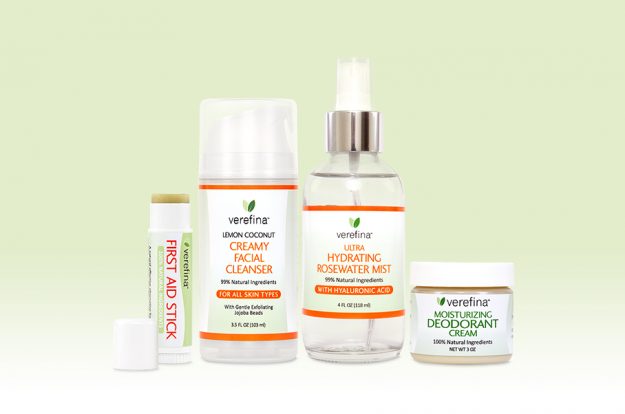 Verefina Summer Glow Combo
For the accident-prone among us (guilty), greater outdoor activity, while a beautiful thing, also poses a greater risk for clumsy accidents. It's as if the folks at Verefina read our minds; they've generously included the simple, yet extremely handy First Aid Stick with its luxurious Summer Glow Combo.
Every item in the combo is yours! It also includes Verefina's Lemon Coconut Cream Facial Cleanser (deep cleaning without stripping vital oils), Ultra Hydrating Rosewater Mist (leaving skin healthy, soft, and radiant), and Moisturizing Deodorant Cream (strong performance, without the icky artificial scent). Shut the front door…on your way out for a warm-weather excursion, that is.
First Aid Stick: $14
Lemon Coconut Cream Facial Cleanser: $22.50
Ultra Hydrating Rosewater Mist: $21.50
Moisturizing Deodorant Cream: $9.50
Total value: $67.50
Rosemira Organics See Me C Repair Serum
When you use Rosemira's See Me C Repair Serum . . . well, yes, you will certainly be seen. Potent antioxidant oils from marula and pomegranate seeds  are combined with two of nature's best anti-aging essential oils: Frankincense and rose, known for their powerful skin rejuvenating and hydrating properties. A Citrus Essential Oil Blend is then added for a delightfully scented, fast-absorbing serum, rich in the nutrients essential for radiant skin. Light and nourishing, this serum is particularly great for hot, sticky days that call for skin hydration without heavy oils.
Value: $45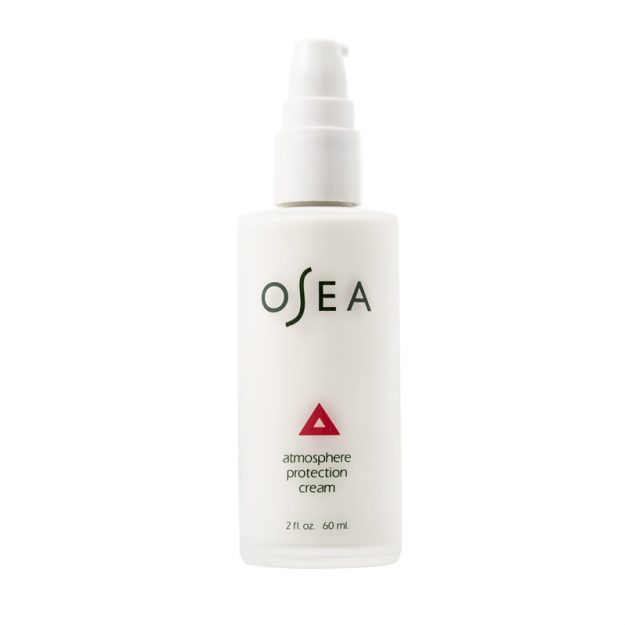 OSEA Atmosphere Protection Cream 
This lightweight facial moisturizer protects skin from dehydration and damage from environmental aggressors, with a super emollient algae base that ensures instantaneous absorption. Its advanced blend of dermal proteins, meanwhile, increases elasticity and leaves a matte, silky finish. It's an amazing, invisible base for makeup application.
Bonus: The moisturizer also contains shea butter helps reduce the appearance of scars and dark spots. Its organic algae concentrates form a moisturizing buffer on the skin that minimizes dehydration and protects against pollution and the elements. Finally, Vitamin E strengthens collagen and increases elasticity.
Value: $44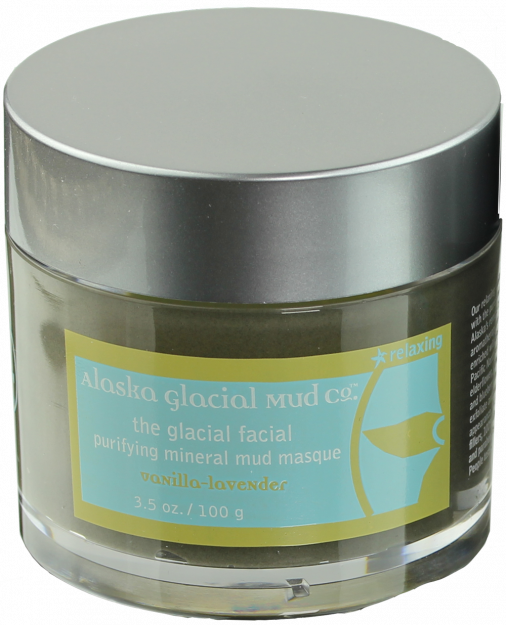 Alaska Glacial Mud Co. Glacial Facial Purifying Mineral Mud Masque
At the dawn of childhood summers, April showers brought…mud. As it turns out, you're never too old to play with mud; in fact, it still belongs on your face.
Made with the most mineral-rich and pure glacial clay in the world, Alaska Glacial Mud Co.'s lavender-vanilla mud masque is sustainably hand-carved from the remote waters of the Copper River Delta in Alaska, and enriched with a special combination of certified organic and wildcrafted botanical extracts from the Pacific Northwest. These elements are carefully selected for their moisturizing, skin-softening, anti-aging and immunoprotective properties. The masque at once detoxifies, exfoliates and softens skin, while more than 60 nourishing major and trace elements promote healthy skin cell regeneration. And, it doesn't discriminate: It's gentle and balanced for all skin types. Human-tested and allergy-free.
Value: $34
Mineral Fusion Illuminating Primer
Experts say that, to ensure makeup goes on flawlessly, a good primer is crucial. Using a luxurious formula, Mineral Fusion Illuminating Primer helps to fill in lines, brighten skin, even tone and texture and create a smooth, even canvas for makeup application. Infused with 24 Karat gold flecks that create a subtle illumination, this primer corrects, smoothes and evens skin so it's perfectly prepped for any beauty routine.
Value: $29
Revealed 5/30: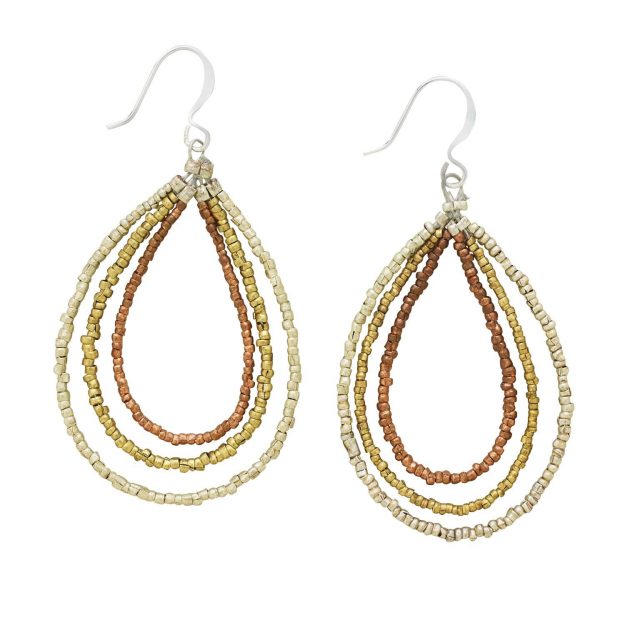 Ten Thousand Villages Hoops of Hope Earrings
Sold by Fair Trade retailer Ten Thousand Villages, these beautiful beaded hoops are a symbol of hope for world peace. Handmade in Ethiopia from recycled bullet casings (leftover from the Eritrea/Ethiopia war), members of Entoto Beth Artisans repurpose and silver-plate these beads in the rural Gojam province. The bronze, copper and silver-plated beads used to make these earrings are hand-strung at a workshop providing jobs to individuals living with HIV/AIDS. In addition to income opportunities, Entoto Beth Artisans provides adult literacy and math classes for workers, as well as a parents' program focusing on nutrition and discipline, and a children's after-school tutoring program.
Value: $24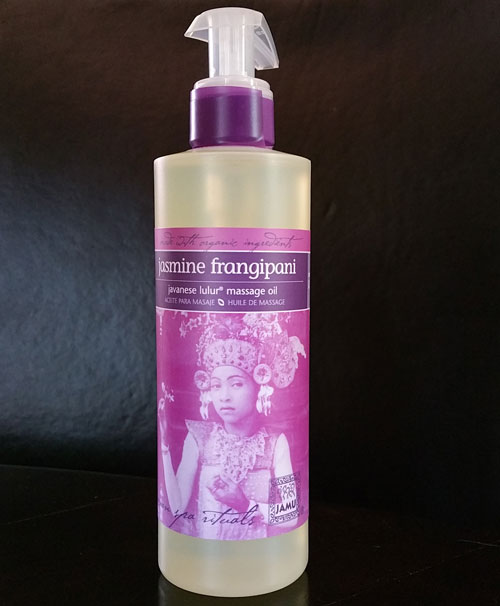 JAMU Jasmine Frangipani Organic 4-in-1 Massage, Body, Bath & Hair Oil 
We understand: You want to get out the door and into the summer sun as quickly as possible. Luckily, JAMU's Frangipani Oil can help you do just that with its 4-in-1 capability. This single oil can be used as a massage oil, body oil, bath oil and hair oil! contain the romantic scent of jasmine and frangipani flowers, a tradition for Javanese weddings, and Balinese spiritual offerings. It's a product rooted in tradition, with the jasmine "melati" flower as an essential adornment for both bride and groom as a symbol of love and fertility. The frangipani "jepun", also known as "plumeria" is placed on prayer temples and in the home, as an essential flower of the Balinese culture.
Historically, The Javanese Lulur Ritual dates back to the 17th century, from the palaces of central Java, Indonesia. Prior to the wedding ceremony, a bath and massage with Jasmine, Frangipani & Blossoms would be given, in harmony with a turmeric body scrub called "LULUR". Each day, for 40 days, the "Javanese Lulur" ritual would be given to the bride to be, by the women in the family, as a way to hand down wisdom, and encourage relaxation and fertility for the honeymoon eve. That's certainly a fun way to ring in the warmer season.
Value: $29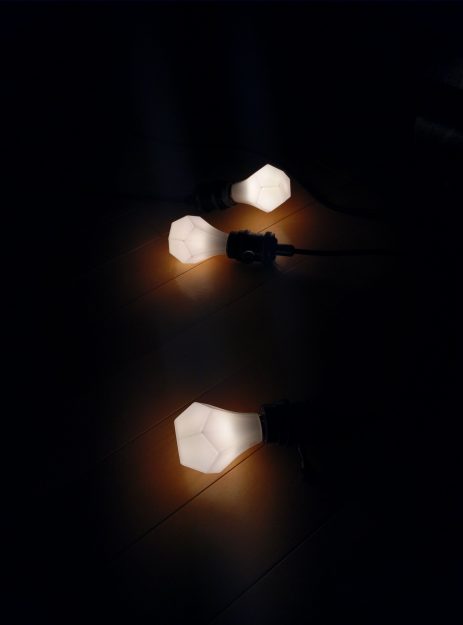 Nanoleaf Gem LED Bulb
Emerging green technology company Nanoleaf first stormed the scene with Bloom, the world's first dimmable light bulb that doesn't require a dimmer switch, thus allowing for greater energy savings no matter what hardware or lighting switches are installed in the home or office. Nanoleaf's latest product, the Gem – which officially launched on Earth Day, April 22nd – is the first LED bulb made with interior design in mind, featuring an elegant white frosted glass exterior. It is a bulb that looks and sparkles like a gem, and for the first time ever, interior designers can use LED bulbs to create something amazing. Your secret is safe with us: No one will even detect the difference in light quality compared to an incandescent bulb.
Value: $25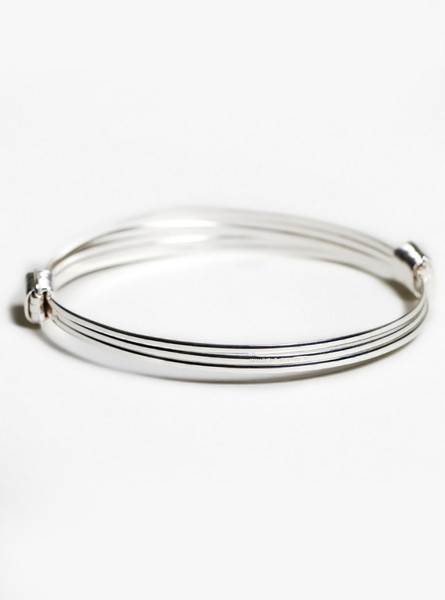 Enrou Mend Bracelet
Give new meaning to "arm candy" with these simple bracelets. Made by Ugandan women like Lamunu Irene, this small but impactful accessory empowered women who have been personally impacted by LRA violence. We can't think of a better way to great way to add layers to your favorite accessory combination.
Value: $20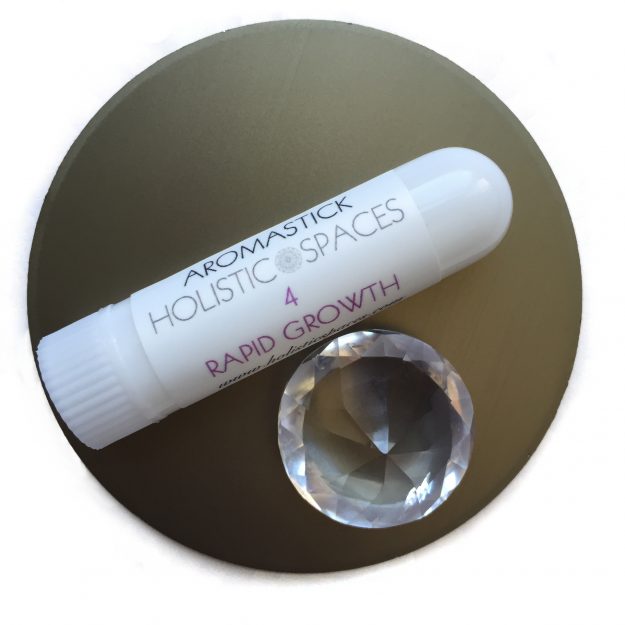 Holistic Spaces Nine Star Ki Aromasticks for Support
Who says aromatherapy only belongs at home, or in a spa? Now, aromatherapy belongs in your handbag, too, with these Aromasticks.
The Nine Star Ki was developed in ancient China and syncs perfectly with Feng Shui, the I-Ching and Five Element principles. The transition to the new cycle in the Nine Star Ki system occurs on February 4th of every year. Holistic Spaces and Aromatherachi have curated aromatherapy inhaler sticks for each number, depending on the year; the aromasticks blends were created to support and enhance the energy that your number will be working with in the current year. The aromasticks can be used with Feng Shui adjustments to help you achieve your goals this year. Each essential oil blend distributes olfactory information directly to your limbic system and hypothalamus, producing deep emotional and behavioral transformations.
Value: $18

Glow-ology Body Lotion
There are many words that one might associate with warmer seasons: "energetic," "clean," "sweet," and "fresh," among them. Those are also the words used to describe the variety of body lotions from Glow-ology: The maker of animal-friendly, pampering body products designed specifically for sensitive skin. This lightweight lotion will leave skin looking and feeling both nourished and luminous. Lucky Box buyers will receive one (1) body lotion in one of four scents: Smile, Imagine, Love, and Renew.
Value: $18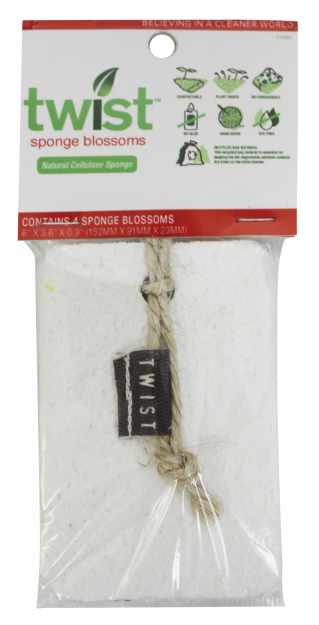 TWIST Summer Cleaning Gift Set
We don't understand people who enjoy cleaning, either. Something about having brand new eco-friendly products, though, makes it just a little bit more fun. Turn up the tidying tomfoolery with this Summer Cleaning gift set from TWIST. They clean dishes, respect the planet, and look good doing it.
Each set contains a combination of essential plant-based cleaning products: A collection of naturally spongey, scrubby cleaning marvels, including TWIST's loofa sponge two-pack, sponge blossom four-pack, euro sponge three-pack and plant-based scour pad two-pack.
Sponge Blossom four-pack: $4.49
Earth Friendly Loofah Sponge 2ct: $4.49
Euro Sponge Cloth three-pack: $3.49
Earth Friendly Plant-based Scour Pad 2pk: $1.99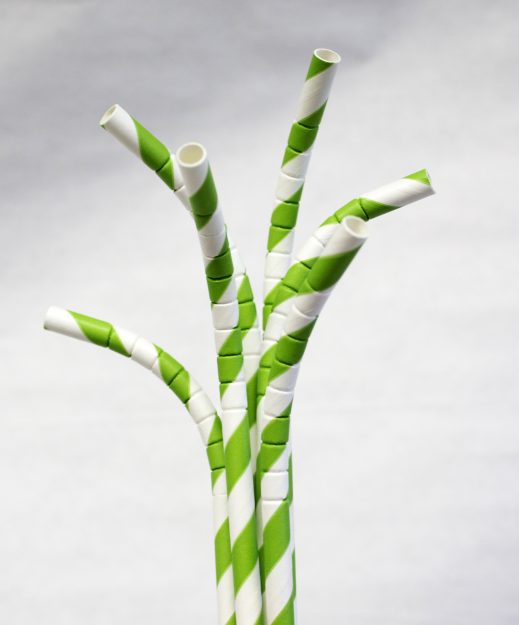 Aardvark Printed Paper Straws
As a kid, fewer things spelled out "warm weather" than the pool, the sprinkler, and enjoying a cold drink outdoors with a fun, colorful silly straw. Times have changed, however, and we now know that plastic straws are among the top ten debris items collecting on beaches and in oceans. Aardvark is helping to squash this solution, in part with its playful, printed paper straws that decompose in only 45-60 days. Bring on the pool party and (organic) lemonade!
Value: $15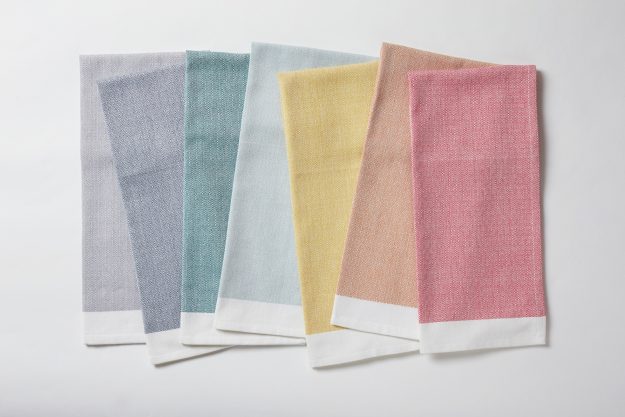 Coyuchi Diamond Chambray Kitchen Towels (Set of 2)
Shouldn't your kitchen towels be as functional and attractive as everything else in the room? Sized to dry your largest platters and pans, Coyuchi towels are loomed from thirsty organic cotton, in a variety of colors with a subtle diamond weave. The best part? That means they're absorbent, attractive and earth-friendly, too. Coyuchi takes expert care to ensure that everything bearing the brand's label is produced and processed to the strictest environmental standards in safe and humane conditions, from the farm to the factory to the store to your home. 100% Organic, GOTS Certified Cotton. Please note, colors received in Boxes will vary; they cannot be swapped out or changed.
Value: $15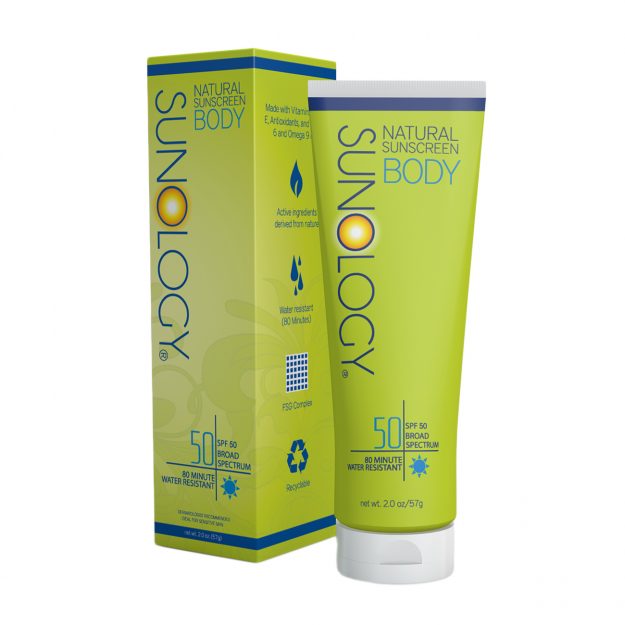 Sunology Broad-spectrum Sunscreen for Body
We forgot what daily sun exposure feels like, too. Of course, with daily outdoor activity also comes the need for daily sun protection. With SPF 50 and VitaOlefera, Sunology's natural sunscreen for the body will nourish your skin as it provides maximum protection, without unnecessary chemical ingredients. Even better, it won't absorb into the skin; Sunology is a physical sunscreen, which reflects the sun away from the skin using natural, active ingredients.
Value: $15
Total Value for the Let Your Inner Goddess Shine Box: $496.50
Sale Price: $129 + free shipping! That's a 74 percent savings. And no, that's not a heat-induced hallucination. 
Sold Out!
The Box will go on sale Monday, June 1st, at 8 o'clock AM Pacific Time. So set your timers and mark your calendars–these will sell out fast (the last one sold out in just a few hours)!
Offer good anywhere in the continental U.S. International shipping is not available at this time. Buy, one, two, or three boxes! Please allow up to three weeks for delivery. All sales are final. Due to the nature of this exclusive one-time sale, we cannot accept any returns or exchanges. Any inquiries or concerns regarding purchased Boxes must be submitted via Customer Service within 30 days from date of purchase. 
Say hey to Amanda on Twitter or Instagram
Related on EcoSalon
Best Organic Sunscreens for Your Face
Easy Aromatherapy Guide: 6 Scents to Relieve Stress, Boost Your Mood & More