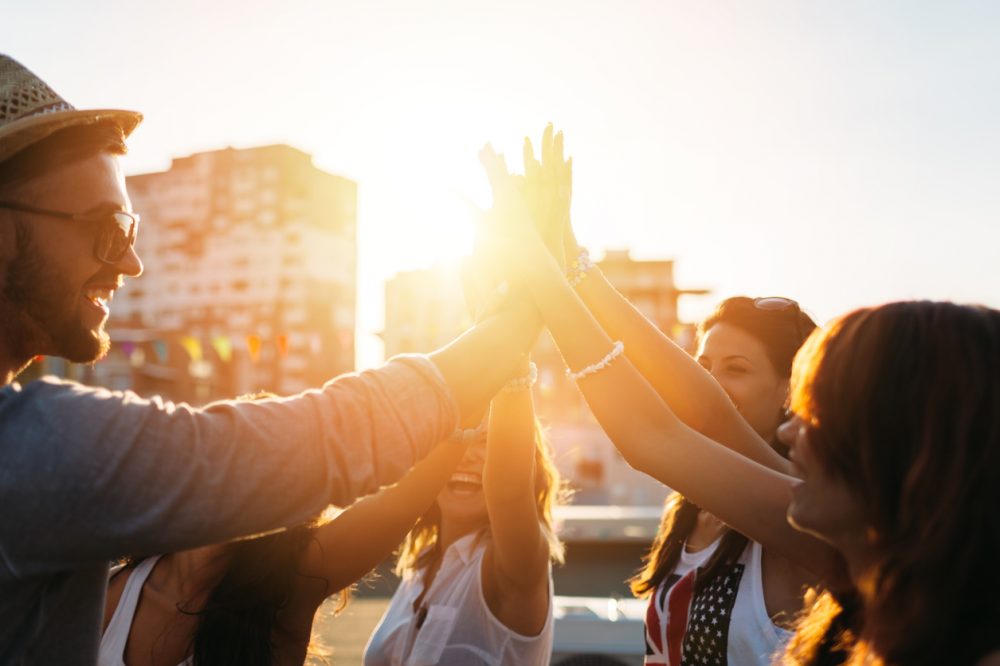 I think I may have to say this every week in 2017: this last week has been a bummer.
Not only are Americans dealing with the unknown status of Trump's travel ban and the disappointing Betsy DeVos confirmation, but we also got bombarded with multiple news stories about how women are, well, getting treated quite poorly.
Sure, this isn't much of a change from the norm—women, especially women of color–frequently get the short end of the job, money, and human rights stick. However, many women did think that a Clinton presidency would have been a bit more female-friendly than a Trump one. Well, looks like those women were correct.
Our new American reality got us thinking: the nation isn't full of bad dudes… The U.S.A. has some great dudes! But many of those great dudes don't know how to help the women in their lives succeed.
So, we thought we'd use a few of those recent, depressing stories concerning women's issues to illustrate how you men can become an ally to women.
Dress like a woman
White House staffers recently revealed that President Trump wants his female employees "to dress like women."
Men: This is a sexist remark for a few reasons. First, bosses should never genderize clothing requirements. Sure, it's fine to tell someone to wear closed-toe shoes. But asking women to dress like, well, "women," implies a certain kind of look that's very obvious to females and not so obvious to males.
You can help support women denounce this statement by making it clear that you understand that women can dress however they want—in pants, loose-fitting clothing or even men's sweaters. Also: Never. Ever. Tell your partner what she should and shouldn't wear. Her clothing choice is up to her.
Another aspect of this issue is the idea of the "perfect" woman. For example, this past weekend, Lady Gaga performed at the Super Bowl. Her performance was amazing, but some people just could not get over the tiniest bit of her stomach skin that occasionally came over her pant waistband. Guys: if you hear a friend critiquing a totally normal female body like this, shut that shit down. Bodies bulge, fold and jiggle, especially when you're jumping off stadiums. End of story.
Reproductive rights
Fellas, let's be honest. When women have access to birth control and safe abortions, men win, too. No one wants an unplanned pregnancy. However, they happen far less often when women have access to safe, effective birth control.
Since republicans announced they want to repeal the ACA, women fear it will be far more difficult to access affordable birth control. And it appears that so far, those fears are valid.
In addition to access to birth control, women also should have access to abortion services. While abortion rights have always been under attack in America, it looks like the fight is really heating up this year.
For example, "Oklahoma state legislators have already filed around a dozen bills targeting abortion access—including at least one 'spousal consent' bill that is unconstitutional," Jezebel reports.
Guys, we need you to call and write your political representatives and explain why birth control is beneficial to every human, and that safe and unhindered access to abortion is a basic human, medical right.
Slut shaming
Women are never asking for it, guys. But it appears that some men just can't get this fact straight. One person who can't seem to get this concept is War Machine, the former MMA fighter who attempted to murder and rape Christy Mack. In fact, this guy is so dense that he is using the couple's rape fantasy in court in hopes to prove Mack "invited" the attack.
Men, we need you to understand that rape fantasies, along with short skirts, nipple-showing shirts, etc., are not subliminal "yes, I want sex now, attack me" messages.
If you see a man harassing a woman, ask the woman if she needs help. If you see a passed out woman getting carried away by a man at a bar, make sure she's going willingly. And if you hear your friends telling rape jokes or slut shaming women, stop the conversation and correct their language.
March… or don't
And you also may have heard there's an upcoming "Day Without Women" strike planned by the organizers of the Women's March. Here's how you can help women participate in that protest:
Show up to work and cover your female colleagues' assignments for the day. Defend women's absence to unsympathetic bosses.
Show up to any strike protests and serve as protection. Women always appreciate friendly security if things get out of hand.
Hire more women at your company and vow to pay them the same amount you pay your male employees.
Vow to hire more women of color and pay them an equal wage, too.
If you are a boss, provide great health insurance to women so they can afford medication and medical procedures.
And lastly, if you are a boss, make certain your pregnancy leave policy allows a woman enough time at home with her baby. And also recognize that women with and without children tend to thrive in a flexible workplace that gives time off and offers remote work options.
Related on EcoSalon
This is Only Part of the Reason Why the Women's March on Washington Matters [Video]
When Women Win, Everyone Wins
Donald Trump Hates Women (Part 2): #NowWhat