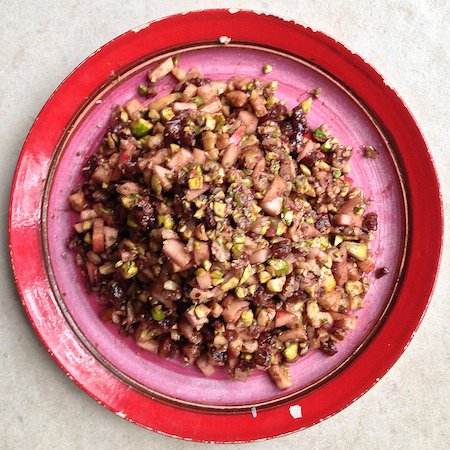 A traditional Passover Seder plate always includes a charoset recipe. 
Charoset comes in many different variations, but is based in apples, dried fruit, nuts and sometimes (and whole-heartedly welcomed) wine. It's a delicious and hearty way to fill up without going overboard. Many charoset recipes call for sugar, but rest assured that the following charoset recipe does not!
You can mince, dice, chop or grate the apples to reach the consistency you want and can keep the mixture less rough by pureeing all the ingredients together so that they reach a paste-like consistency worthy to spread. However you enjoy this charoset recipe, eat it as such. I like to keep mine chunky so I can appreciate each ingredient as I munch.
Sugar-Free Charoset
Serves 6
Ingredients
4 large red apples (any variety), peeled and diced
Juice of 1 lemon
1/4 cup pistachios
1/2 cup walnuts
1/4 cup Kosher sweet red wine
1/2 teaspoon cinnamon
1 cup raisins
Directions
Combine all ingredients in a bowl and serve. Eat with matzah.
Related on EcoSalon
"Why am I not a Vegetarian?": Foodie Underground
Eating Healthy: 7 Meat and Poultry Labels to Look For
The Rise (or Rather Melt) of Vegan Cheese and Our Favorite Picks
Photo Credit: Bart Everson