This is the time of year when I can barely fit my farmers' market purchases in my bike basket. Late summer and early fall combine to create more abundant choices than any other time of the year. Here are a few of my top local, organic picks for early September with some ideas for enjoying them. Hopefully wherever you are, you are enjoying similar abundance!
Vegetables:
Eggplant
Always slice, salt, and let drain for 30-45 minutes and pat dry before proceeding with your recipe, whether it be sautéing, grilling or baking (unless you're cooking it whole over a flame). Lately, I've been making ratatouille with peppers and squash a la Julia Child. Or for a quick and easy Southeast Asian flavor, panfry in hot oil, remove from pan and drain on paper towels. Wipe out the pan, add a little more oil and sauté chopped shallots, garlic and ginger. Return the eggplant to the pan and add a mixture of soy sauce, fish sauce, sweet soy sauce (kecap manis) sririacha and water. Cook until the eggplant is glazed with sauce.
Peppers
Roast over an open gas flame or on the grill whole and peel, puree in food processor with eggplant that has been similarly roasted whole and peeled, garlic, and olive oil for a delicious spread .
Tomatillos
Make a salsa verde. I sometimes add avocado to mine.
Corn
Serve it Mexican style: Boil or grill, and smear with mayonnaise (or if that freaks you out, plain, Greek yogurt) sprinkle with cayenne, Mexican oregano, Parmesan cheese and salt and pepper.
Tomatoes
So many ways to enjoy. Current favorite: Sliced with avocado and placed open faced on toasted artisan bread with good salt.
Butter lettuce
Make a simple salad with cucumbers and avocado and serve it with a creamy Green Goddess dressing. I use yogurt (or creme fraiche if I'm feeling particularly decadent) in place of mayonnaise and anchovy fillets in place of the paste, and I vary the herbs by including parsley, dill or chives.
Cucumbers
Slice and sprinkle with fancy salt and rice wine vinegar. Eat. Or make bread and butter pickles.
Summer squash
Here's a good way to use up an abundance: grate, sprinkle with salt and drain for 20 minutes. Rinse, squeeze dry and sauté with butter, salt, pepper and add a little grated cheese of your choice before serving.

Fruits:
Peaches
If you get tired of eating them, make a galette.
Plums
Slice and use anywhere you would tomatoes. Just for fun, I recently put some tart, firm plums in a halibut ceviche quite successfully.
Melons
Enjoy in yogurt for breakfast with homemade plum jam stirred in.
Figs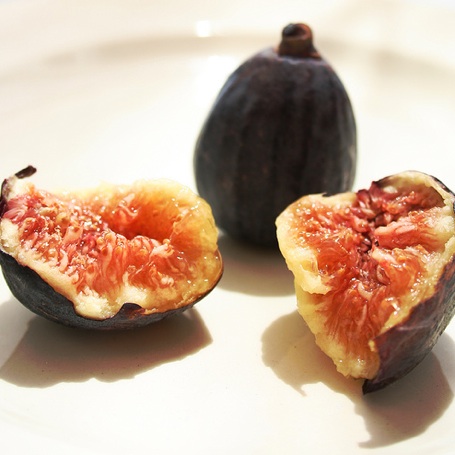 Pair with cheeses and salty cured meats. Grilled or fresh.
Apples
Chop and cook with cinnamon, butter and brown sugar and eat with oatmeal.
Asian pears
Perfect afternoon snack. So fragrant.
Grapes
Another perfect afternoon snack and also good in salads.
Images: pamrasey, Robyn Gallagher, John of Austin, Elaphurus, stevendepolo, qmnonic, norwichnuts, foodistablog, woodleywonderworks, foodista, lepiaf.geo, maesejose, lepiaf.geo, terren in Virginia, See-ming Lee, roblisameehan