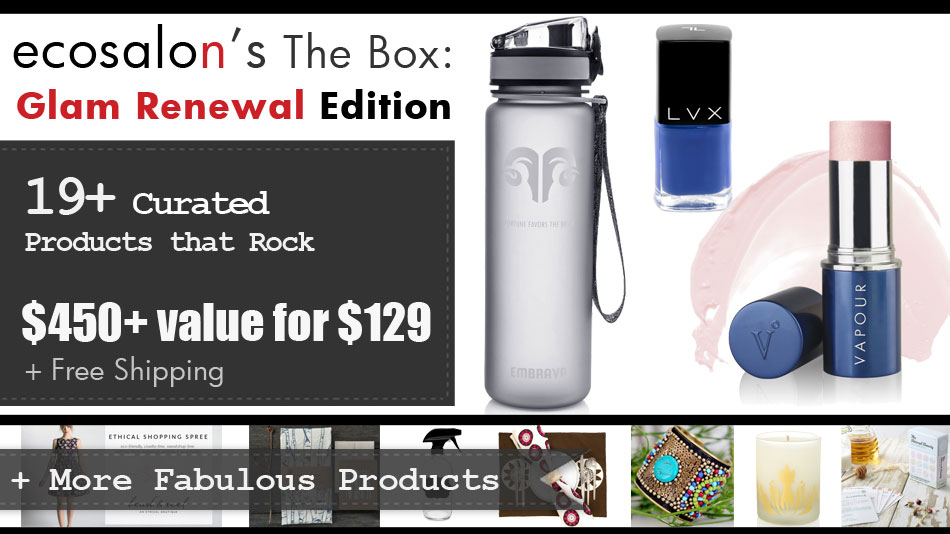 Summer is just around the corner, and it's time to get your home, body, and soul radiant and colorful for those lighter, longer days. EcoSalon's Glam Renewal Box is here to help!
This bright bundle of goodies features $450 worth of gorgeous and refreshing treats to help you view the most radiant of seasons through rose-colored, eco-friendly glasses. Renew yourself and get your glam on. It's all yours for just $129 + free shipping!
Glamorously renew yourself, your home, and your closet at an impressive discount (71%, in fact!) with deluxe beauty products, chic (and conscious) jewelry, colorful home goods, and so much more!
Need a new accessory for your outdoor workouts? Not to worry: We've got some fun stuff to keep you hydrated during your sunny jogs or hikes. And that spring cleaning you've been putting off? We've got you covered there, too. And get outside with only the best products in your corner. Shine on!
There are only 50 Boxes available.
Sold Out!
Beginning on Friday, May 13th, we will reveal several of our fabulous participating brands per day. The Box will go on sale Monday, May 16th, at 8 o'clock AM Pacific Time. So set your alarms and mark your calendars–these will sell out fast! Check back daily to see the latest reveals, and read on to discover today's products!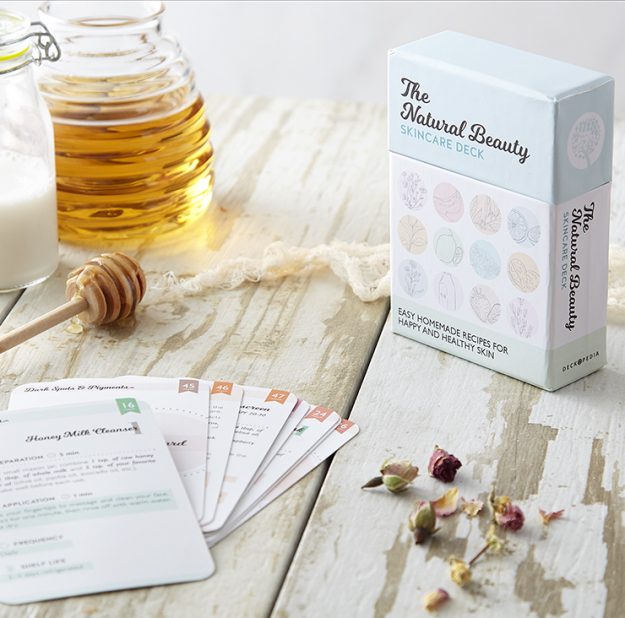 Deckopedia Recreational Rejuvenation Bundle
Raw food, homemade juices, and natural beauty: It's the perfect trifecta for May beauty. And Deckopedia – a publisher of fun, informative card decks – just so happens to make a series on all three. How cool (er, hot) is that?
Each deck contains dozens of raw food, juice and DIY natural skincare recipes, with simple guidelines for getting started. In the Raw Food Beginner's Deck, French raw food chef Emilie McBride teaches all the basics, and benefits one of the healthiest lifestyles, with a handful of tips, do's, and dont's.! The fundamentals are all here, from the equipment you need to the different techniques and essential pantry items. Might we suggest and outdoor raw food party to kick off the season of alfresco dining?
Replenish: A Collection of 50 Hearty Juices and Elixirs features the expertise of health guru Kate Gavlick, who offers more than a deck of 50 juice recipes; it's a practical guide of 50 ways to improve your health and wellbeing. Each recipe serves its own purpose, from digestive help to detoxifying, energizing, strengthening the immune system, and more. Finally, the Natural Beauty Skincare Deck is a compilation of 64 chemical-free remedies to treat all skin types: Oily, dry, damaged, mature, sensitive, or pigmented. With the help of natural skincare specialist Katrina Schenfield, this deck harnesses the power of botanicals for you to craft remedies for all your beauty needs.
Raw Food Beginner's Deck: $19.95
Replenish: A Collection of 50 Hearty Juices and Elixirs: $19.95
The Natural Beauty Skincare Deck: $19.95
Total value: $59.85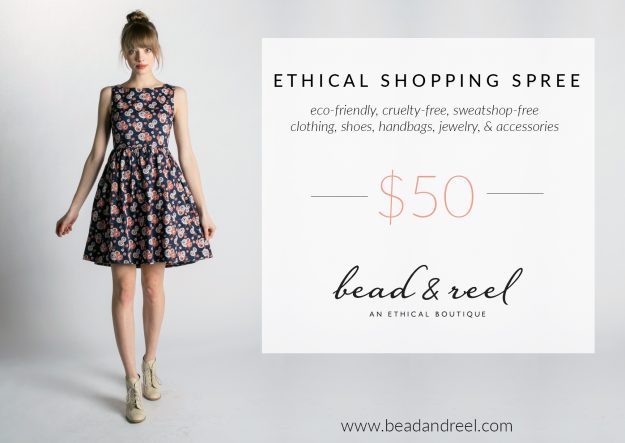 Bead & Reel Glam Gift Card
What's the best part of a change of seasons? Shopping, of course! Renew your wardrobe with bright spring colors with Bead & Reel, the one-stop shop for all things eco-friendly, cruelty-free, and sweatshop-free style. Get excited for your summer travels here, too: Not only does Bead & Reel have some of the greatest clothes and accessories for the best-dressed conscientious women, but also, the site features some great tote bags – most of which are made with vegan and recycled materials – for weekend trips and beach excursions. And, if you're in the Los Angeles area, be sure to check out Bead & Reel's Fair Trade Fashion Show on July 16th!
Value: $50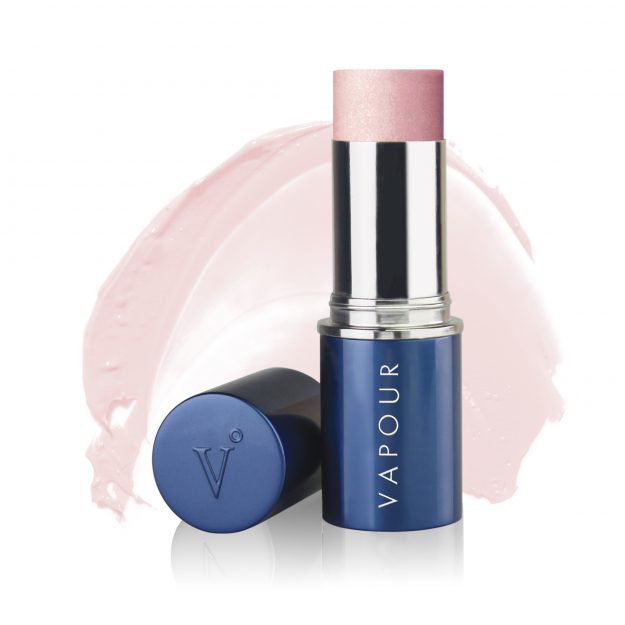 Vapour Organic Beauty Stratus Luminous Instant Skin Perfector
When the warmer months arrive, we want to put our best, most glamorous face forward. Meet your new essential multi-tasking primer for a complexion that glows! The Glam Renewal Box will help you experience your best skin with Vapour Organic Beauty's Stratus Luminous instant skin perfector, which is not only award winning, but has also been called "cult-worthy." Stratus features beauty-boosting botanicals, including Vapour's proprietary Herbal Enlightenment Complex and Deep Moisture Complex of rich organic Pumpkin and toning Elderberry.
Your Box contains Stratus 904, which is universally flattering to all skin tones, going on clear with a high-performance formula that blends exceptionally, instantly balances skin, smoothes texture and diffuses lines, resulting in a refined and radiant canvas for normal, sensitive, and dry skin types. And, get this: It's water and perspiration resistant, so you can even wear it to the beach.
Value: $48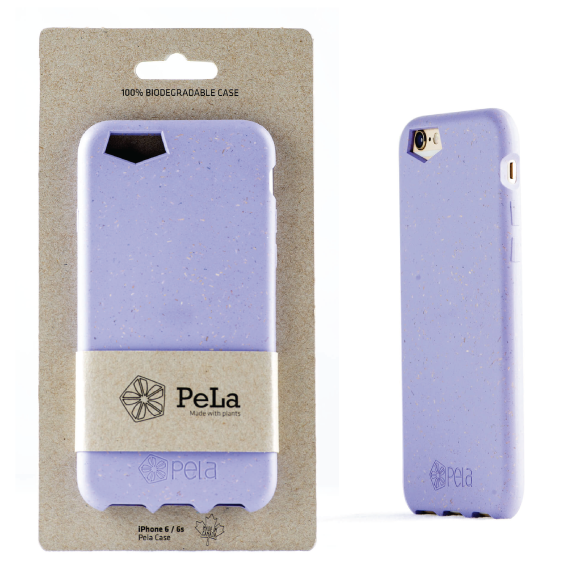 Pela Eco-Friendly iPhone Case
Yes: Your phone case CAN be biodegradable. That is, if your phone case is made by Pela, the manufacturer of iPhone cases made with Flaxstic: A biodegradable plastic alternative that combines bioplastic and flax shive. That means, when you cover your phone with a Pela case, you're contributing to the reduction of oil-based plastics in land fills and oceans! We like that form of renewal, too.
Each Glam Renewal Box contains one Pela case to fit an iPhone 6, in a gorgeous shade of lavender to kick off the warmer months. And, if you're anything like us, you'll need a good phone cover to go with all of your alfresco cocktails.
Value: $39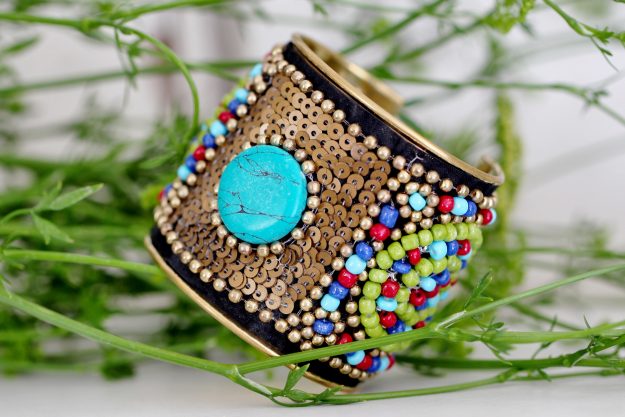 Sitara Collections Handmade Turquoise Beaded Cuff
Say what you will about the laws of when to wear white, but we all know this much: There's nothing like a bold piece of jewelry to pair with a single color-block outfit. Case in point: This gorgeous cuff from Sitara Collections. With its meticulous detail, this cuff will glamorize any look, from the office to brunch.
These cuffs are hand-made by Indian artisan Firoz, who works 7-8 hours a day making jewelry to pay for his family's food and clothing. It's beautiful jewelry with a beautiful mission; a portion of all profits go to the Sitara Foundation, a 501 c(3) organization that currently provides funding for a children's schools in ancestral India villages.
Value: $38
Revealed 5/14: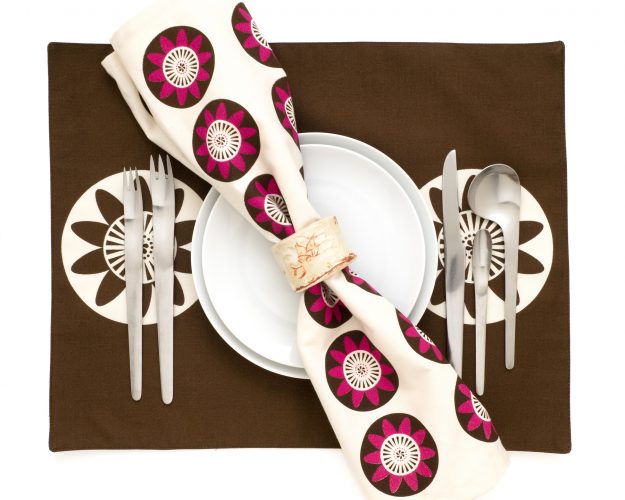 Wabisabi Green Passion Flower Placemats
What is it about table linens that just look so much better on a table outside? Add a dash of color to your outdoor dining with Wabisabi Green's garden-inspired Passion Flower cloth placemats. They're perfect for entertaining or every day use, and, while they're colorful and fun to look at, it gets better: They're also eco-friendly! Made with durable, recycled polyester-organic cotton blend fabric, these floral placemats are hand printed with environmentally safe water-based inks.
Each Glam Renewal Box comes with two (2) placemats. They also make glamorously green gifts.
Value: $18 per placemat
Total value: $36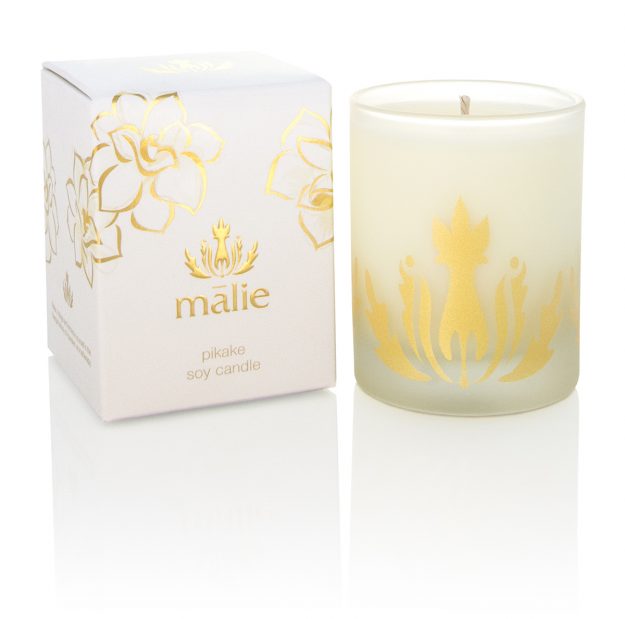 Malie Pikake Soy Candle
As we look forward to warm summer nights, it invokes a certain romantic vision: Palm trees, sand, and the sound of lapping waves. In other words, it looks a bit like Hawaii. Until you can actually get to the islands, though, Malie will carry you away to an aloha state of mind with the scent of pikake: Also known as Hawaiian jasmine, the "flower of love" due to its aphrodisiac and seductive qualities. Sounds like a perfect candle for hot summer nights; not to mention, it's made from clean-burning waxes, petroleum-free, and has a 100% cotton wick that can burn for 60 hours.
This heavenly smell opens with the renewing freshness of dewy greens after an evening rain shower. With the serene air of the tropics, you can spend your warm nights relax, indulging, and immersing yourself in the tranquil beauty of Hawaiian aromatherapy.
Value: $35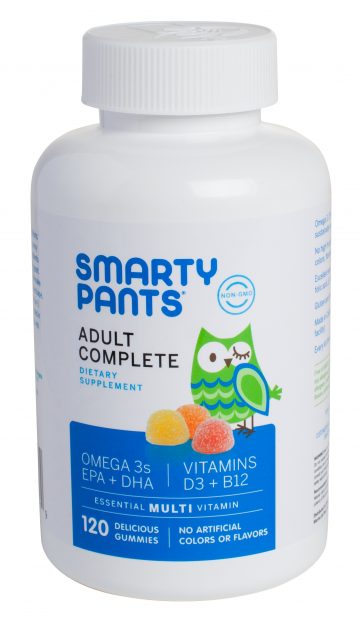 SmartyPants Vitamins Adult Complete
Is there a feeling much better than the one you get when everything on your to-do list is complete? Well, think of all those hard-to-get-from-food nutrients as your tasks; SmartyPants Adult complete is the delicious gummy that gets them done.
SmartyPants Adult Complete is more than a multivitamin. It's one of the best-tasting gummy multivitamins out there, with at least ten essential nutrients, including vitamin D3 and omega-3 fish oil. What's more, these premium nutrients are used in a form that's easily absorbed by the body whenever possible, while maintaining a non-GMO and allergen-free nature, with no synthetic colors, flavors, or preservatives. Each batch is tested for purity and potency by a third party lab.
For every bottle sold, SmartyPants makes a matching nutrient grant to Vitamin Angels, a not-for-profit organization that helps at-risk populations gain access to life-changing vitamins and minerals.
Value: $20.95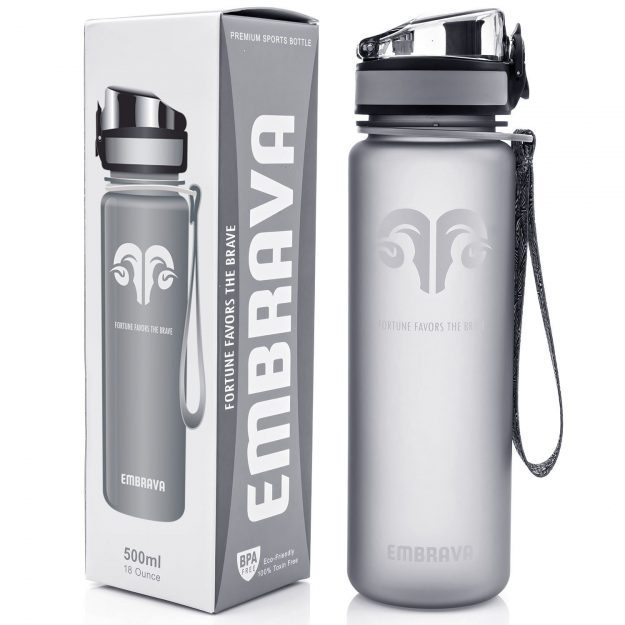 Embrava Sports Water Bottle
Imagine it: The thrill, renewal, and beauty of the first warm hike of the year. Now, imagine staying hydrated during said hike with a water bottle that is eco-friendly, lightweight, gorgeous and reusable. It IS possible, thanks to Embrava's sports water bottle.
Enjoy the season of outdoor activities with a sustainable water bottle that's specifically designed for an active and healthy lifestyle: Easy to carry, with a unique flip-top lid that opens with just 1-click. The Embrava sports water bottle is made of high-quality Tritan co-polyester plastic, which is durable, 100% BPA-free, and leaves you with water that tastes crystal clear. The lid can be locked while traveling, making it completely leak and dust-proof. Bring it on your summer getaway weekends, or use it at the gym, the office, or at home.
Value: $19.95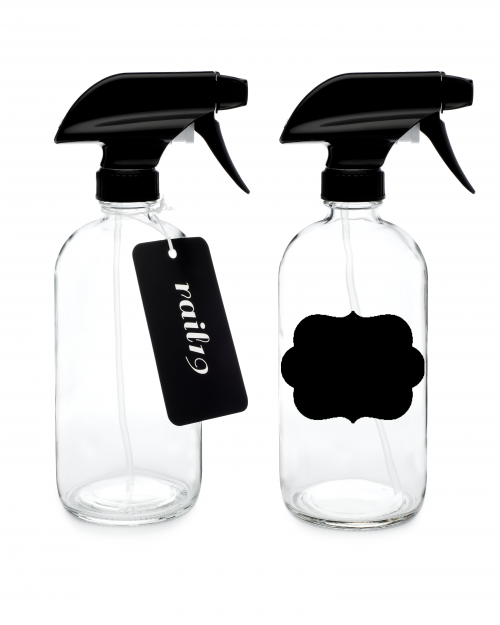 Rail19 Glass Spray Bottle
It's okay; we've put off our spring cleaning, too. It's so much more fun, though, when you have something cute and customizable to clean with, like this BPA-free glass spray bottle from Rail19.
Finally, a conscious and convenient way to store your favorite DIY homemade cleaners, linen sprays, insect repellents, and more. This bottle will make a fabulous addition to your seasonal home goods, especially with their ease of use for watering plants, washing produce, and cleaning your yoga mat. It also comes with a fun, removable chalkboard label that's made with vinyl, preventing it from fading in moisture-concentrated areas like the bathroom. Go ahead: Blast your favorite warm-weather playlist, and clean on.
Value: $16.50
Revealed 5/15: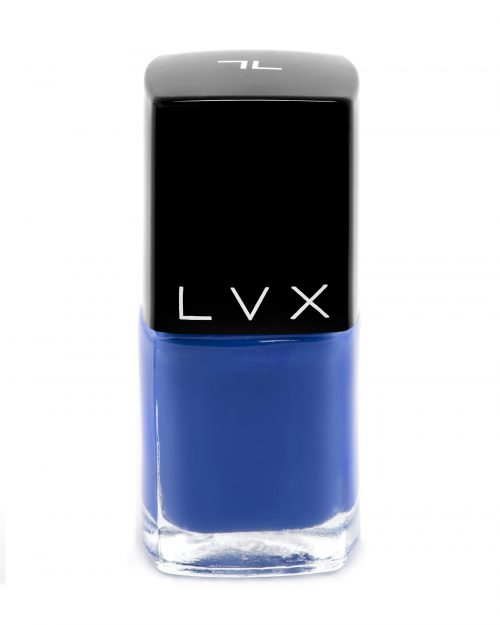 LVX Cerulean Nail Polish
A fabulous, one-coat polish for your spring nail color palette. LVX is the only luxury, high-fashion, 7 toxin-free premium nail lacquer. Add another nautical splash to your white, post-Memorial Day outfit with this cerulean shade that goes remarkably well with your new Sitara cuff!
The LVX award-winning, gel-like formula is vegan, as well as gluten-free, cruelty-free, and TPHP-free. It's made in the USA without the use of formaldehyde, formaldehyde resin, DBP, toluene, camphor, xylene, or parabens. Plus, it's just a hot, trendy color. Celebrity and publication supporters of LVX products include Jessica Chastain, Molly Sims, Kaley Cuoco, US weekly, Vogue and E!, to name but a few.
Want more seasonal fabulosity? Shop the LVX website and enter the code 'EcoSalon20' at checkout for a 20% discount, valid through May 31, 2016.
Value: $16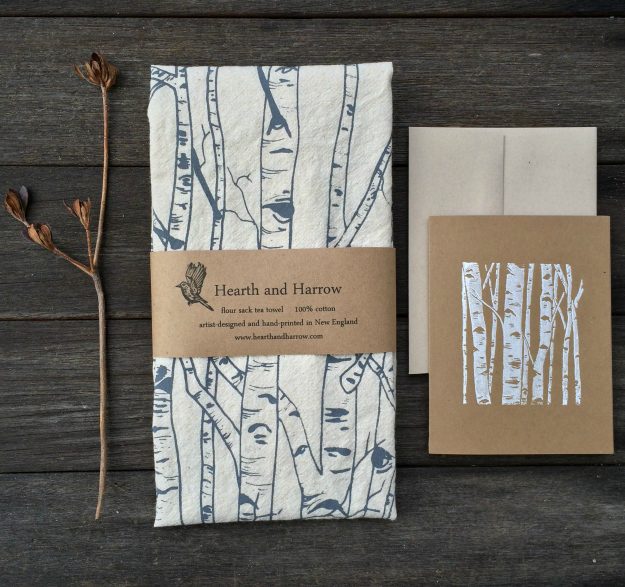 Hearth & Harrow Handmade Home Duo
Maintaining a natural home is a top priority for you; there's no place for cut-rate, chemical-laden materials in your seasonal renewal, right? Casey Everett, the owner and designer behind Hearth and Harrow, knows that. When you buy a Glam Renewal Box, you'll receive one of her gorgeous, glam, hand-printed flour sack tea towels: Created using only solvent-free, non-toxic inks and eco-friendly materials and packaging.
The towels' premium cotton is absorbent, lint-free, quick drying, and becomes softer and softer after each wash. It's perfect for draping over your oven handle, lining your bread basket, or folded neatly on the patio table. And, it will make a great pairing with your new passion flower placemats.
Included with your birch tree flour sack tea towel is one hand-carved linocut greeting card. Each piece began as an original drawing that Casey then hand-printed, one at a time, in small batches. An accompaniment to the birch towel, the white birch tree greeting card is hand-printed on recycled brown Kraft card stock and comes with a recycled brown Kraft envelope. Each card is blank inside, awaiting your personalized message.
Birch flour sack towel: $15
Hand-carved linocut greeting card: $5
Total value: $20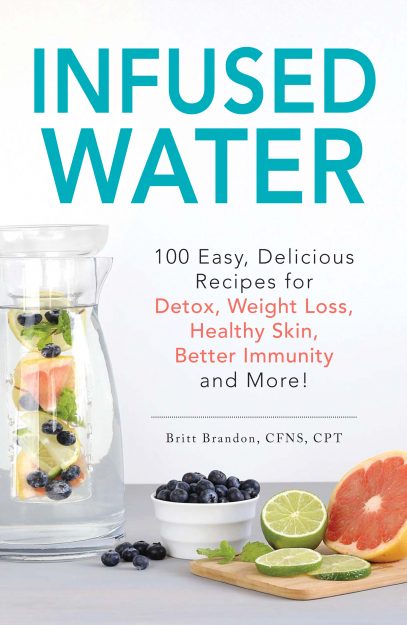 "Infused Water: 100 Easy, Delicious Recipes for Detox, Weight Loss, Healthy Skin, Better Immunity, and More!" by Britt Brandon
With all of this hiking and enjoyment of alfresco cocktails, it's also a season to stay hydrated. Think plain water is boring? Wrong! Put a glam spin on it: Infuse your water for a healthier spin on hydration! Britt Brandon's "Infused Water"features more than 100 nutrient-rich recipes for thirst-quenching drinks that control your appetite, aid digestion, and improve your overall health. There's an infused water for everyone, from traditional flavors like Crisp Cranberry-Lime to surprising pairings like Lemon-Oregano. Enjoy them on-the-go, too, with your new Embrava Sports Water Bottle.

Water is the foundation of good health, but some people have trouble drinking enough of it each day, especially in the summer months. "Infused Water" is full of creative and flavorful ideas for increasing your daily water and nutrient intake. Infusion is a great way to enjoy the vitamins and flavors of fresh fruits and vegetables without the extra calories or fructose found in juices. Sip your way to better health with these refreshing and nutritious infusions.
Value: $13.99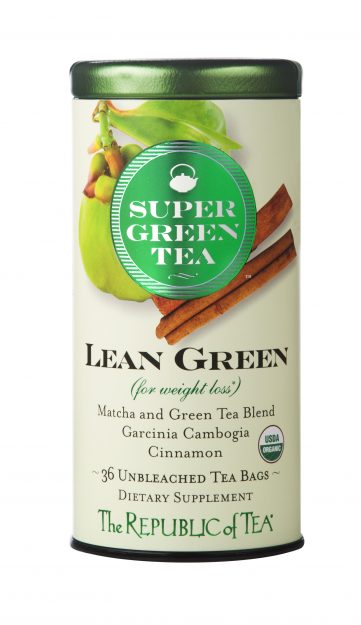 The Republic of Tea Organic Lean Green SuperGreen Tea
"Designed for weight loss": Words that are music to the ears of many of us when the warmer months arrive. They're also an apt description for The Republic of Tea's Lean Green Tea.
This organic blend features a base of premium matcha and green tea, both known for their qualities that can boost energy and metabolism. Plus, the tea is rounded out with cinnamon and the skin of the garcinia cambogia fruit, which might help alleviate cravings and inhibit fat production. Enjoy a daily cup of this gentle, spicy-sweet tea; we hear the beach calling/
Each Glam Renewal Box contains one tin of 36 natural, round, unbleached tea bags with no unnecessary strings, tags or staples for eco-friendly steeping. Cheers!
Value: $13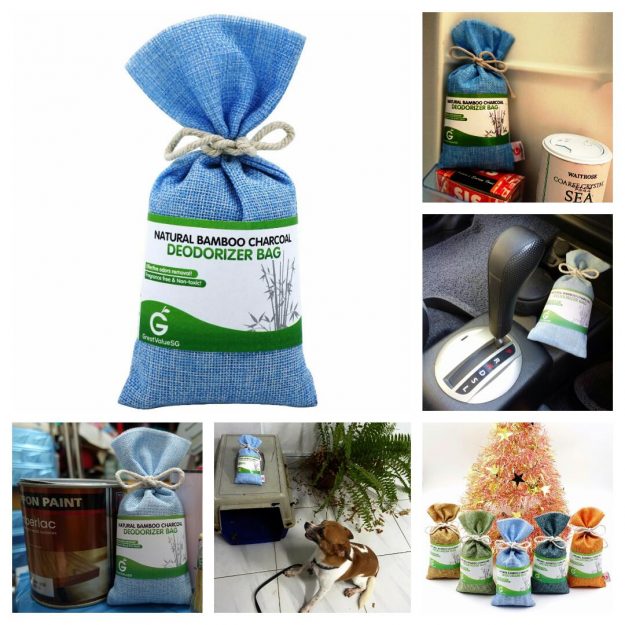 Great Value SG Natural Bamboo Charcoal Deodorizer Bag
Seasonal renewal is all about making things light, bright, and organized: Words that don't exactly describe a clunky, old-fashioned box of baking soda, amirite? Toss that orange box in the back of the fridge, and trade it in for the clean, natural, reusable, and far more glam Great Value SG Bamboo Charcoal Deodorizer Bag.
Non-toxic and unscented, these bags work by absorbing odors and moisture, rather than masking them with artificial fragrances, and preventing mold, mildew and bacteria growth by keeping air dry and fresh. One bag covers a small area of up to 70 square feet, making for great use anywhere in your home, office, or car.
Each Glam Renewal Box contains one bag, which is reusable for up to two years, leaving you with zero wastage. And, get this: To renew its deodorizing properties, all you have to do is leave it in the sun for 1-2 hours, allowing you to "recharge" it when you're outside sunning yourself. Way to shine on!
Value: $12.99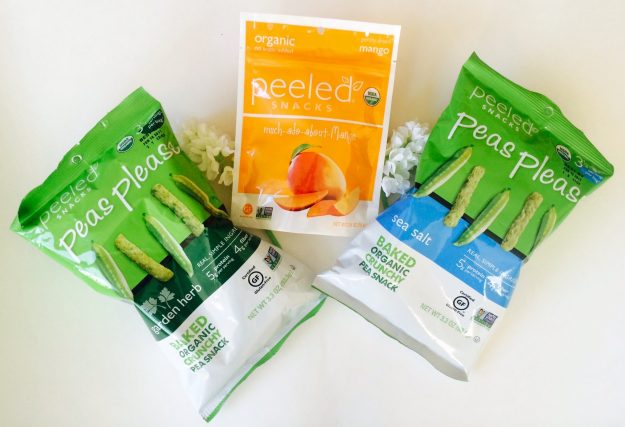 Peeled Snacks Road Trip Trio
Summer = road trips, and road trips = snacks. Don't touch that roadside fast food joint – Peeled Snacks is here to crush your freeway cravings.
Peeled Snacks, a maker of organic fruit and vegetable snacks, is on a mission to help you feel good about snacking. Each Glam Renewal contains one bag each of the following perfectly portioned varieties:
Sea Salt Peas Please (3.3 oz): The only the organic, baked pea snack available, made from natural, wholesome ingredients like organic whole peas and whole grain brown rice. With one whole vegetable and 5 grams of protein per serving Peas Please offers a tasty, nutritious choice over other savory snacks.
Garden Herb Peas Please (3.3 oz): Just like above, but naturally flavored with tomato, red bell pepper, onion, garlic, dillweed, and parsley.
Much-Ado-About-Mango (2.8 oz): Made from mango harvested at its peak and gently dried to preserve it's naturally sweet flavor and essential vitamins, minerals, and fiber.
Sea Salt Peas Please (3.3 oz): $2.99
Garden Herb Peas Please (3.3 oz): $2.99
Much-Ado-About-Mango (2.8 oz): $4.79
Total Value: $10.77
Total Value for the Glam Renewal Box: $450.00
Sale Price: $129 + free shipping! That's a 71 percent savings. And no, that's not just the sun in your eyes. 
Sold Out!
The Box will go on sale Monday, May 16th, at 8 o'clock AM Pacific Time. So set your alarms and mark your calendars – these will sell out fast!
Offer good anywhere in the continental U.S. International shipping is not available at this time. Buy, one, two, or three boxes! Please allow up to three weeks for delivery. All sales are final. Due to the nature of this exclusive one-time sale, we cannot accept any returns or exchanges. Any inquiries or concerns regarding purchased Boxes must be submitted via Customer Service within 30 days from date of purchase. 
Say hey to Amanda on Twitter or Instagram
Related on EcoSalon
20 Memorial Day Recipes You Should Make Right Now
6 New Nautical Trend Finds: Maritime with a Modern Touch
5 Looks Inspired by Pantone's 2016 Spring Colors: Friday Finds