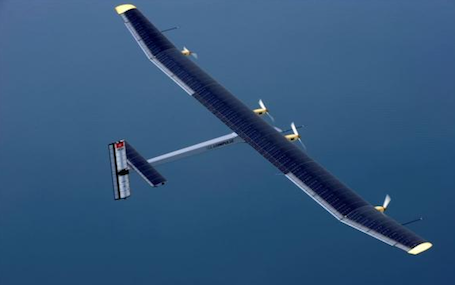 Flying close to the sun has always been viewed as, well, inadvisable. But a lot has changed since Icarus went down hard. Today, prying apart the human need and desire to take wing with our over-reliance on fossil fuel, poses a significant challenge to creating a greener blue yonder.
Enter the Solar Impulse HB-SIA – and take note of its recent maiden flights culminating in a pure-solar energy voyage last Friday. The solar-powered airplane has wings boasting 12,000 solar cells powering four 10-horsepower engines, and a span matching that of a 747 (about 200 feet). It took off for the first time in Switzerland on April 7th and flew for 87 minutes at heights reaching just under 4,000 feet. German Pilot Markus Scherdel took the aircraft (which weighs about the same as a mid-size sedan) on its first zero-emission spin, performing gentle maneuvers at speeds of about 30 miles per hour. Then on May 28th, André Borschberg took the plane on two more short flights, the second of which was powered only by the sun.
"Today the HB-SIA was sun-born," said Borschberg, who activated the solar cells on his second flight, prompting the aircraft not only to produce electricity, but also to recharge its own batteries. "At this precise moment," he said, "when the Solar Impulse produced more energy than it was currently consuming, the fulfillment of a dream – to fly solely on solar power, day and night – came one step closer to reality."
The experimental aircraft is the brainchild of Solar Impulse co- founders Borschberg and Bertrand Piccard. Piccard says the $93-million-plus project is strictly for research purposes, but points to what might lie ahead in the arena of zero-emission aviation. "Solar impulse is intended to demonstrate what can be done already today by using these energies and applying new technologies that can save natural resources," he said after the aircraft's first test flight.
The practical goal of the Solar Impulse program, largely supported by private funding, is to use data from these initial flights to build a second aircraft that will complete a five-stage around-the-world flight by 2013. Obviously the leap from there to any commercial application is vast. But then again, how many years was it from Kitty Hawk to the jet engine?