It's almost time to say buh-bye winter (woo hoo!) and hello spring (double woo hoo!), so we've hand-picked our favorites from the spring 2017 fashion trends so you can get a jumpstart on your wardrobe.
The fashion goddesses have spoken, and now that the majority of major runway shows are over, we have a pretty good idea of what the spring 2017 fashion trends will look like. Whether you like to follow the latest and greatest, or prefer to pick classic pieces that never seem to go out of style, we're confident that there's something on this list for everyone.  
Chokers are out, long pendant necklaces are in. Midi-lengths have been replaced by the mini skirt. And your sexy off-the-shoulder numbers are seeing a revival again this spring. But what else is new? What will go and what will stay? And are you ready to bare your midriff in a bra top? Either way, we've got the scoop on what's hot and what's not, and more importantly how to wear them in a practical way.
1. Romantic and Rough
Image: Popsugar
Ruffled, sheer, flowing, and decidedly romantic pieces are trending again for spring. This time, however, the way to rock these looks is with other garments or accessories that are a tad rough around the edges. Use the juxtaposition of hard materials to balance the softness of the romantic looks. A real life application might be a knee-high chunky-heeled pleather boot paired with a light and airy ruffle dress. Or, try sheer, romantic top tucked into a tweed or leather skater skirt.
2. Standout Stripes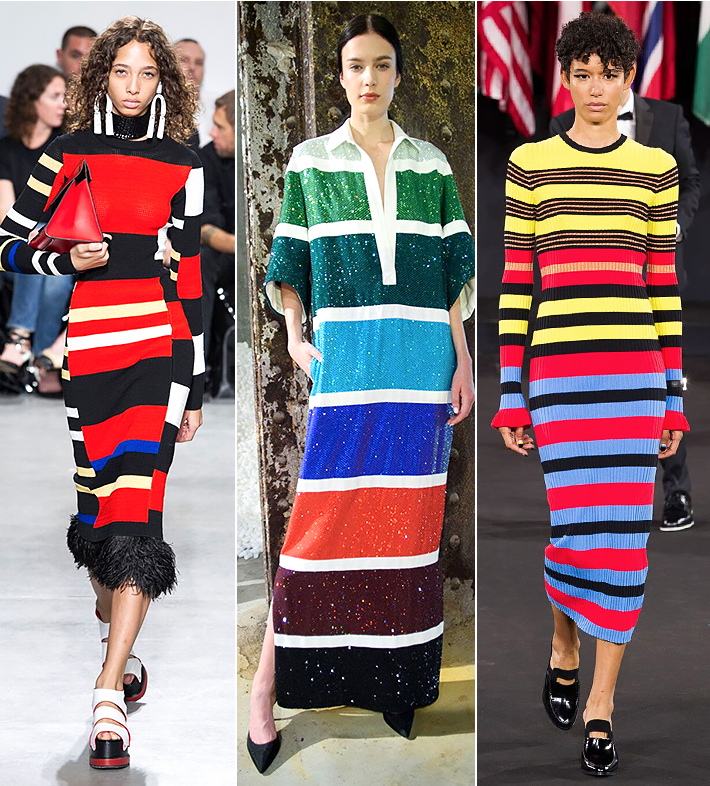 Image: Stylecaster
Striking stripes are one of the top spring 2017 fashion trends, and there are no rules on how to wear them. Whether vertically, horizontally, diagonally, or any which way you please, sport your stripes in all directions, regardless of body type, size, or shape. To really bring the trend home, choose a chunkier stripe (rather than a pinstripe) and pair with solid accessories and garments. Black is always a great anchor color, but with the emergence of spring, we're liking the idea of pairing your stripes with white everything.     
3. Brazen Bra Tops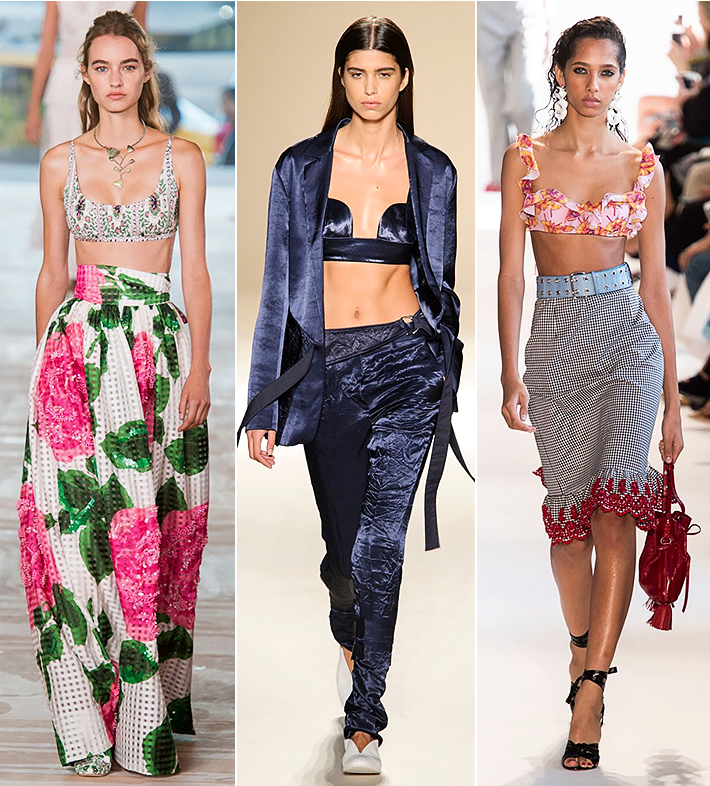 Image: Stylecaster
Quite possibly the hottest trend on this list, bra tops will be a hot commodity come spring. From frilly and lacy, to dominatrix-esque leather and lacing, the styles run the gamut. For the everyday woman, we'd suggest pairing yours with a bomber jacket or athleisure-like outerwear with jeans and sneakers for a casual look. If you're going out, then play up the sheer/solid combo by pairing an opaque bra top under a sexy sheer long sleeve blouse.
4. Bold Florals
Image: Popsugar
Vacay-worthy tropicals, garden party prints, and mod squad '70s florals are all happening this spring. These are surprisingly versatile, and they can be worn for work or play. From a simple floral print dress worn with platform espadrilles, to a bold floral blouse tucked into high-waisted wide leg trousers for work, this is an easy trend to pull off.
5. Stylish Shirting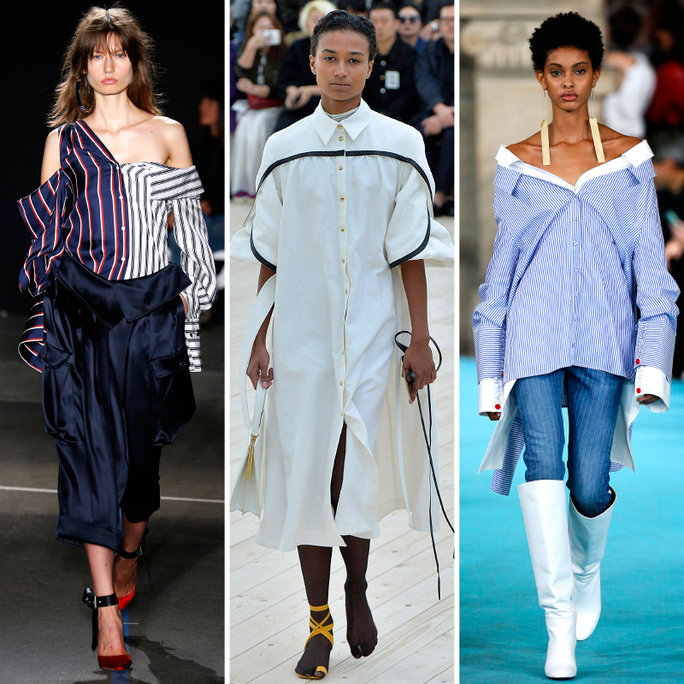 Image: InStyle
The button down shirt is a work-to-weekend staple that will always be a viable wardrobe piece. This year, however, we're seeing it embellished, belted, re-sleeved, and somewhat oversized. Simple shirt dresses are in style, but wearing one over trousers is even hotter. Extra long belts are something to consider when cinching the waist, as is opting for interesting sleeves, ranging from puffy to laced.  
6. Fresh Athleisure
Image: Popsugar
Bold colors, hooded sweatshirts, track pants, knit dresses, and geometry-themed graphics are what's trending in the world of athleisure. Track suits with coordinating tops and bottoms are hot for spring—a look you could easily pair unzipped or unbuttoned with a sports bra-style bra top underneath. Dress these up with a pair of sporty heels or platform sneakers. Add some extra flair with a bold lip and chic sunglasses.  
7. Neon Lights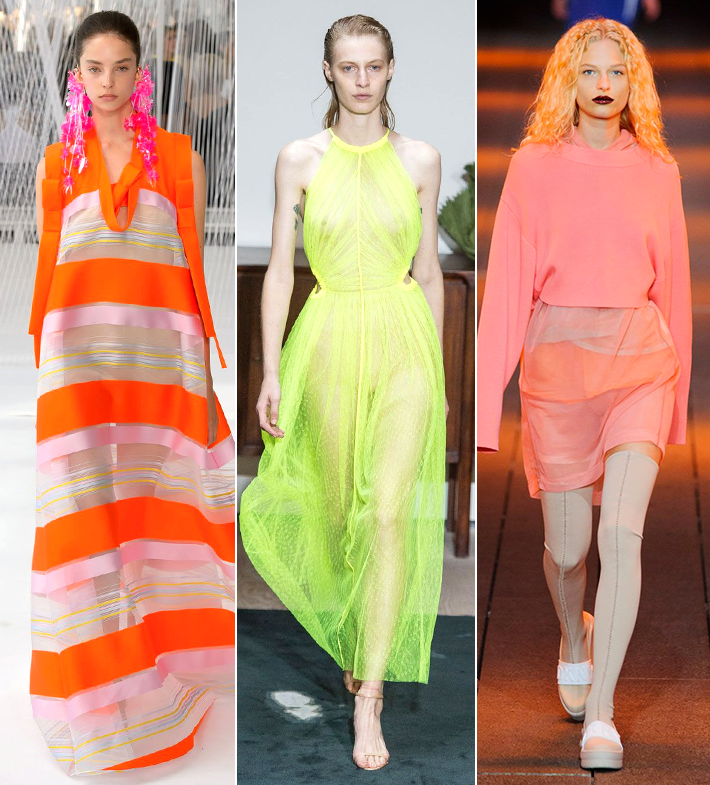 Image: Stylecaster
Blinding and beautiful, neon hues will have all eyes on you this spring. From maxi dresses to accessories, we're seeing the vibrant colors come in all shapes and sizes. However, the thing that makes this trend extra wearable is the play on sheerness and candy-like shapes. Neon clothing is more forgiving when it's gauze-like and layered, and accessories are playful when they resemble your favorite childhood hard candy treats.
8. Statement Slogans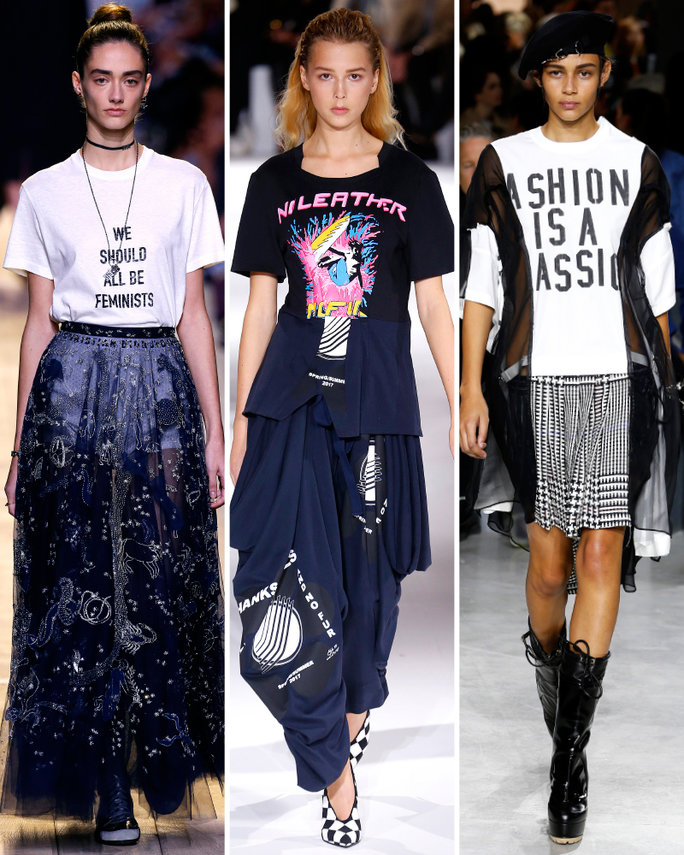 Image: InStyle
Wear your feelings loud and proud in graphic slogan tees that speak for themselves. Whether you're expressing your affinity for the selfie, support of the feminist culture, or your love of tacos, there's a t-shirt for that. Pair fitted tees with maxi skirts, athleisure garb, or your favorite jeans, and a cool pair of flatforms.
9. Flatform Shoes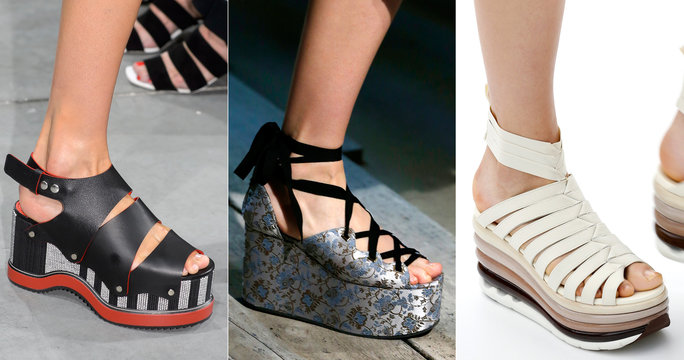 Image: InStyle
While we may never see heels be completely filtered out of fashion, or even a season, flatforms are definitely a welcome addition to the gamut of spring 2017 fashion trends. From open-toed looks to enclosed sneakers, this popular shoe style is back for another round this year. If you want to wear these without resembling your 70-year-old grandmother, the best way to pull them off is by choosing a shoe that has interesting details. Opt for a cool geo print, ballet-style ties at the ankles, a beachy espadrille, or dual textures. Avoid rubbery materials and velcro straps like the plague.
10. Long Jewelery
Image: Popsugar
From shoulder dusting earrings to navel-length pendant necklaces, long and chunky jewelry is in for spring. What some fashion experts have described as Instagram-worthy earrings, these larger than life baubles are definitely of the face-framing sort. Just don't wear them alongside your dangly pendants—one or the other is enough to make a statement without looking gaudy.
What do you think about the spring 2017 fashion trends? Share your thoughts on the EcoSalon Facebook page!
Related on EcoSalon
7 Surprising Ways Clothing Affects Your Life (Not Just Your Look)
5 Pieces Inspired by Pantone's 2017 Color of the Year: Friday Finds
Clothing Swap 101: Everything You Need to Know to Host Your Own