The Super Committee and the Secret Farm Bill.
If the words "Farm Bill" make your eyes glaze over and your head start bobbing, you're not alone, but slap yourself awake because the Farm Bill is not just for farmers; it's for all eaters. And it matters.
During a recent panel discussion at the Community Food Security Coalition Annual Conference, I got a historic view of why Federal food policy in the guise of the Farm Bill matters, and what we can do to influence today's version.
First a little history, Dan Imhoff, author of Food Fight, the Citizen's Guide to Food and the Farm Bill, and several other books on food system issues, reminded us why the farm bill exists. I paraphrase below.
The first Farm Bill was written in 1933 under conditions of misery for farmers and eaters across America. Dust clouds drifted across Texas, taking with them precious topsoil. Without price supports, low crop prices meant farmers just planted more to get ahead, farming more and more marginal and vulnerable areas, and causing prices to drop even lower. Farms failed and the government stepped in and started paying farmers not to plant crops. Meanwhile, the government took control of surplus grain stocks and distributed these to the needy. The first farm bill was designed to support farmers and reform agriculture through grain credits and price supports, while promoting conservation of farming areas and distributing food to people in need.
Today though the bulk of the money goes toward nutrition programs for the needy, much of the remainder is spent in the form of subsidies for a narrow class of crops that are used for ethanol, animal feed, and processed food ingredients, corn being the biggest recipient. Little money goes toward fresh food crops that people actually eat in their unprocessed form, which is why critics say the Farm Bill promotes obesity and our epidemic of diet related diseases.
According to Imhoff, when the first farm bill was written in 1933, there were 6 million family farms. Today there are only 2.2 million farmers and 84% of them are losing money. This is because a small group of mega farms are the biggest beneficiaries of the system. Under the farm bill, fresh vegetables, fruits, and nuts (the ones we should be eating) are considered "specialty crops" and receive little support from the farm bill.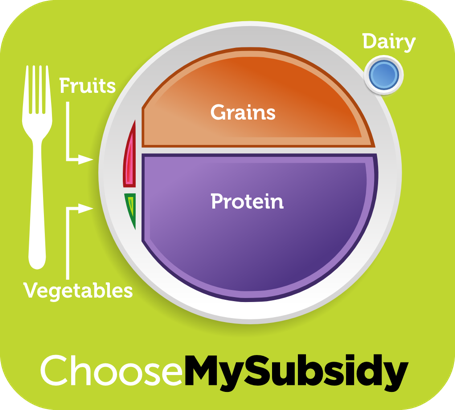 As an illustration, the new USDA 2010 Nutrition Guidelines or "My Plate" recommends that half of our nutrients come from fruits and vegetables and one-quarter from grains. Imhoff showed us a visual of what the ag subsidy plate would look like with only 2% of the subsidies going toward what people should be eating most of. For a detailed look at where the subsidies go and who gets them, check out The Environmental Working Group's Farm Subsidy Database.
So what can we do to fix this lopsided situation?
Some say that all subsidies should be scrapped and let the free market decide. Others say that price floors should be favored over subsidies to give family farms (regardless of size) a leg up in competing with agribusiness.
Every five years we have a chance to influence federal food and farming policy when the farm bill comes up for renewal. The 2008 Farm Bill brought some real, though modest, gains for small family farmers, conservation, and hunger programs. With the Good Food movement in full swing, folks were hoping for more from the 2012 Farm Bill, but that was before the Super Committee,  charged with cutting the overall deficit, was formed. The four ag representatives on the committee, Frank Lucas R-Okla., Debbie Stabenow, D-Mich., Collin Peterson, D-Minn., and Pat Roberts, R-Kan., propose making $23 billion in cuts to agriculture. Some say these four will essentially decide the 2012 Farm Bill behind closed doors, amounting to what some, including Mark Bittman, are calling a Secret Farm Bill.
Big ag lobbyists will be clamoring for cuts that will benefit their constituents, but there is hope. Another speaker on the panel, Democratic Representative Chellie Penigree from the state of Maine, spoke about a bill she introduced with Sen. Sherrod Brown (D-OH) on November 1 called The Local Farms, Food, and Jobs Act (SB 1773 and HB 3286). She outlined some of its provisions for helping local and regional farmers and ranchers, preserving and promoting nutrition programs, improving access to healthy foods, and supporting both family farms and new farmers. Pingree stressed that it's up to us to let the four representatives on the committee, as well as our own senators and representatives, know that we support this act. The bill was introduced with 34 sponsors and has gained more since, proving that there are people in Congress who support the kind of food system we want. We just have to make sure we speak out loudly enough to drown out the chorus of lobbyists.
The decision could be made before Christmas, so get on the phone right now and call the Senate switchboard at (202) 224-3121, tell them where you live, and ask for your epresentative. Tell the staffer who answers the phone that you want to support local food and family farmers through The Local Farms, Food, and Jobs Act.
Don''t go back to sleep. Follow the progress of the Farm Bill at Food Democracy Now, and The Environmental Working Group.
Your food future depends on it.
Images: Fishhawk and Vanessa Barrington