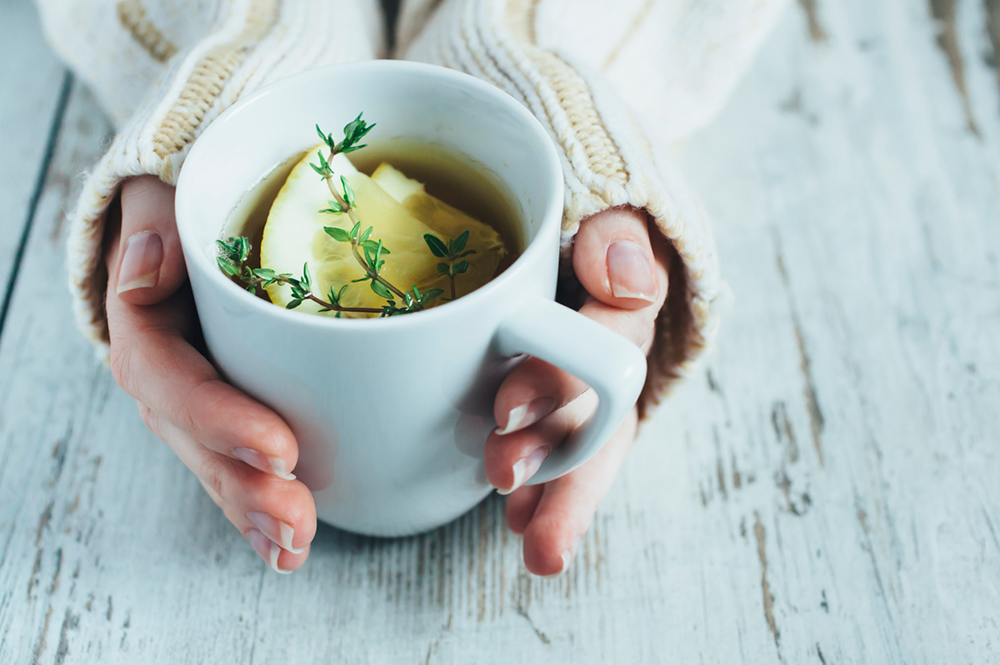 Warm up with a cozy cup of herbal tea to enrich your body and soul. You won't be missing the jitters from your usual cup of coffee with the abundance of herbal tea benefits.
Best Types of Herbal Tea
Ranging from zesty ginger to calming chamomile, there are a wide variety of herbal teas and benefits to each type. These nutritious yet comforting herbal teas are great starters:
Chamomile
Ginger
Hibiscus
Lemon Balm
Peppermint
Rose
Turmeric
Herbal Tea Benefits
1. Digestive
The many healing properties of herbal teas can help the digestive system. If you're looking to improve digestion or just ease a queasy stomach, then you'll want either ginger, lemon balm, or peppermint tea.
In a number of studies, ginger has been proven to be a reliable aid to reducing nausea and vomiting. Peppermint, on the other hand, works to ease stomach spasms and cramping. Lemon balm, similarly, has been shown to be effective in diminishing bloating and alleviating an upset stomach.
2. Immune Support
Herbal tea is especially helpful during cold and flu season. Many herbal teas boast immune-boosting properties which may help to combat or prevent viruses. For these benefits, reach for echinacea or elderberry tea.
Echinacea is especially promising in preventing and easing colds. Research has shown it increases the number of white blood cells in the body, which fight infection.
Elderberry, alternatively, contains antioxidant-rich flavonoids that are useful in boosting the immune system. While there are minimal studies done on the health benefits of elderberry, the herb has been suggested to prevent and soothe cold symptoms.
3. Anti-Inflammatory
If you frequently suffer from aches and pains, try an anti-inflammatory tea such as turmeric or hibiscus. Turmeric has anti-inflammatory benefits due to its curcumin content. Various studies have shown the substance can help fight inflammation in the body.
Hibiscus, a fruity tasting flower, is another suitable choice. Hibiscus is rich in vitamin C which is known to combat inflammation. It also makes for a delicious summer drink when iced and swirled with a teaspoon of agave.
Where to Buy Organic Herbal Tea
Before buying your herbal tea, make sure you choose a brand that doesn't use additives and artificial ingredients. Trusted brands include: Traditional Medicinals, Numi Tea, or Mountain Rose Herbs. Don't forget, you can also go the eco-friendly route in buy loose leaf and steep using a tea infuser.
Related on EcoSalon
7 Must-Have Tea Accessories for the Perfect Cuppa
How to Throw a Perfectly Lovely Afternoon Tea Party
Green Tea for Skin: Our Top Superfood Cosmetic Product Picks