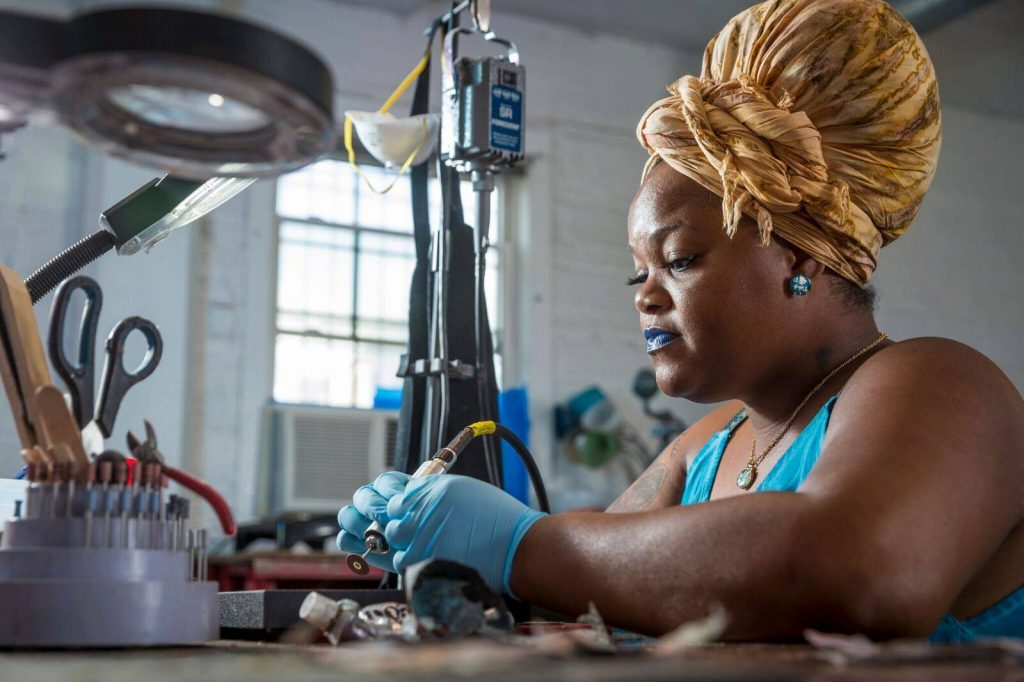 BLOCK x BLOCK, an art startup, helps art lovers become art owners and community builders.
Making Local Art Accessible
Margarita Barry, artist and founder of Detroit's BLOCK x BLOCK, loves art. And it's Barry's love of art—plus her background in creative retail—that influenced her to start BLOCK x BLOCK.
"I've ran several pop-up shops that promoted and sold the work of local artists and makers," says Barry.
"What I've found is that unless you're in the know, people have a hard time finding and connecting with local art."
Barry explains that people love art, but tend to purchase mass-produced art instead of homegrown art because it's easier to find and is usually cheaper.
"With BLOCK x BLOCK, I'm hoping to make buying original, local art more accessible to the general public—more affordable, more meaningful, more personal, and most of all, less tedious," she says. "We're hoping to take some of the guesswork out of it and make it as easy as sending an email."
How BLOCK x BLOCK works
When a person visits the BLOCK x BLOCK site, they can choose a Mystery Block—a box filled with one-of-a-kind works from local artists. Next, the person picks the artist they'd like to receive art from, a price point (the price points are $125, $225, and $350), and if you'd like to make the Box a gift.
In addition to supporting an artist and getting unique art, Block buying also helps support Detroit neighborhood projects. "Five to 10 percent of each block purchased supports citizen-led projects that help improve neighborhood blocks," says Barry. Each person who buys a Block can choose the neighborhood project they want to support.
Barry is always on the lookout for up-and-coming artists and says the company is expanding to new cities. "[I] encourage interested artists all over to get in touch with us through our website," she adds.
Current BLOCK x BLOCK artists:
Ndubisi Okoye:
Okoye grew up and Detroit. Okoye's art is made with pencil and ink. "The linear, circular, geometric, and organic symbols and patterns represent an improvised rhythm throughout my work that is very musical," he says.
Joseph Hurd: Hurd works with metal because it fascinates him. "Something about metals speak to me and I want to listen," he says.
Rebel Nell: Rebel Nell was founded to help employ, educate, and empower disadvantaged women in Detroit. Rebel Nell makes art from locally produced fallen graffiti. So, the peeled off paint is used to craft beautiful pieces.
Related on EcoSalon
Dithyrambalina: Where Louisiana Art Oozes From The Buildings
This Paper Art Pops Off the Page (or Screen)
Iceberg Art Makes These Endangered Structures Look Alive [Video]