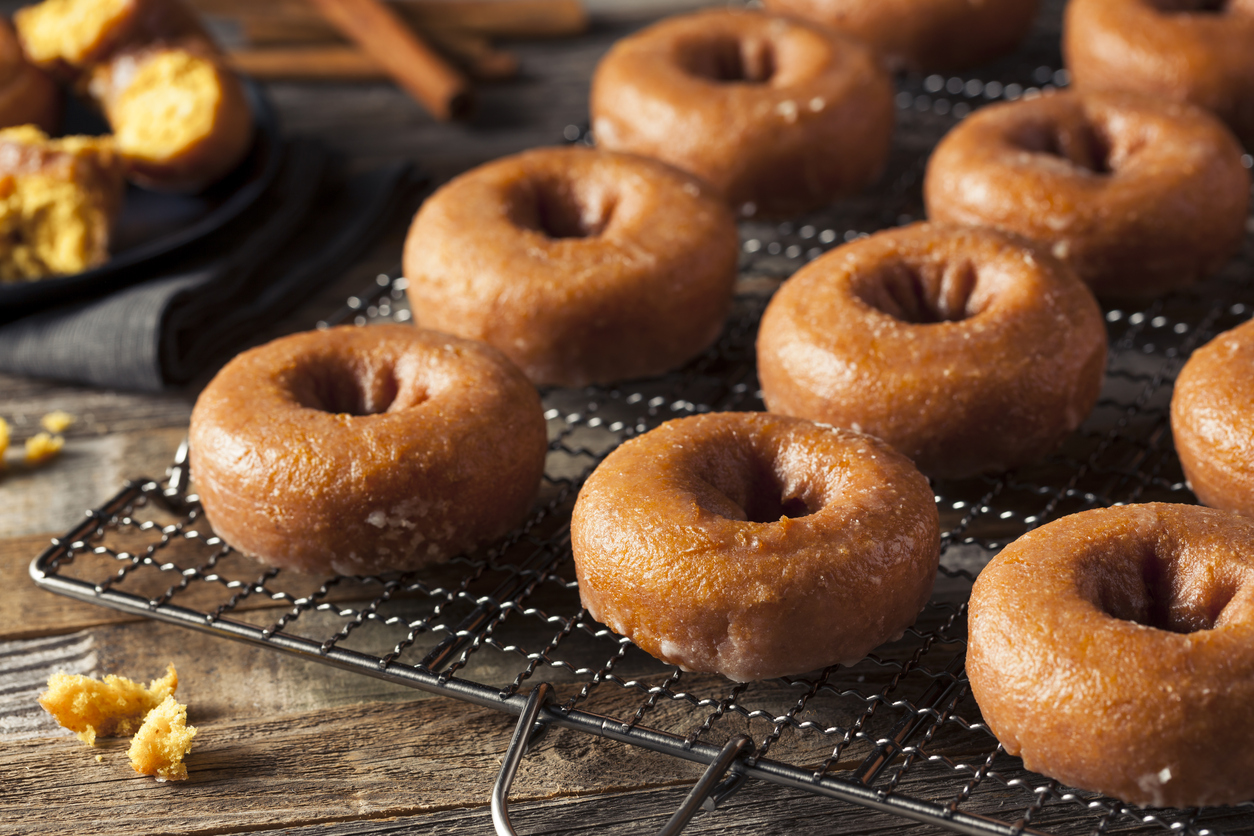 Apples and cinnamon sugar — what could you possibly make this pair better? Oh, I know, combine them in doughnut recipe that is both vegan and delicious!
I always thought doughnuts were one of those things I would have to give up if I wanted to maintain a vegan diet. This doughnut recipe makes quite a compelling case as to why my assumption is oh so very false — it contains no butter, eggs, milk, or cream. Meanwhile, these doughnuts are also free of refined white sugar and flour and, get this, oil-free. So, how do they taste so good? They are sweetened with lower-glycemic coconut palm sugar, thickened with coconut milk and applesauce, and flavored with cinnamon, nutmeg, and apple cider vinegar. You do the math.
Admittedly, these vegan apple cider doughnuts don't exactly compare to traditional doughnuts. Sure, they look the part and are so soft and moist that you'll quickly forget all the doughnuts you enjoyed in the past, but their nutritional breakdown is far more redeeming.
The Benefits
Instead of white flour, this recipe uses spelt flour, an ancient cereal grain in the wheat family. Although spelt flour is not gluten-free, it contains less gluten than whole wheat or white flour. It is also rich in vitamin B2, manganese, niacin, thiamin, and copper. White flour is often so over processed that it loses nearly all of its nutritional integrity.
This recipe also calls for coconut sugar as the sweetening agent. Coconut sugar contains far less fructose than white table sugar. And while it will raise your blood sugar levels, it won't do as much damage — its glycemic index is half that of white sugar. Coconut sugar is relatively expensive, but it's worth the buck!
When eggs, milk, and butter aren't part of a baked recipe, it's tempting to fill in for their (often obvious) absence with vegetable oils and, popularly, coconut oil. Relying too heavily on a fat, even a plant-based one, can transform any well-intentioned vegan baked good into a just-as-dangerous-as-the-original-version indulgence. In this doughnut recipe, the only significant fat added to the mix is coconut milk. Coconut oil is also sprayed on the doughnut pan to prevent sticking, but that's it!
What You'll Need
Once the doughnut batter is all mixed and ready for baking, it's important to have a doughnut pan on hand, so you can uniformly shape your apple cider doughnuts.
Vegan Apple Cider Doughnut Recipe
Serves 6
Ingredients
For the doughnuts
1 cup spelt flour
1/3 cup coconut sugar
3/4 teaspoon baking powder
3/4 teaspoon baking soda
Pinch of salt
2 teaspoons ground cinnamon
1/2 teaspoon ground nutmeg
1/4 cup 100% apple juice
1/3 cup coconut milk
1/4 cup unsweetened applesauce
1 tablespoon apple cider vinegar
For the sugar topping
¼ cup coconut sugar
¼ teaspoon ground cinnamon
Directions
Preheat the oven to 350 degrees Fahrenheit. Spray a 6-cavity doughnut pan with coconut oil.
In a large bowl, mix together the spelt flour, coconut sugar, baking powder, baking soda, salt, cinnamon, and nutmeg.
In a separate small bowl, whisk together the remaining ingredients and then pour them into the dry ingredients. Use a spatula to fold the mixture together until just combined.
Fill each doughnut hole in the pan with an equal amount of the batter. Bake the doughnuts for 12 minutes. Allow the doughnuts to cool on a wire rack. While still warm, dip them into a mixture of the sugar topping of coconut sugar and ground cinnamon. Enjoy them warm, when they are most tender and aromatic.
Related on EcoSalon
The Original L.A. 'Fauxnut' Doughnuts Recipe
Strawberry and Cream Doughnuts Recipe
Fōnuts are Better Than Donuts