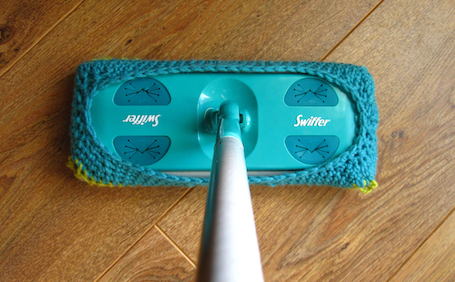 If you have a furry pets, keeping wood floors clean can be a serious challenge. When I first got my French bulldog, Leo, I wrongfully assumed his short hair meant minimal shedding. As it turns out, he sheds – a lot. My black knit slippers are now forever covered in white dog hair and there are always dog fur dust bunnies accumulating in the corners.
And so, I confess, I've become a Swiffer addict. Since I toss two Swiffer pads every time I de-fur my apartment I know this is an eco sin, but if you're an animal lover you can't deny the ease of the dusting mop! That's why I went on a mission to green my pet hair cleaning addiction and Etsy came to the rescue. Plenty of artisans have created washable, reusable Swiffer covers that work well on pet hair and don't have to go in the garbage after one use.
Blackbird Studio's Reusable Swiffer Mop Pads
In fun, colorful fabrics, these sweeper covers are made from chenille to make sure pet hair clings on and feature Velcro strips to stick it to your Swiffer.
Ham and Eggs' Handmade Eco-Friendly Crochet Swiffer Cover
The designers behind Ham and Eggs have two cats, a dog and hardwood floors so they know the pet hair battle first hand. The rows of yarn in this crocheted cover help trap pet hair in between. Once you're done cleaning, they're machine washable.
Craftinator's Reusable Duster Cover
Typically a fleece scarf designer, Craftinator made use of her scraps by creating duster and sweeper covers. The machine washable fleece material is great for picking up dog and cat hair.