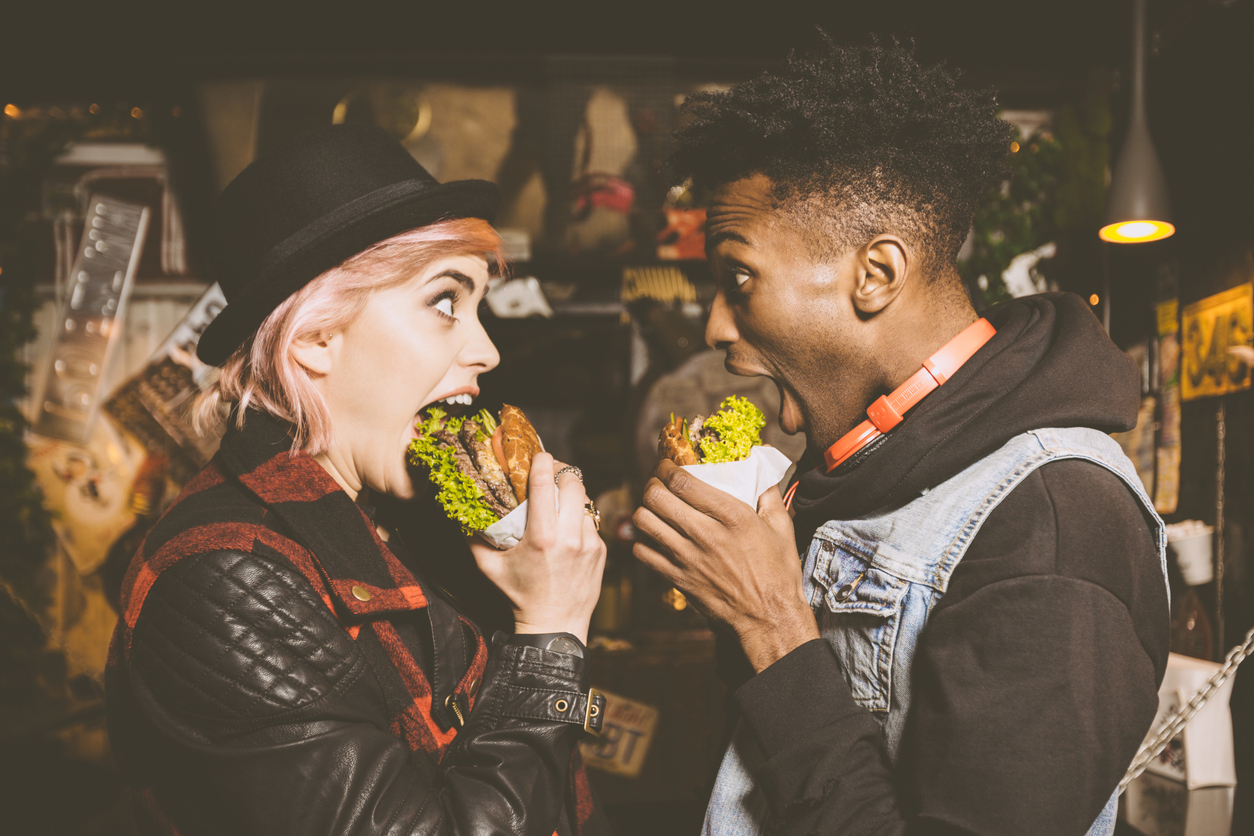 We have a tendency to take our food pretty seriously these days. To add a bit more fun to your table, Joel Miller, Executive Chef of the Wallace in Los Angeles, and stand-up comedian Karl Hess, have teamed up for a creative new comedy and food podcast: "Yelling About Pâté."
While pairing food and comedy might not seem quite as natural as peanut butter and jelly or grilled cheese and tomato soup, with a bit of thought, uniting these two trades actually makes a lot of sense – a concept that Miller and Hess explore in their first episode.
"They're both kind of renegade professions in their own way," explains Hess. "When everyone else is off work and enjoying themselves, you're at work: you're providing the pleasure, the hospitality, the food, the laughs, for those people."
Add to that the fact that "both comedy and food have reached a new level of coolness," according to Food Republic (see the podcast's episode exploring chefs with tattoos for more details), and you have a recipe for success.
But this food podcast is far more than two dude-bros chatting about how cool their jobs are. With guests ranging from SNL alum Brooks Wheelan to Chef Nick Erven of LA's formerly vegan Erven to food writer and social media veteran Esther Tseng, Hess and Miller have created a nice little corner of the cyber-universe for people who love food but don't love all those affected frills surrounding it – and that starts with the name of the podcast.
"It kind of started as a joke," explains Hess, who notes that when he first brought the idea of launching a food podcast to Miller, they figured that the show would "probably just end up being me, drunk, yelling about pâté."
While Hess' admitted passion for cured meats doesn't feature as often as the podcast's name would have you believe, the team does explore such far-ranging topics as the agony and ecstasy of family meal, a profound defense of Lunchables, and the supremacy of the bodega breakfast sandwich.
One of the show's strongest suits is the natural rapport between these long-time friends who met – as Hess tells it – when they "instantly bonded over talking shit and quoting the Simpsons." The rapport bleeds into the guests they select.
"I've tried to choose comics who are passionate about food or have a connection to food," says Hess. "And then in terms of chefs, we want to find chefs who are fucking funny and have funny stories or are just engaging to talk to."
The fact that the podcast so often features three people who know one another very well means that it's the prime space for good-natured jabs, a rapport that's commonplace in both professions.
"The currency of tearing each other down in a loving way is a big thing in the kitchen and also in the comedian world," explains Hess, who also notes that one of his favorite episodes so far has been witnessing Miller and Ted Hopkins, executive chef of the Bellwether in Los Angeles "ripping on each other."
Walking the line between comical derision and overt meanness can be a tough balance to find, but Hess and Miller do a fantastic job not only of putting the fun back in "making fun" but also removing some of the self-importance that is so often associated with food.
"Yelling About Pâté" updates every Thursday and is available for download via iTunes.
Related on EcoSalon
7 'Game of Thrones' Podcasts to Get Your (Mostly Spoiler-Free) Fix
'Missing Richard Simmons' is Our Latest Podcast Obsession
5 of the Best Podcasts You Should Be Listening to Now