ColumnYour guide to translating avant garde foodie menus.
Known for my tendency (obsession), with pronouncing words in a French accent, most of my friends refuse to order on their own if we're anywhere near a place serving croissants or tarte au citron. Even outside a French themed restaurant or cafe, Frenchie food expressions abound, and they've quickly made their way into the foodie vocabulary. And it's not just finding the French word for an ingredient and switching it out for the simplified English version; foodies are starting to have their own vocabulary. In fact, there's a whole new list of definitions that you should start paying attention to, drawn from all regions of the world.
Here are 20 terms and foods that you should know:
Amuse bouche
I won't go into the double entendre of the direct translation of this expression (which amounts to "amuse the mouth"), but what's important to know is that hors d'oeuvres are so last year. These bite size morsels normally can't be ordered; they're what the chef deems appropriate for his or her clientele to eat before they embark on their dining adventure.
Antipasto
It's clear that smaller foods are in, given that we have two newfound expressions for appetizers. This version of a "before the meal" food often includes a selection of cured meats, olives and cheeses [see: Charcuterie].
Aquavit
According to the pros, Nordic food is in this year, and with it comes the classic drink of Aquavit, a distinctly flavored spirit that hails from the Scandinavian countries and is normally consumed in one swallow, preferably with a side of pickled herring.
Aubergine
It's a color, it's a food, and you can stew them, grill them or throw them in a curry, but it really just means "eggplant." You just sound much more in-the-know if you use this term.
Beignet
Essentially a hot doughnut, beignets are popping up everywhere from well known restaurants to food carts. Could this be in large part on account of our obsession with junk food and simultaneous unwillingness to admit to our vices?
Cassis
Cassis has found its way on to many a bartender's menu, but its classic use is in the French drink kir, a combo of white wine and black currant liqueur. If you're not able to find the liqueur version, regular black currant syrup will work just as well; even better when mixed with champagne for a kir royale.
Cava
If you think France is still the only producer of sparkling wines, you're living in the dark ages. Cava is Spanish bubbly, and it goes oh-so-well with a round of light tapas in the summertime. Kind of like ordering prosseco, except you'll sound much more hip.
Charcuterie
You'd sound awkward and unworldly if you asked the waiter for "A plate full of meat, please," but that's pretty much what you're getting if you're looking at the charcuterie options. Think cured bacon, ham, sausage and a variety of confit, rillettes and pâtés.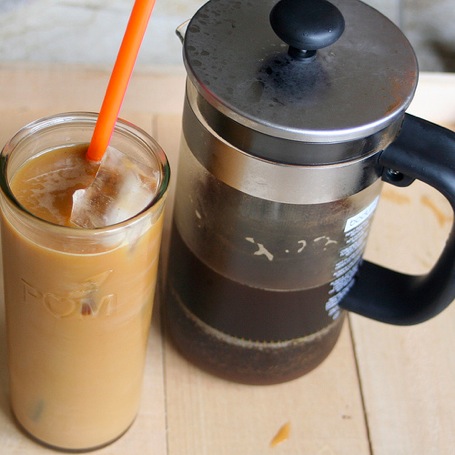 Cold Brew Coffee
Iced americanos are for the lazy coffee drinker; if a cafe has any standing in its local coffee community, it has a solid cold brew on hand. Also referred to as a toddy, you'll find many coffee aficionados that will judge a coffee shop by how good their cold brew is. Making it is a long process, but the results are so worth it.
Distilled
Distilling, as it's defined by the dictionary, is "to concentrate, purify, or obtain by or as by distillation," and foodies love to throw the term in for good measure when it comes to their drinks. You can even drink single distilled water.
Fermented
Think kombucha and beyond, far beyond. Fermentation is popular with the DIY foodie crowd because it can all be done at home, and it gives you that extra probiotic pizazz you've been on the hunt for recently.
Flatbread
Hand in hand with the Nordic trend, flatbread (especially the crisp version), is quickly replacing the standard baguette. Maybe it's because it's lighter, maybe it's because some versions have a certain crunch, but you'll be sure to want to bring this special cracker to your next dining extravaganza.
Gaufres
You think it's French, but it's not. The waffle trend is actually Belgian, and you certainly don't need to find these at a classy restaurant. Food trucks and waffle windows should be your go-to spot for this European specialty turned underground favorite.
Foraging
Call it what it is, "picking your own food," foraging allows urbanites to reconnect with where their food comes from. Join a club or track down your own fruit tree.
Infused
Be it a sauce or a liquor, infusing is all the rage. But the process, especially when it comes to drinks, is simple: choose your favorite fruit or herb, let it steep for an extended period of time, and serve to your friends at your next dinner party to a room full of oohs and ahhs.
Limoncello
There's something about the underground foodie trend that keeps bringing people back to foods and drinks they can make themselves. Limoncello is one of them. Round up a batch of fresh lemons and you're well on your way to this classic Italian liqueur.
Micheladas
If you're in a bar that you discovered on Twitter, your bartender is wearing skinny jeans, and the decor is simple but accented by a few wine bottles that serve as water carafes. In other words: you've probably got a Michelada on the menu. They're an easy-to make, cheap, perfect summer afternoon, post-work drink. Whip up a batch by combining beer, tomato juice, lime juice and spices, like hot chile sauce or powder.
Moules
Another Belgian hit, you'll most often find these served with frites, a classic dish of mussels and fries.
Pamplemousse
This is one of my favorite French words. Grapefruit just doesn't do the pink citrus justice. From salad dressings to Perrier, there's enough out there that will get you dumping the G-word fast.
Tapas
Small plates, served late into the night, consumed with friends: what could be better? Tapas bars are hot not just because the Spanish appetizer concept is good, but for the culture that they represent.
What would you add to the foodie dictionary?
Editor's note: This is the latest installment of Anna Brones's weekly column at EcoSalon, Foodie Underground, discovering what's new and different in the underground food movement, from supper clubs to mini markets to the culinary avant garde.
Image: DoubleM2, Ewan-M, Happy Krissy, Anna Brones, Stepheye, norwichnuts, mwri, sergis blog, bloggerton, whitneyinchicago, arnaud H, Anna Brones, little blue hen, allie bishop pasquier, pizzodisevo, A. Strakey, Thell, ultramega, fred_v, Matias Garabedian, flydime