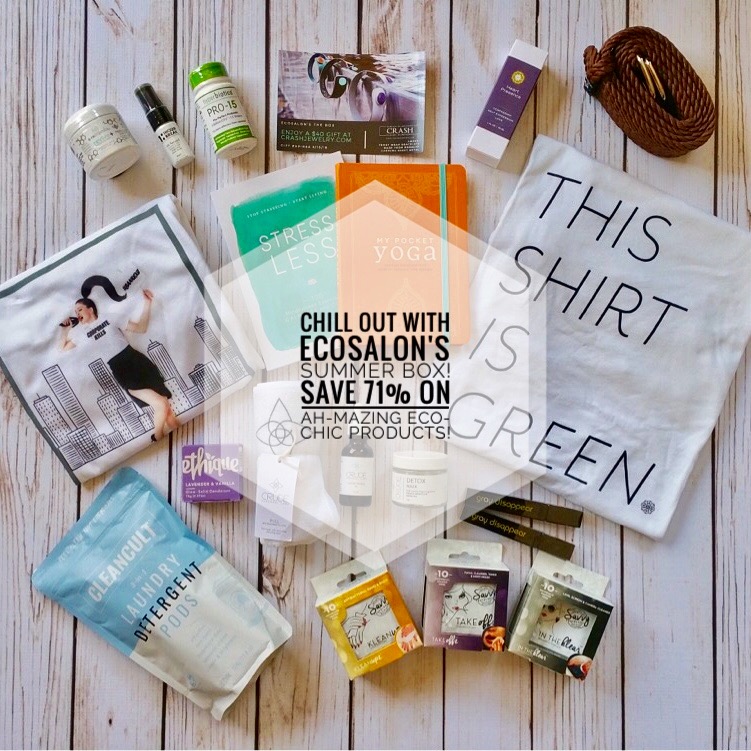 Nothing says chill like summer itself. But what if you could make summer even more relaxed? What if you could look and feel your best while promoting amazing causes, transparent businesses, and a better world? Now that's a summer to remember. We're here to help you Chill Out with the EcoSalon Summer Box!
This beauty is packed (I mean really packed!) with the best in eco luxury. From the best in organic and natural beauty care to relaxing summer reads, luxury jewelry, apparel, and so much more.
Fifteen fabulous brands bring you more than $443 worth of incredible products–all yours for just $129 + free shipping! That's a 71 percent discount!
Sold Out!
There are only 50 boxes available!
Beginning on Friday June 2nd, we will reveal several of our fabulous participating brands per day. The Summer Chill Out Box will go on sale Monday, June 5th at 8 o'clock AM Pacific Time. So set your alarms and mark your calendars–these will sell out fast! Check back daily to see the latest reveals, and read on to discover today's products!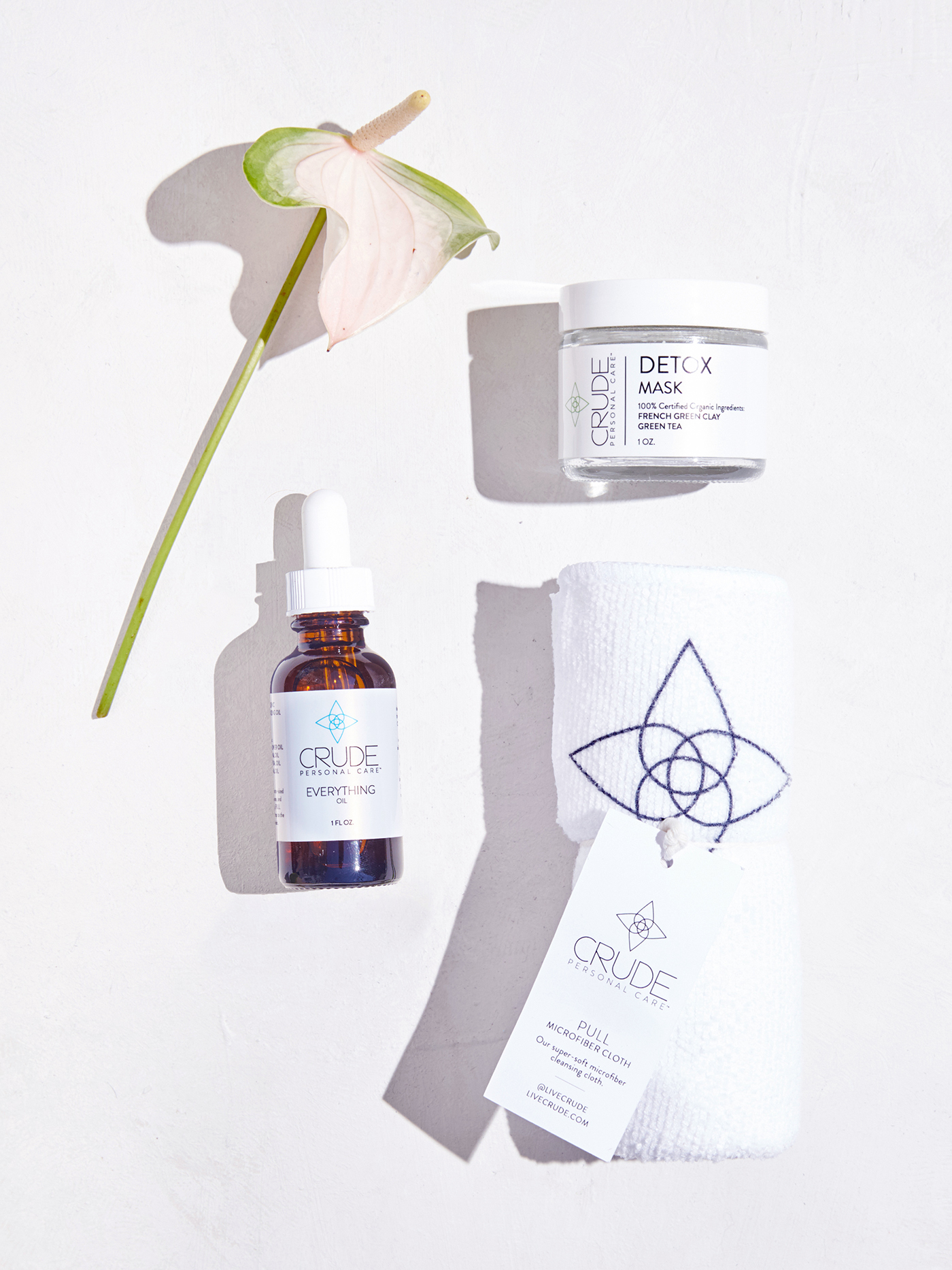 CRUDE Personal Care's Oil-Cleansing Starter Kit
Everything you need to oil-cleanse like a pro. CRUDE Personal Care's Oil-Cleansing Starter Kit is a gentle yet effective system designed to soothe, nourish and reduce inflammation in all skin types. Skin is smart and knows how to heal itself but the chronic use of soaps and exfoliants disrupts its health, making it harder for the skin to do what it knows how to do best: repair, renew and regenerate. So let your skin do its thing! The Oil-Cleansing Starter Kit contains EVERYTHING Oil to cleanse and hydrate, PULL Mircofiber Cloth to enhance the cleansing experience, and DETOX Mask to revitalize. Formulated with pure botanical ingredients that won't strip, strain or stress the skin, this easy three-piece system makes it easier than ever to transform your skin to a state of optimal health
$50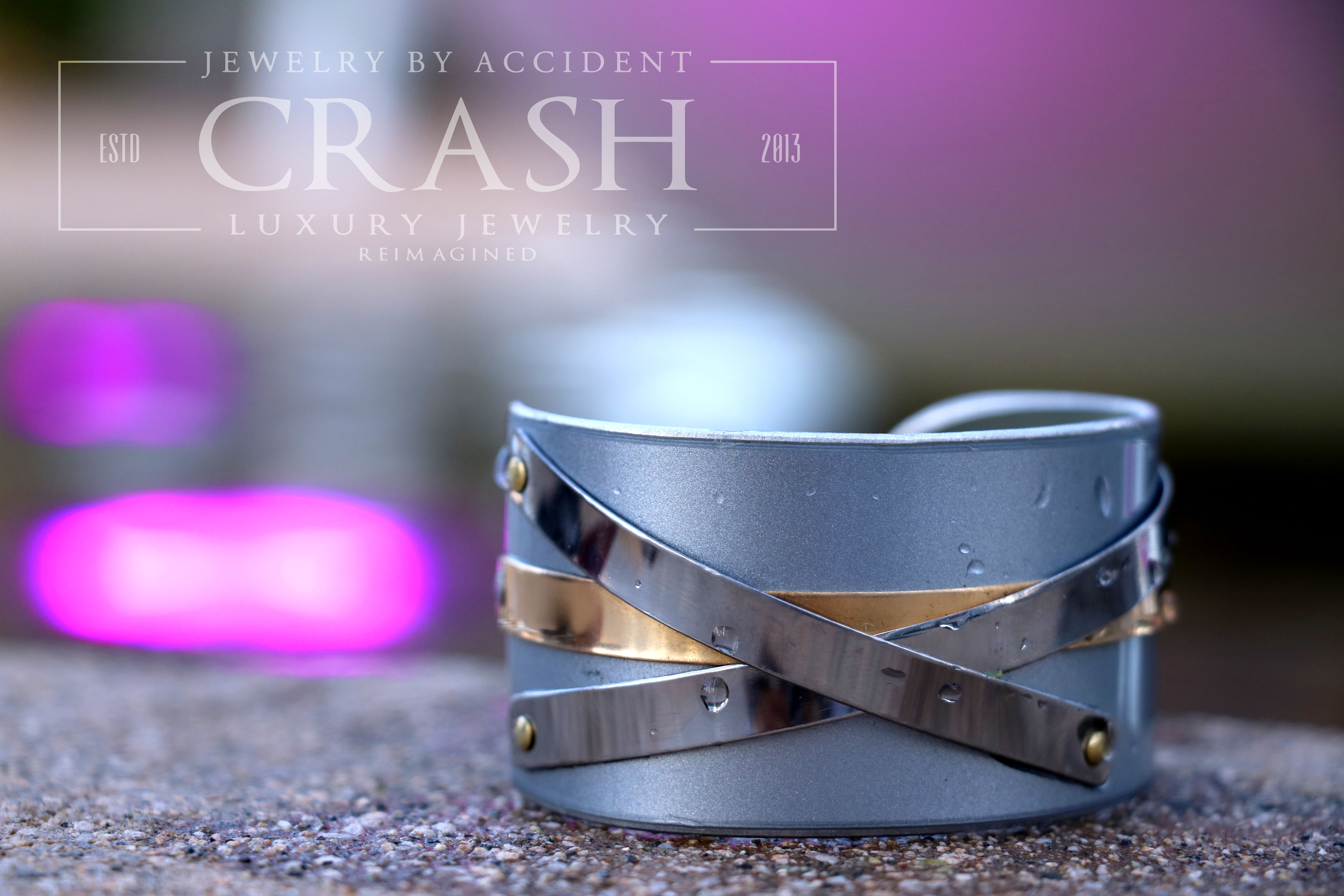 CRASH Jewelry Gift Card
Want to spend your summer in a luxury vehicle? Well now you can — sort of. Crash makes fabulous one-of-a-kind statement jewelry pieces from luxury cars. Talk about the ultimate recycling!  CRASH Jewelry offers stylish uni-sex eco-friendly cuffs, necklaces, earrings and accessories crafted from the finest late-model European luxury automobiles such as Mercedes-Benzs, BMWs, Porsches, Audis, Ferarris, Bentleys, Maseratis, and much more. Instead of occupying a landfill, this metal is transformed into fashionable jewelry for men and women. A portion of every sale is donated to various charitable organizations. Choose from the wide selection on the site with a $40 gift card.
$40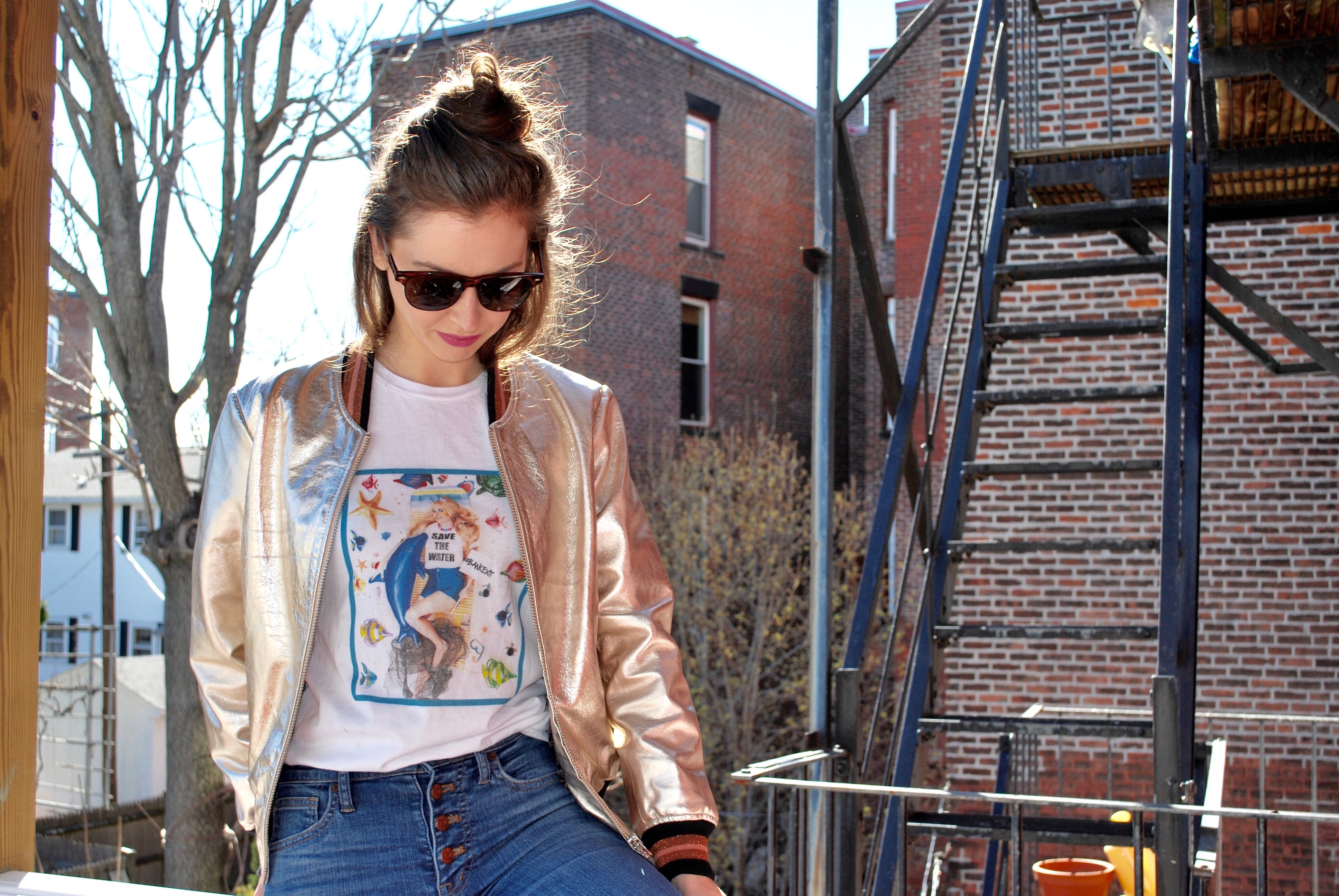 Summer is all about the perfect tee. But it's also about making a difference. EMILY VS BEAR solves both problems at once! A sustainable fashion brand, EMILY VS BEAR strives to be the voice for a better future — a future we can all be proud of. To start, the company creates positive message tees with artistic design. It is also donating 20% of every purchase to a charity of your choice! So start the conversations and enjoy doing so in style.
Boxes will receive medium or large tees in one of EMILY VS BEAR styles (see all here).
$35.00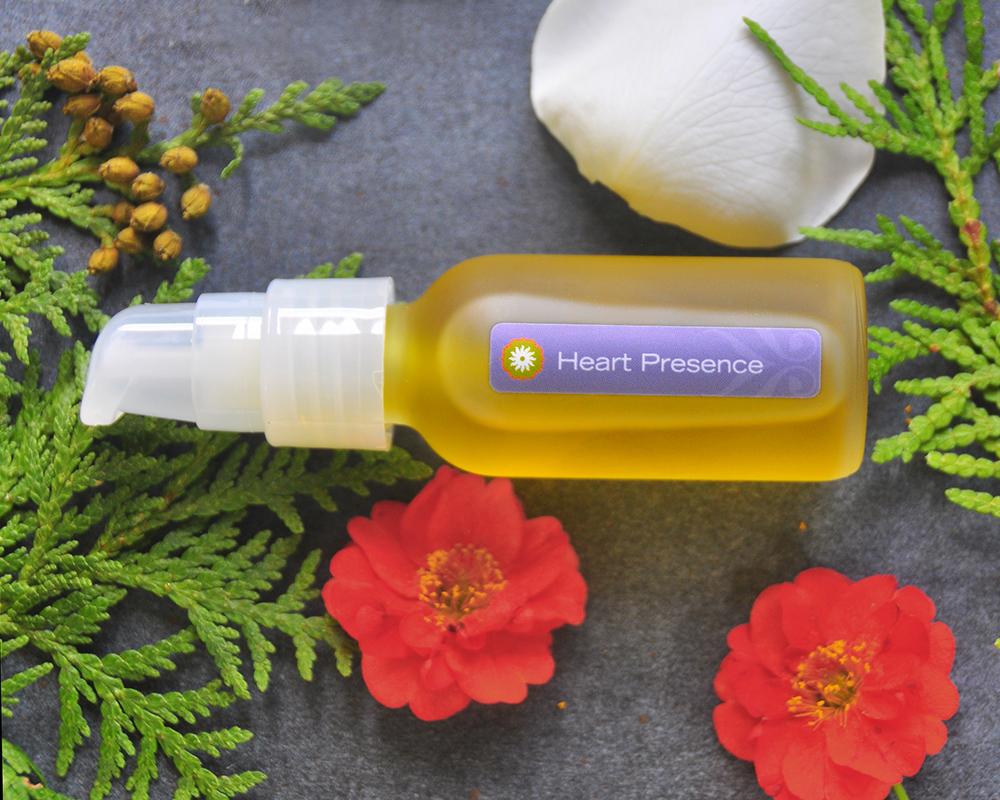 BodyMantra Heart Presence Oil Blend
The heart is the emotional center of the body. Remind it to stay open and remain receptive with BodyMantra's Heart Presence. An intentional body oil featuring a blend of geranium, lemongrass, cedarwood, myrrh, and rose essential oils, it's designed to help you soften and expand your heart, guiding you to access and express kindness, compassion, and your most tender, deep, and real emotions. Apply 2-3 pumps in a circular motion to the chest – the heart center – during daily ritual while reciting your favorite mantra.
$38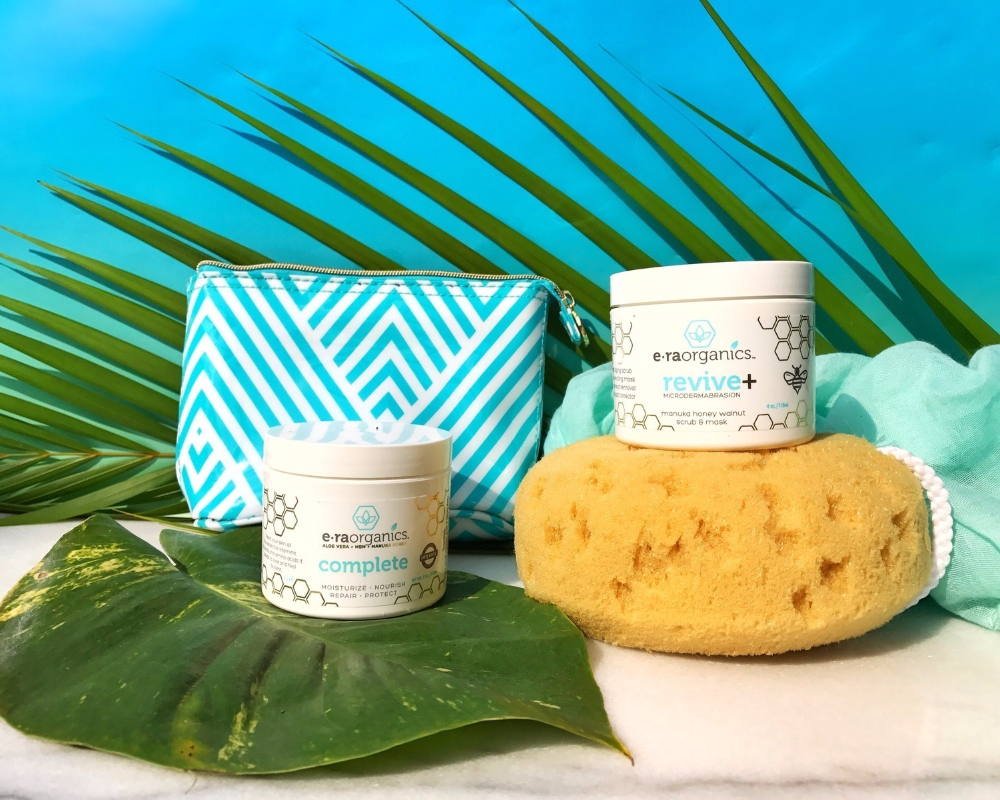 Era Organics Complete and Revive Skincare Products
The Complete Moisturizing Cream: Experience immediate and long-term relief with Era Organic's unique 10-in-1 formula. Complete has all the vitamins, minerals and amino acids the skin needs to look and feel it's best. Consider it a superfood for your skin to use on your face, body, hands and feet. The Complete Moisturizing Cream penetrates seven layers deep, providing your skin with all the essential nutrients it needs to heal and rejuvenate.
Revive+ Microdermabrasion Scrub: You don't have to suffer from dull, dry, problematic skin. Most exfoliators rip and damage your skin. This at-home microdermabrasion face scrub gently loosens dirt, grime, and dull skin while nourishing your cells — leaving healthy, beautiful skin. Polish away damaged skin, blackheads, scars, stretch marks in minutes a day. Leave on to use as a natural anti aging facial mask to balance your skin tone, reduce wrinkles, and reduce age spots. Let your skin soak up vitamins and minerals proven to heal and restore your skin while hydrating to the base of the skin. Finally, an anti aging mask that works.
Complete 2oz $19.49, Revive+ $19.99
Total value: $39.48
Revealed 6/3: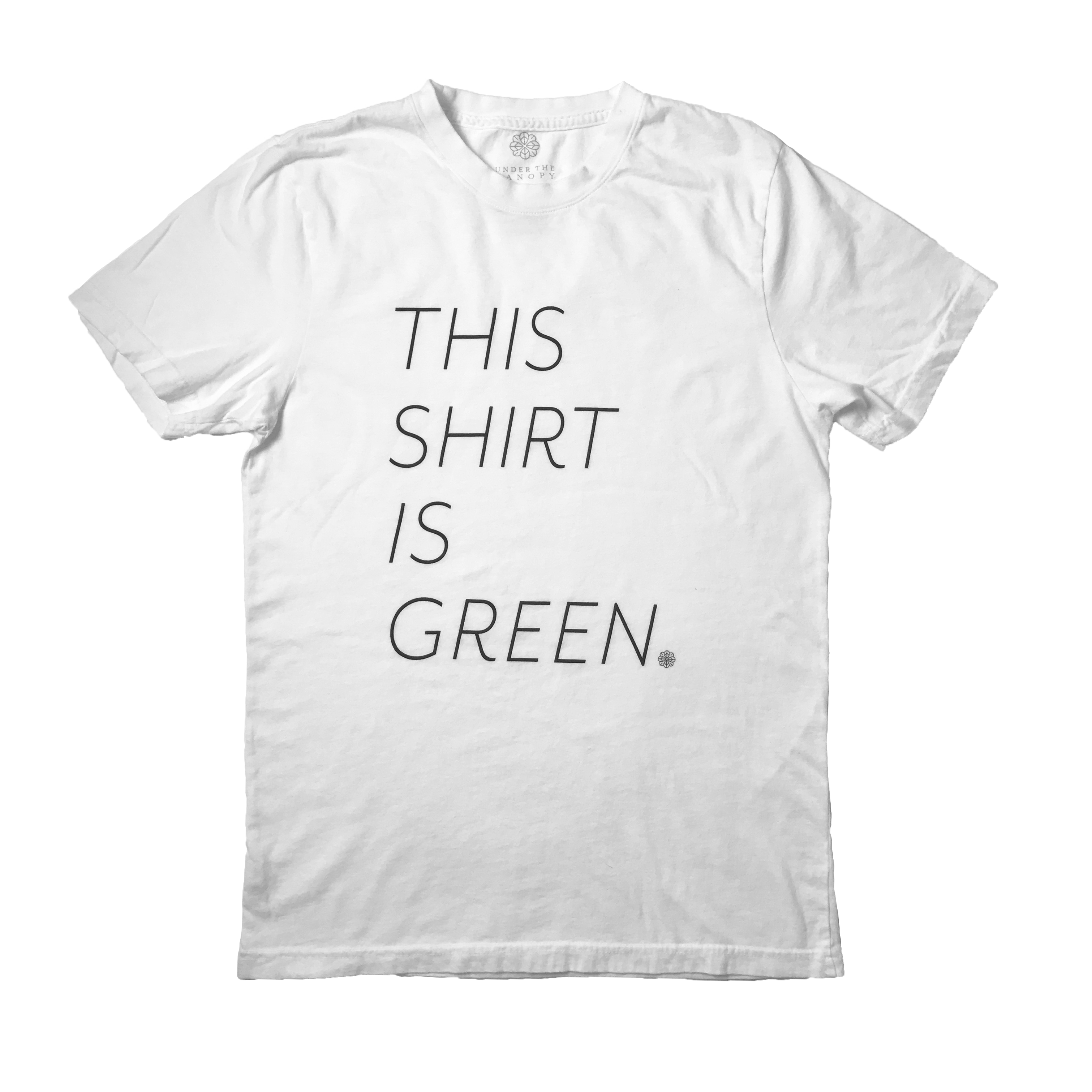 Under the Canopy Organic Cotton Tee
You can never have too many tees, especially in summer. This 100% GOTS Certified organic cotton tee shirt is Cradle to Cradle certified and made in the USA! Printed with sea ink and made with renewable energy. 
Under the Canopy creates stylish and affordable products that are good for the environment, and better for you. Each box will receive a tee in small, medium, or large.
$22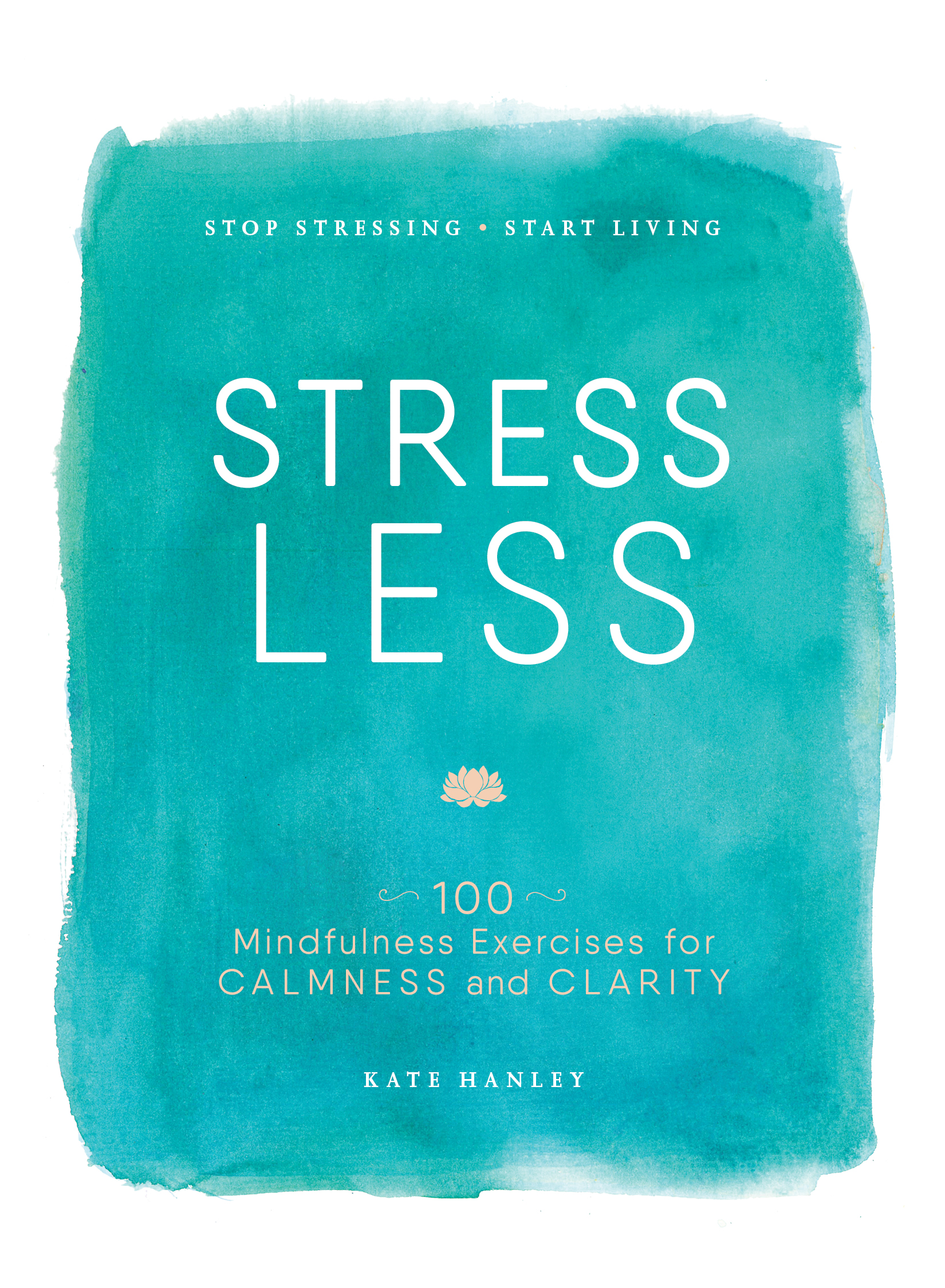 No matter what time of year, we're all prone to stress. Yoga teacher and veteran author Kate Hanley shares her expert advice on how to reduce and prevent stress with over 100 simple and inspirational exercises.Eight out of ten Americans report being stressed. In "Stress Less," you can learn how to conquer stress and find inner peace with these practical mindfulness exercises. Each exercise can help you pause, evaluate your mental state, and pull yourself out of a heightened state of anxiety and back down to a calm, clear-minded base. Each page has a prompt that can give your mind, body, and heart a moment of peace in a world of chaos.
$13.99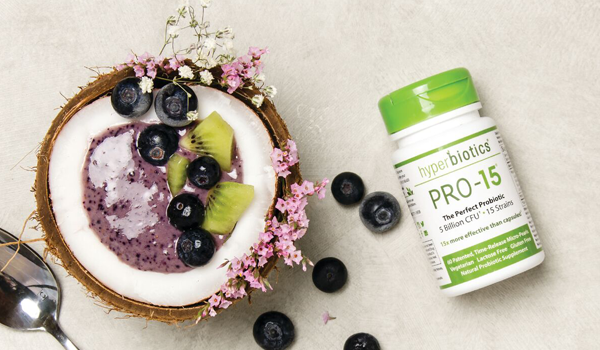 Hyperbiotics PRO-15 Probiotics
Summer fun means adventurous and sometimes regretful eating. Be sure you're taking care of your microbiome with probiotics. Hyperbiotics PRO-15 Probiotics is formulated with 15 targeted strains of probiotics clinically shown to replenish the beneficial bacteria in your digestive tract that may have been depleted by many of today's modern lifestyle factors, such as a diet high in processed foods, stress, antibacterial products, and the indiscriminate effects of antibiotics (both as medicine and the food supply). Even the natural aging process can dwindle the number of friendly flora you need for optimal health! PRO-15 utilizes a patented controlled-release delivery method called BIO-tract® that protects delicate bacteria as they journey deep into your gut, and then releases them over an 8-10 hour period, allowing them to set up shop and get to work supporting nearly every aspect of your health.
$30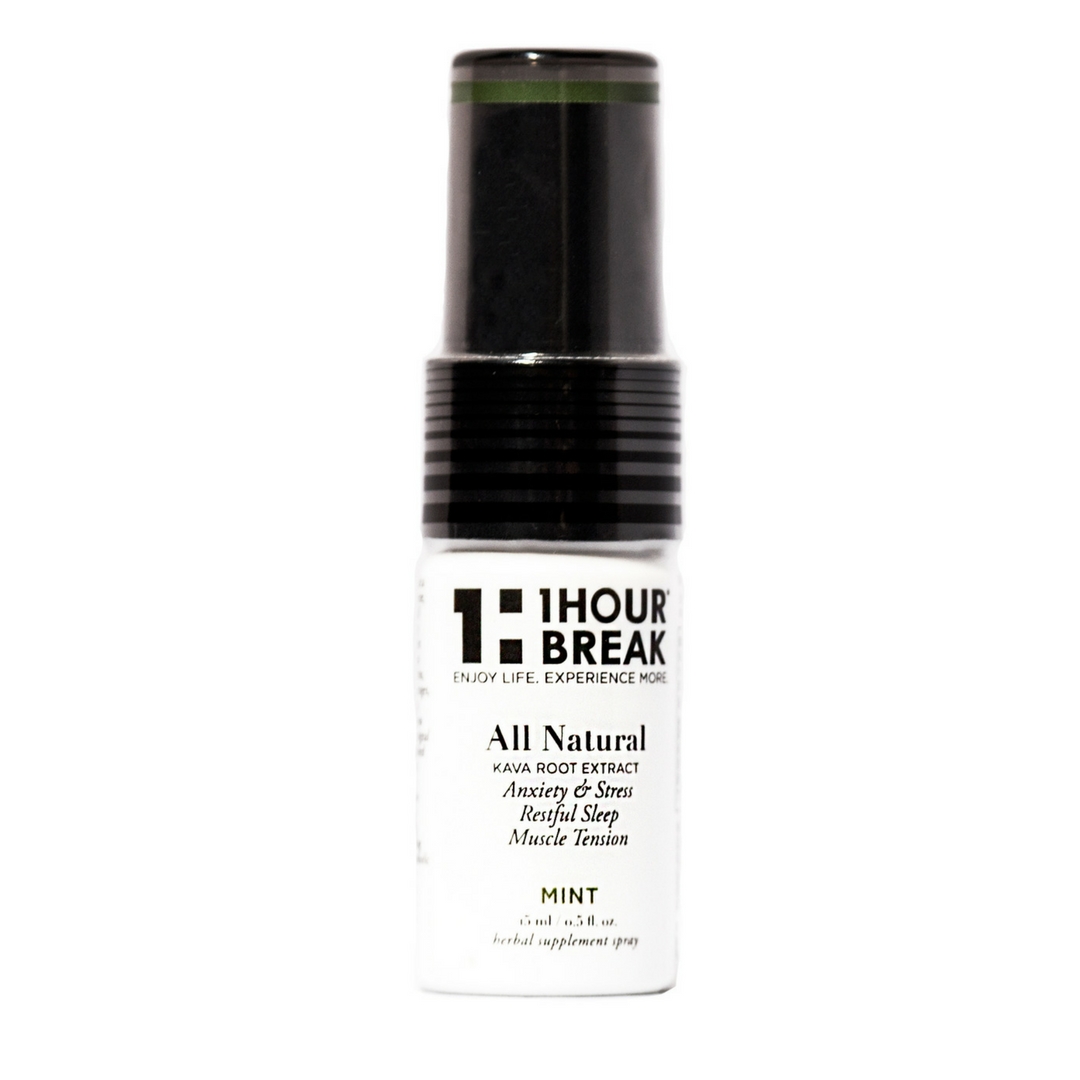 Too much summer fun stressing you out? Don't let it ruin the sunshiney days. Get your hands on 1Hour Break! Many people struggle with stress and have been looking for all-natural answers. 1Hour Break is the first all natural oral spray that targets stress. It is safe, effective, and can be used daily. Just spray into your mouth and swallow. Within a few minutes, all the stress bogging you down will start to dissipate, leaving you feeling calm and relaxed. Each travel-size bottle contains 80 sprays, providing a total of 15 servings so you can take it on the go.
$29 Don't be that person this summer with the, shall we say, obvious armpits? Reduce odor with Ethique's Glow Solid Deodorant. Available in two scents; Lavender & Vanilla or Spearmint & Lime, it's a gentle solid deodorant formulated without baking soda or aluminum and suitable for all skin types. It prevents odor and lessens sweating.  Glow is formulated with a mix of aloe vera, bamboo and yeast, horsetail and sage extract. Aloe vera gives a lovely, soothing feel whilst helping irritation, keeping the arm pits happy! Bamboo is extremely absorbent, as it 'mops' up sweat which means there is nothing for bacteria to munch on and make smelly. Yeast extract is the deodorizing compound, that targets specific bacteria which cause odor and eliminating them whilst still allowing beneficial to flourish. Horsetail and sage extract as they are clinically proven to reduce sweating.
$17
Revealed 6/4:
Warm weather means one thing: Outfit changes! From daytime hiking or pool wear to evenings out, you're bound to be doing more loads of laundry all season long. Meet Cleancult  — your new laundry BFF. Cleancult makes green detergent that doesn't suck. The Cleancult bag contains 20 Non-Toxic pods that are free of all the bad stuff like phosphates and 1,4 dioxane. These nontoxic pods scored 94 out of 100 on the power cleaning scale! They won't cause cancer, harm your body, or kill our environment. The products are cruelty-free, too, which means no puppies were harmed in the making. Plus, the laundry pods were made in the USA, 'Merica manufactured red, white & blue. When the pods aren't cleaning your clothes, they're out on the town and were just voted "Sexiest Soap" by Millennials. The best part, these pods aren't just all looks. The are packed with cleaning efficacy and cleaned equivalently to conventional detergent.  Note, one bag of laundry detergent pods comes in each box.
$8.50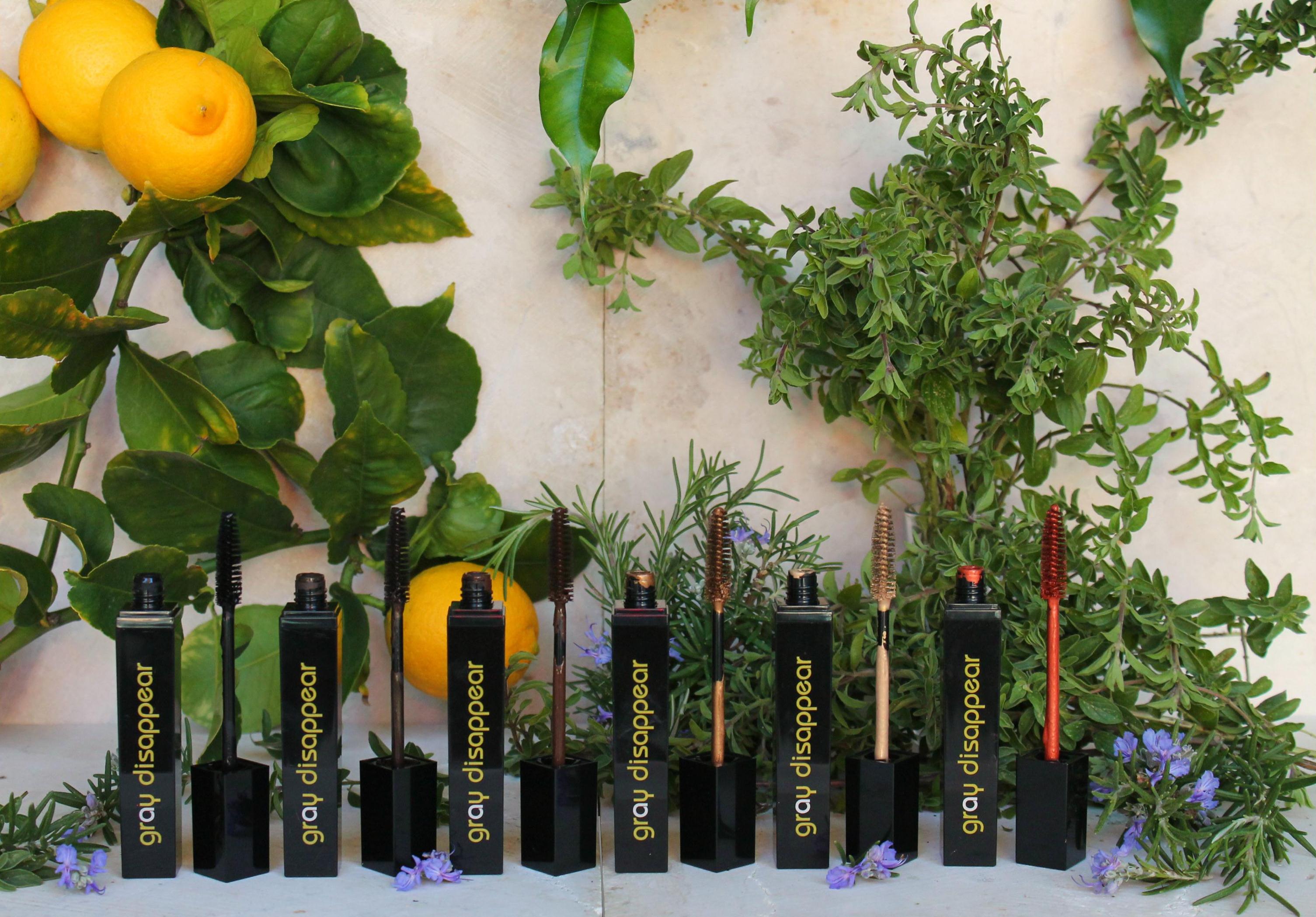 Generation Klean Gray Disappear
You'll be so busy this summer you won't have time to color your hair. Good thing there's Generation Klean's Gray Disappear. It takes the stress out of keeping up with your roots (hair grows faster in the summer, by the way!). Just dab it on and good as new! Gray Disappear is a GMO, paraben, sulfate, glycol, PPD & phthalate free hair mascara for men & women that instantly covers gray hair, as a root cover or use a lighter shade to add highlights. Each box will receive one Onyx and one Honey color Gray Disappear.
$20 each
Total value: $40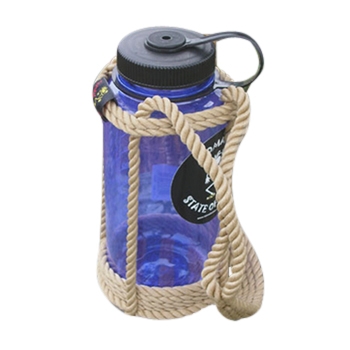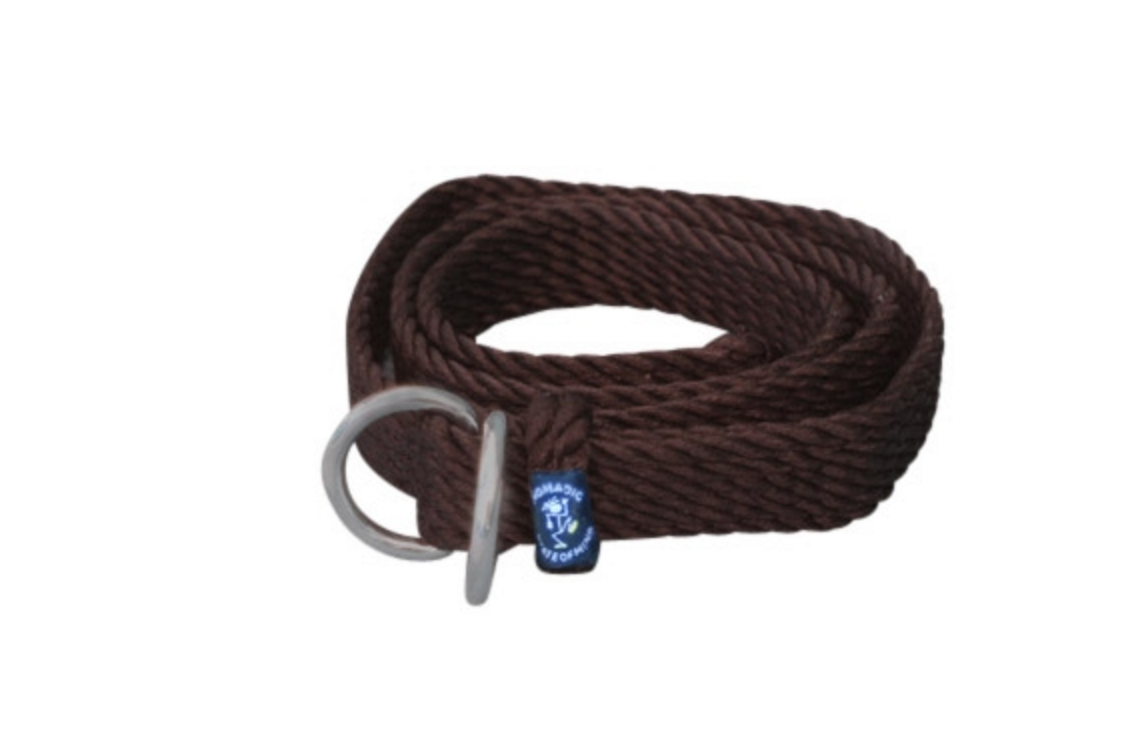 Nomadic State of Mind Rope Water Bottle Holder and Belt
Ditch your summer stress to the curb by always staying hydrated AND keeping your pants up! We know how it goes. Whether you're hiking, kayaking or marching in a parade, it's important to stay hydrated at all times, and with slippery, sticky summer weather, you want to make sure your shorts and pants stay put. Fortunately Nomadic State of Mind makes it easy for you to do that with its convenient rope water bottle holder and rope belt. Both are made out of the leftover rope scraps used during the company's proprietary sandal-making process. The water bottle holder comes with a handy rope bottle sling that slips over the shoulder with ease so you can go hands-free. The bottle carrier easily fits most 32oz bottles, so you'll never have to worry about not being able to transport enough water. The handmade rope belt with d-ring closure, gets softer as you wear it. Dress it up or down, you can't go wrong with the soft, sleek rope belt.
Bottle holder: $12
Belt (in Cafe or Beige): $24
Total value: $36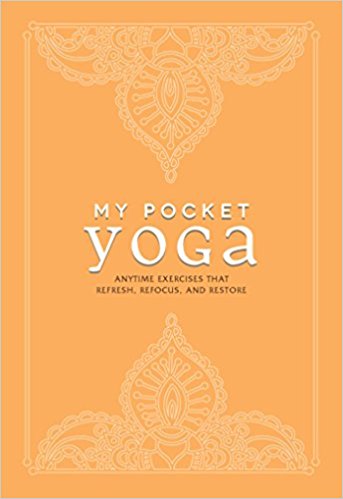 "My Pocket Yoga: Anytime Exercises That Refresh, Refocus, and Restore"
As you go about your busy day, it's important to make time to catch your breath and recharge. "My Pocket Yoga" help you quiet the noise and achieve serenity at home, at the office, or even in your car–in mere minutes.
Throughout your day, you'll be able to choose from 40+ breathing exercises and easy-to-follow poses, complete with illustrations. These quick yet powerful exercises allow you to be more mindful, increase your awareness, and find your center in any situation. After a quick break for a yoga pose or focused breathing, you can return to your to-do list feeling more balanced, centered, and refreshed.
$13.99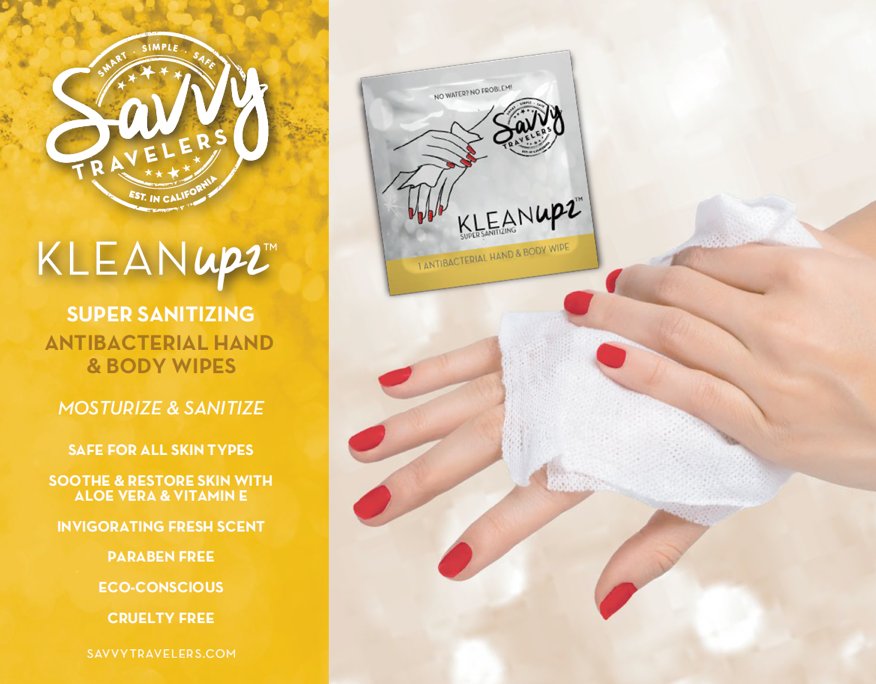 Savvy Traveler Wipes
The future of beauty is here, ladies, and it's hella convenient thanks to Savvy Traveler! On-the-go beauty wipes that keep ladies fresh and fabulous from head to toe, one swipe at a time. No Water? No Problem! Enjoy these fab wipes for removing sweat, dirt, makeup–even cleaning your glasses. Refresh, sanitize, and enjoy aromatherapeutic fragrances while you do it. Take 'em everywhere with you this summer whether it's to the beach down the street or across the globe. Each box will receive three packets of wipes for all your needs.
Klean Upz: $10
Take Offz: $10
In the Klear: $10
Total value: $30
Total Value for the Summer Chill Out Box: $443.48
Sale Price: $129 + free shipping! That's an 71 percent savings! 
Sold Out!
The Box will go on sale Monday, June 5th at 8 o'clock AM Pacific Time. So set your alarms and mark your calendars–these will sell out fast!
Offer good anywhere in the continental U.S. International shipping is not available at this time. Buy, one, two, or three boxes! Please allow up to three weeks for delivery. All sales are final. Due to the nature of this exclusive one-time sale, we cannot accept any returns or exchanges. Any inquiries or concerns regarding purchased Boxes must be submitted via Customer Service within 30 days from date of purchase.
Find Jill on Twitter and Instagram