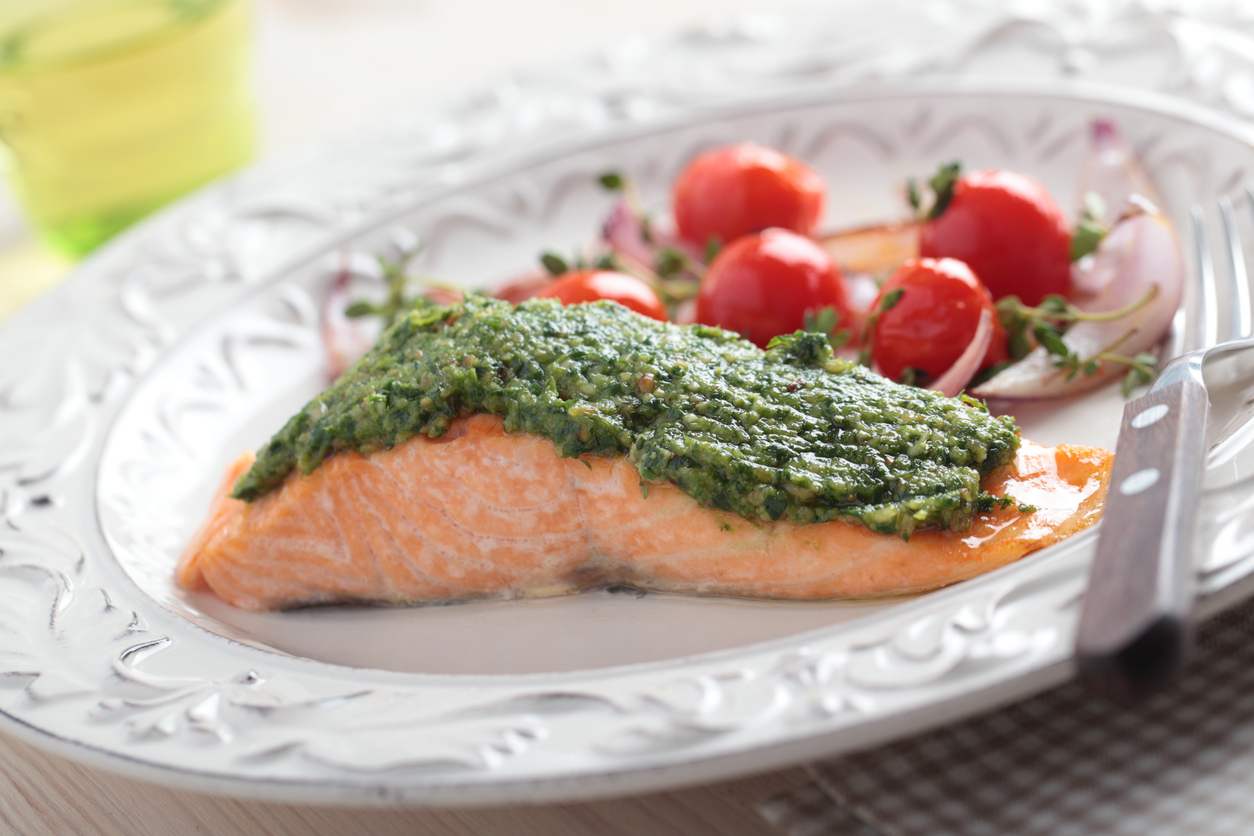 Sacha inchi is a superfood sweeping the nation: this South American nut is known for its excellent balance of omega 3, 6, and 9, not to mention its richness in protein. It's no wonder it's reaching great heights in culinary circles.
There's just one small caveat: for some, the earthy flavor of sacha inchi takes a bit of getting used to. Luckily, when this little nut is paired with other stronger flavors – like rich salmon – its natural butteriness really shines through.
In this recipe, sacha inchi nuts take the traditional place of pine nuts in a delicious, slightly peppery winter pesto, made with baby spinach and arugula. It's the perfect topping for baked salmon fillets for an easy, healthful weeknight recipe that only takes about half an hour to make.
If you can't find sustainably farmed salmon, any fish in the salmonid family will do nicely as a substitute. Consider using trout or arctic char for the same rich flavor and texture.
Salmon with Sacha Inchi Nut Pesto
Serves 4
Ingredients
1/2 cup sacha inchi nuts
2 cloves garlic, peeled and roughly chopped
3/4 cup baby spinach
3/4 cup arugula
1/2 cup extra-virgin olive oil
2 ounces Parmesan cheese, grated
salt and pepper, to taste
4 salmon fillets
Directions
Preheat the oven to 400 degrees Fahrenheit.
Make the pesto. Combine the sacha inchi nuts and garlic in a mini food processor (like a Magic Bullet) and process until broken down but not puréed. Add the spinach and arugula and process for another 5-10 seconds, then add the olive oil in three parts, processing well after each addition. Remove the pesto from the processor, fold in the cheese, and season with salt and pepper as needed.
Arrange the salmon fillets on a baking sheet covered with a sheet of parchment paper. Divide the pesto equally among the fillets, spreading it in an even layer.
Bake for 15 minutes, then remove from the oven and allow to rest 5 minutes before serving.
Related on EcoSalon
Superfood Salad with Beet-Pickled Eggs and Candied Sacha Inchi Nuts
45 Unique Salmon Recipes in 'Salmon: Everything You Need to Know'
Ecosalon Recipes: Seared Salmon over Warm Lentil Salad
Design Secrets