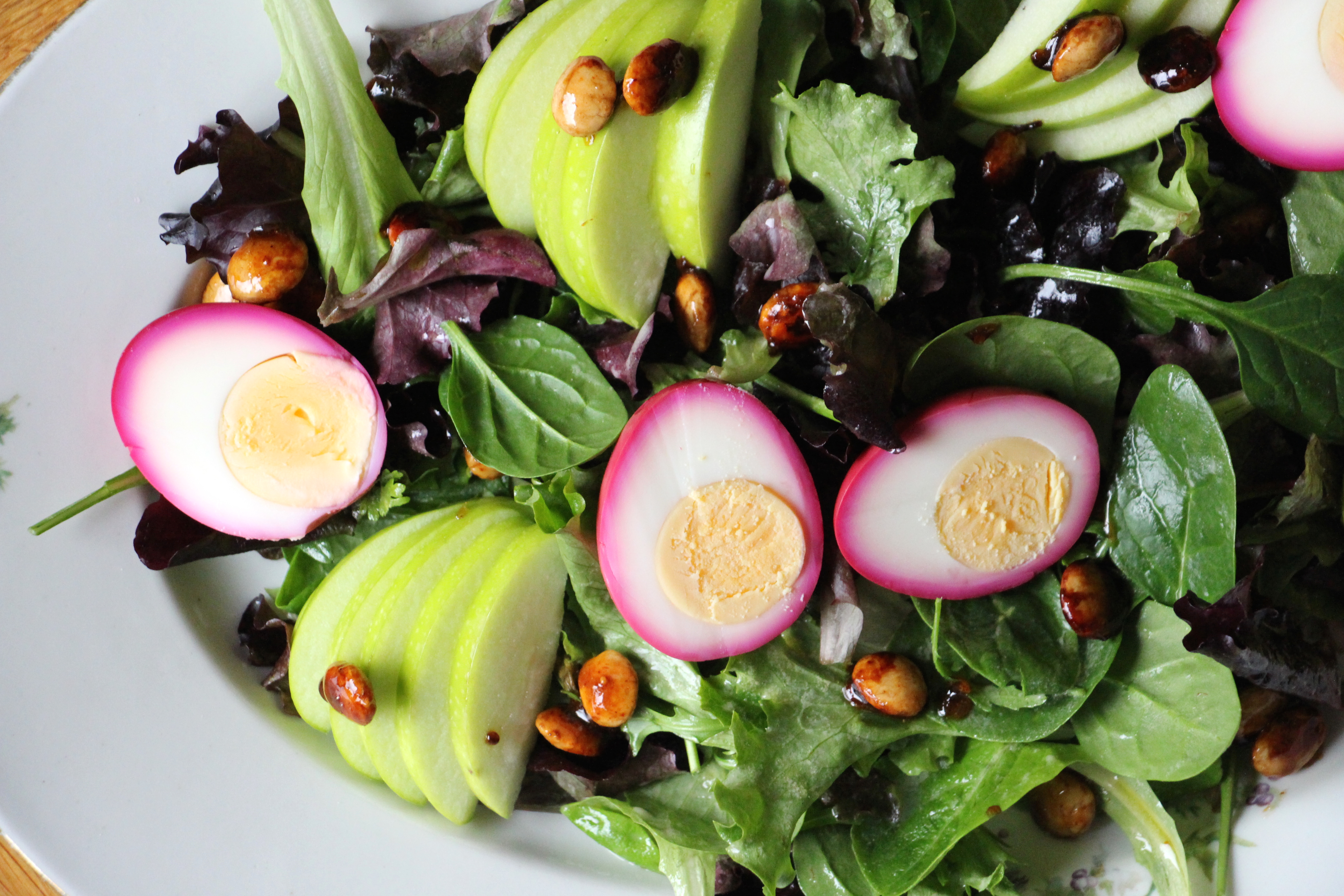 The perfect winter salad boasts a combination of sweet and savory, crisp and soft, and a whole lot of color. This recipe ticks all the boxes: beet-pickled eggs lend a vibrant hue to mesclun greens and crisp Granny Smith apple, and candied sacha inchi nuts add richness, crunch, and a touch of sweetness.
Sacha inchi nuts are a relatively new superfood, at least in the U.S., but these little marvels have a long history in South America and Southeast Asia. Also known as mountain peanuts, sacha inchi nuts boast the highest source of plant-based omega 3s in the world and also contain more protein than almonds.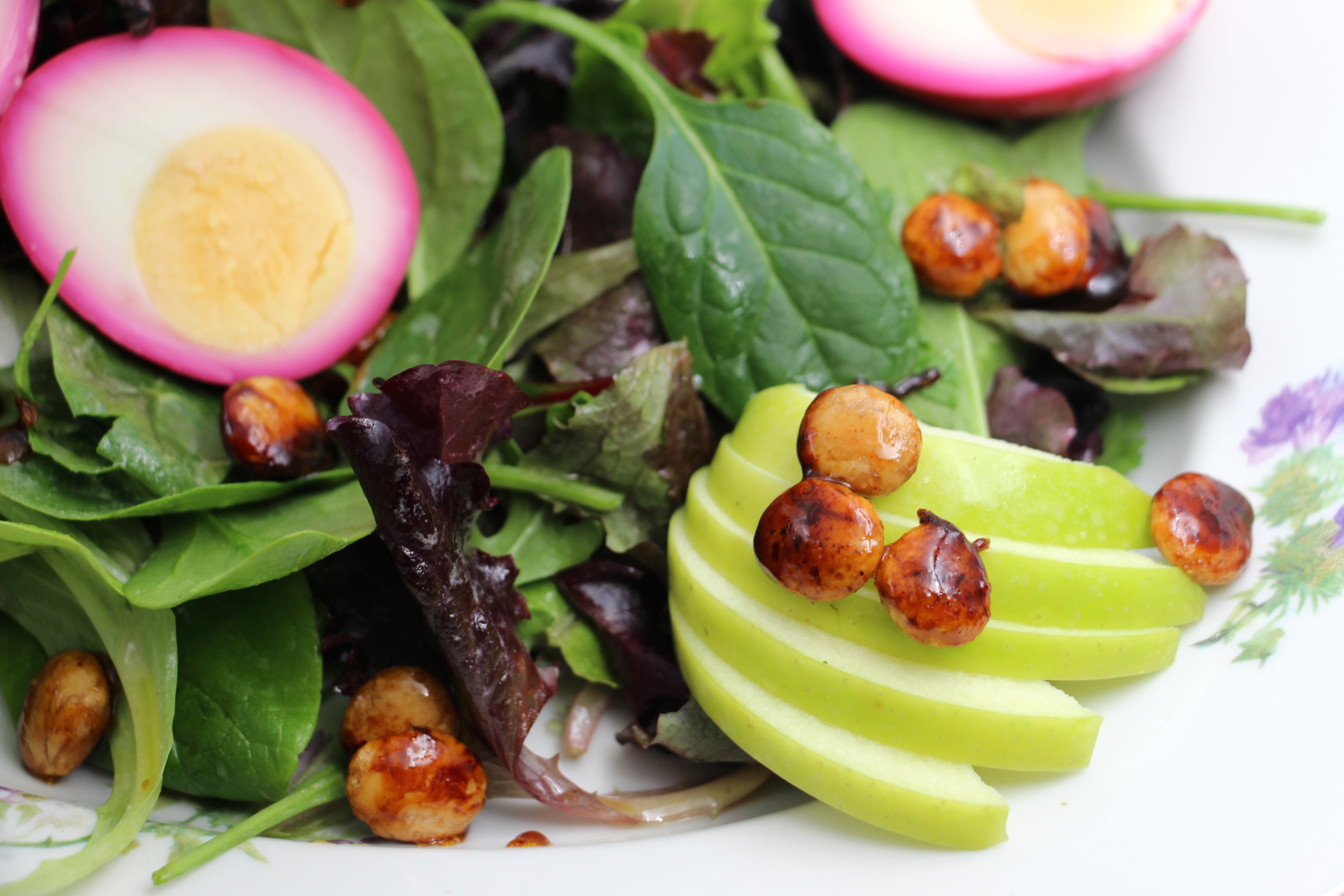 Some sources claim that sacha inchi's flavor takes a bit of getting used to: while it starts off nutty and buttery, it does have an earthy finish that some go so far as to call fishy. That said, when they're caramelized in dark honey with a touch of spice, they boast a much nicer flavor balance that makes them the perfect addition to this salad.
The beet-pickled eggs take two days to be ready, so be sure to plan ahead. You could also use plain hard-boiled eggs in a pinch, but the bright magenta that comes from the beets is what makes this salad truly irresistible.
Superfood Salad with Beet-Pickled Eggs and Candied Sacha Inchi Nuts
Serves 2
Ingredients
2 hard-boiled eggs
1 roasted red beet
1 cup distilled vinegar
1 cup water
1 teaspoon honey
2 tablespoons dark honey (buckwheat or chestnut)
1 tablespoon hazelnut oil
1 large handful (about 1/3 cup) sacha inchi nuts
1 pinch fleur de sel
1 pinch chile de arbol powder
2 tablespoons extra-virgin olive oil
1 tablespoon cider vinegar
1 teaspoon Dijon mustard
salt and pepper, to taste
3 cups mesclun greens
1 Granny Smith apple, thinly sliced
Directions
Two days before serving, peel the hard-boiled eggs and quarter the beet. Place them in a glass container large enough to contain them without allowing them to touch. Combine the vinegar, water, and honey. Pour the mixture over the eggs and beet; if the liquid does not cover them, add additional water and vinegar until it does. Cover and refrigerate for two days.
The day of: combine the dark honey, hazelnut oil, sacha inchi, fleur de sel, and chile powder in a large nonstick pan. Heat over high heat until the honey bubbles and the sacha inchi nuts just begin to brown. Remove from the heat and use a spatula to remove the sacha inchi nuts and set them on a silpat or greased piece of parchment paper to cool.
Meanwhile, whisk together the oil, vinegar, mustard, and salt and pepper to make a vinaigrette. Toss with the mesclun.
Make a bed of mesclun greens on the serving plate, and top with the halved eggs, sacha inchi, and apple.
Related on EcoSalon
Vegan Superfood Granola Recipe with Kale (Yes, Kale!)
Is Lucuma Powder the Greatest Incan Superfood Ever?
What's Better than Flaxseeds for Omega-3? Ch-ch-chia!
Design Secrets