I say throw in the towel, as long as it's a softy and measures up when it comes to the green ABC's of terrycloth: Absorbency, beauty and certified organic.
Here's s an eco stack that will dry you off in comfort and style.
Schlossberg Sensitive Towels
(shown above)
Not only are the colors yummier than Italian ices, the SENSITIVE towel by Schlossberg USA is the world's first and only towel line to be certified "Cradle to Cradle". Each towel is made from biodegradable ingredients (even the label, yarn and thread). Sold under the Bonjour label, you can buy these soaker-uppers from dealers nationwide in a variety of sizes (small to XXL) to suit your apres bath needs.
Tropical Punch Floral Fiber-Friendly Beach Towels

Personalize these PBteen flower-powered beach towels, $20, with the names of your surfer dudes or divas to keep them from getting lost in the pile. Great for poolside and summer camp, too. I have a friend who gave these as party favors, personalized with the names of each of the guests. It's great to give a gift that keeps on giving…in terms of warmth.

Organic Cotton Spa Towels
From VivaTerra, this thick and super soft oversized towel indulges you like a day at the spa. Safely dyed without synthetic finishes, it features an airy waffle weave texture that keeps moisture off your body while wrapping you in comfort. Now 15% off the regular pricing of $9 to $44.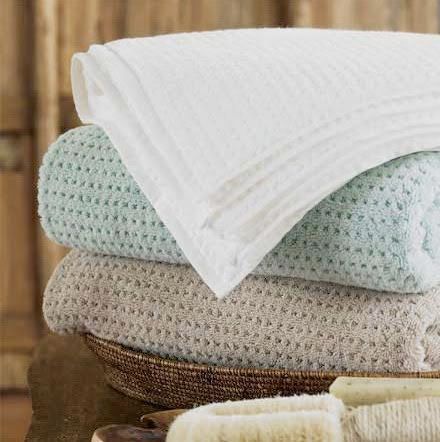 Under the Canopy Organic Towels
Pretty, soft and affordable ( $19.99 to $29.99) these bath towels from Target are part of the chain's commitment to going green. You can qualify for free shipping when you spend at least $50 on a set.
Life is Good Round Beach Towel
A cotton invention you might call the lazy snoozin, you never have to get up to move into the sun, just roll around the round towel. $40 at Running Giraffe.
Organic Hooded Baby Towel for Post-Bath or Swim Snuggle

Handmade from Etsy with pretty blue grosgrain ribbon dragonfly border, this hooded towel for baby is fabricated in organic cotton for no harsh chemicals against tender skin, $35.
Bamboo Towels Keep it Fresh and Pure
These thirsty bamboo towels from Good Night Naturals are produced by combining 100% bamboo fiber with pure cotton making it exceptionally soft and absorbent. I love the soft shades created by using low-impact dyes. And really, what is better than bamboo for renewable resource? $18 to $59.
Plush Multi-Stripe Pool Towel
From Willow Natural Home, $56, this beautiful organic beach towel measures 35″ x 65″ for cozy coverage after a refreshing dip.
Coyuchi Organic Cotton Bath Towels
Any thicker and these luxurious towels in a gorgeous shade of juniper blue would be blankets! The twill weave is so comfy and I love how they wash. $26 to $42 at Are Naturals.
Bold and Beautiful Beach Wrappers
As cool as you can get for beach loafing, the Dream Sacks Lilypad towel, $29, is spun of 70% bamboo and 30% organic cotton. Soft and groovy, they also go great at pool side and picnics.