As Doug Aitken's Living Words text sculpture indicates, these vertical gardens are dripping in sex appeal.
Vertical gardens and living walls have become an upwardly mobile artform, a sustainable way of incorporating the natural wilds of groping greenery into our contemporary living spaces, and adorning our urban streetscapes. A living wall is easy to install, if a bit more complicated to irrigate. They can exist soilless or are nourished by hydroponics, both indoors and outdoors.
Following are a dozen examples of vertical drapery, i.e., suspended ivies, succulents, herbs and woody installations. Several are from Patrick Blanc, of course, the botanist who branded the living wall Le Mur Végétal.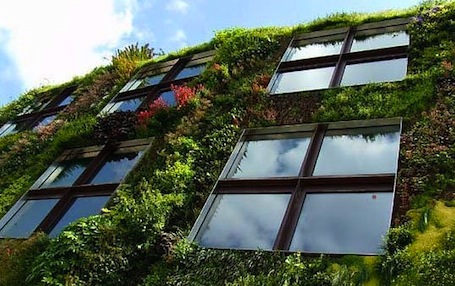 The Musee du quai Branly, Paris, France by artist Patrick Blanc.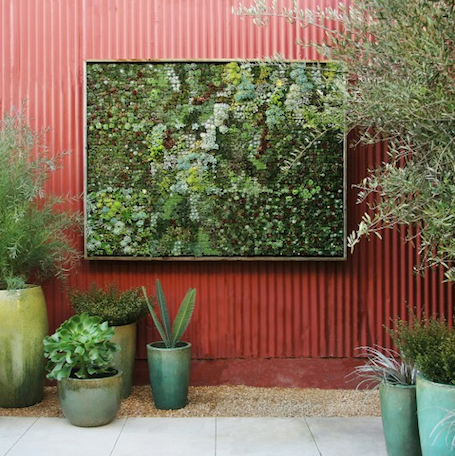 Vertical succulent gardens from the San Francisco florist with the perfect name, Flora Grubb.
The vertical garden on the Parisian department store, BHV Homme. (Image via Cormac; garden created by Patrick Blanc)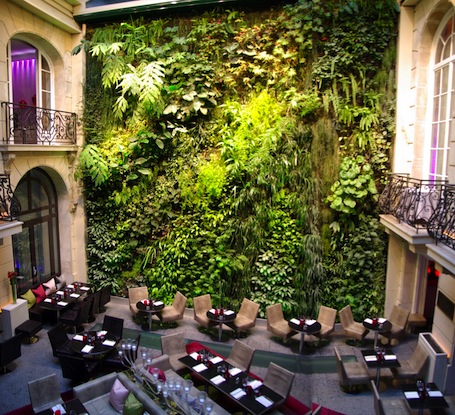 More Patrick Blanc, here the courtyard of the Pershing Hall Hotel in Paris. It's 30 meters high and is comprised of over 250 different plant species.
A vertical herb garden care of Design Squish.
A living wall from Lushe.
Yet another Patrick Blanc, who clearly dominates the European living wall scene: the CaixaForum in Madrid, Spain. (Image via Turismo Madrid)
Last year's Trafalgar Square installation "Living Masterpiece" bears mention. Commissioned by GE and the National Gallery to improve its carbon footprint, the wall was inspired by Van Gogh's "A Wheatfield, with Cypresses."

The Athenaeum living wall in London is an oxygen-rich beacon of biodiversity right in the heart of the city.
From GSky Plant Systems, a vertical exterior:
And a vertical hallway, also GSky.
The gutter garden by Suzanne Forsling.