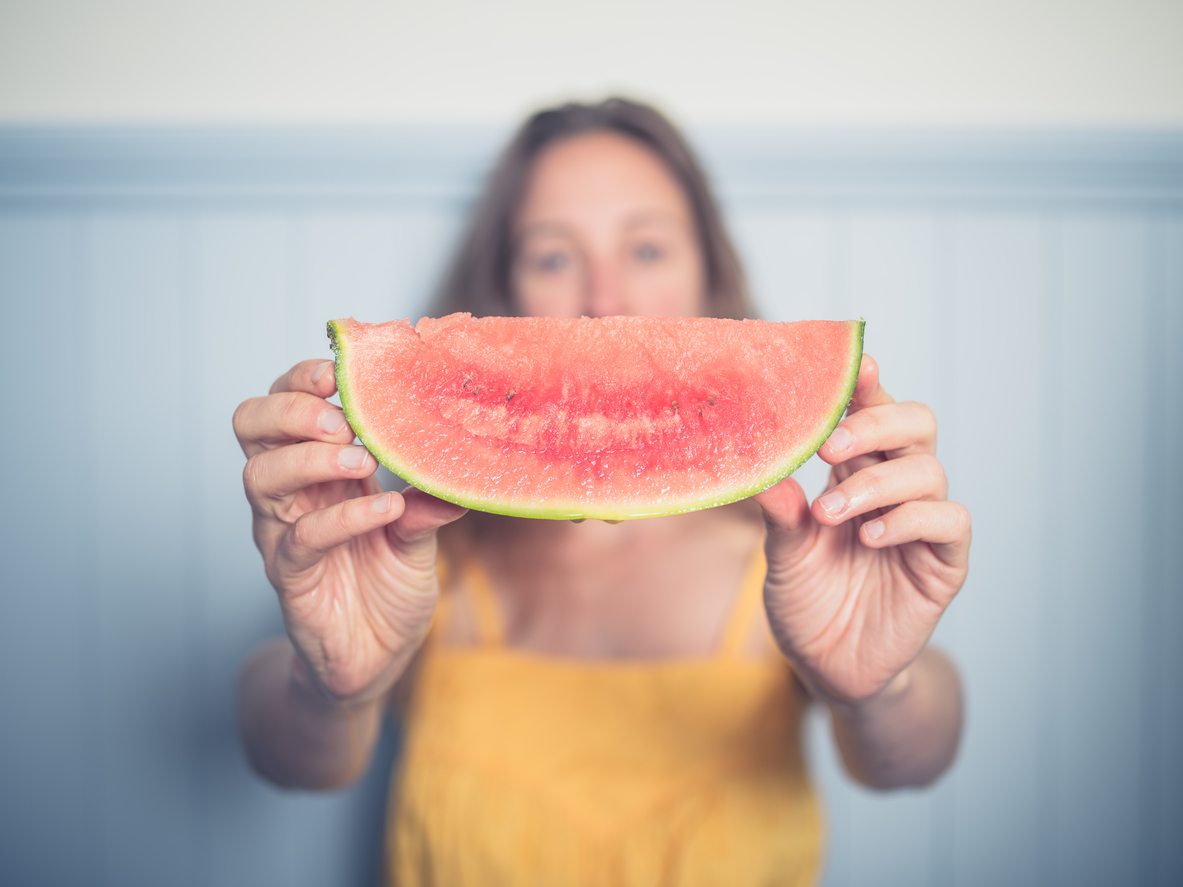 Make the most of the last remaining days of summer with these truly mouthwatering vegan watermelon recipes featuring our favorite summertime drink, WTRMLN WTR. Then post your pics on Instagram and tag us @eco.salon and @wtrmlnwtr. Enjoy!

 1. WTRMLN CHRRY Acai Bowl
Serves 1
Ingredients
1 cup @wtrmlnwtr WTRMLN CHRRY
1 Sambazon unsweetened Frozen Acai Smoothie Pack
1 cup fresh or frozen strawberries
1/2 cup fresh or frozen mixed berries
1 banana
2 tablespoons peanut butter (or any other nut butter)
fresh fruit + unsweetened coconut flakes, for topping
Directions
Add all your ingredients to high speed blender. Blend until thick and smooth. Scoop mixture into a bowl and top with fresh fruit, unsweetened coconut (or other toppings you'd like!). Serve immediately. Enjoy!

2. Watermelon Pico De Gallo
Makes 3 cups 
Ingredients
2 1/2 cups diced seedless watermelon
1 cup diced mango
1 jalapeño, seeded and minced
1/4 cup diced red onion
2 tablespoons chopped fresh cilantro leaves
1 lime, juiced
1/2 teaspoon salt, or more to taste
Directions
In a large bowl, combine watermelon, mango, jalapeño, onion, cilantro, lime juice and salt to taste. Serve immediately. Pairs well with WTRMLN LME and your favorite corn tortilla chips, or our favorite @sietefoods cassava grain free tortilla chips.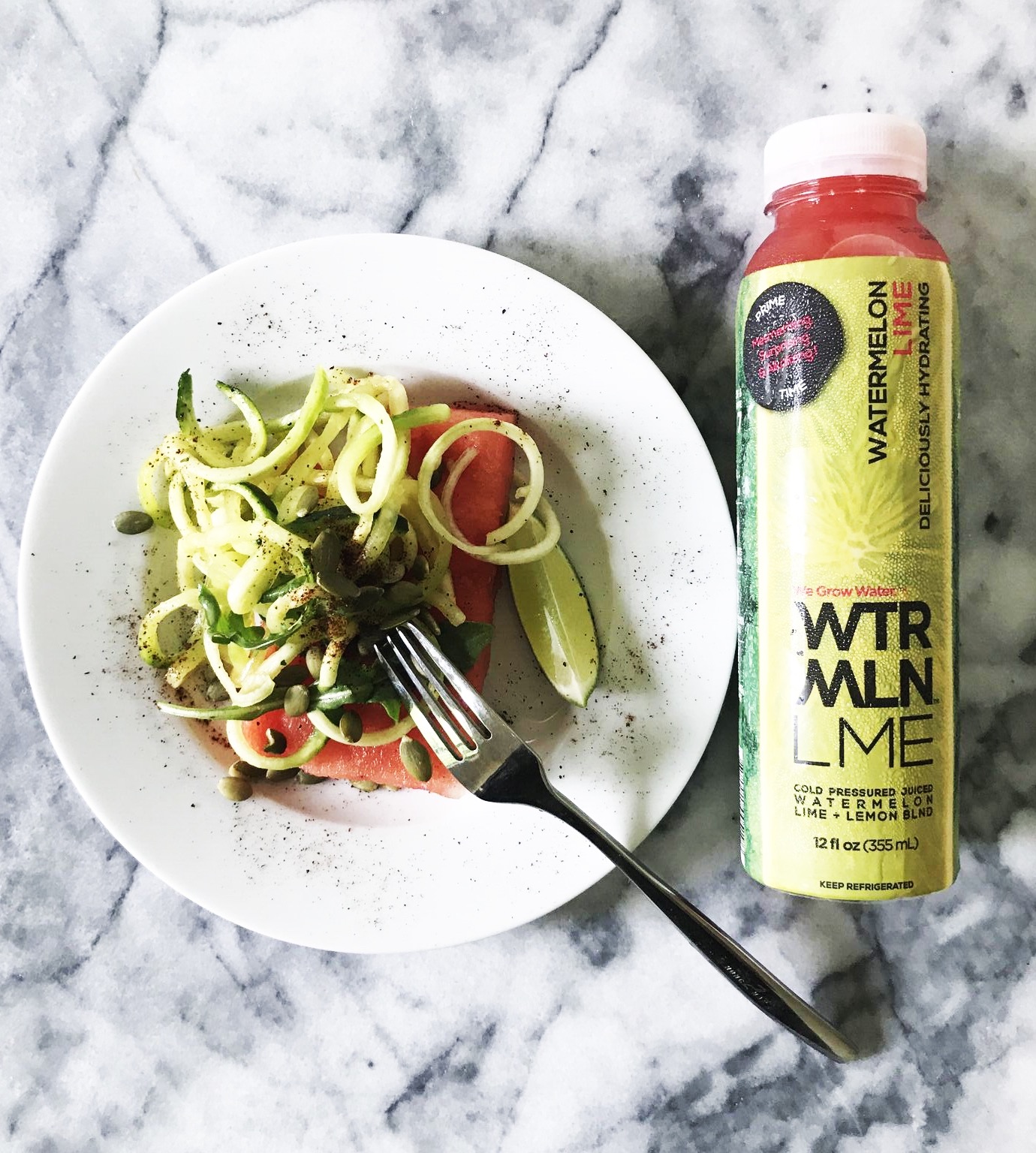 3. Chili Lime Cucumber Noodles on Salted Watermelon
Serves 4
Ingredients
4 Watermelon "Filets" about 1" Thick
2 Limes, Juiced , divided into 2
½ Tablespoon Sea Salt, divided into 2
Chile Powder, to taste
2 Cucumbers, peeled into noodles
1 teaspoon agave
2 teaspoons olive oil
1 cup Arugula
1/3 cup Pumpkin seeds
Black Pepper, to taste
Directions
Place watermelon filets on plates. Sprinkle with lime juice, salt and chile powder. In a large bowl, combine cucumber noodles, remaining lime juice, remaining salt, olive oil, agave, arugula. Toss until evenly mixed and noodles are coated. Divide noodles into 4 and top watermelon filets. Garnish with pumpkin seeds, black pepper and chile powder to taste. Serve immediately. Pairs well with WTRMLN LME.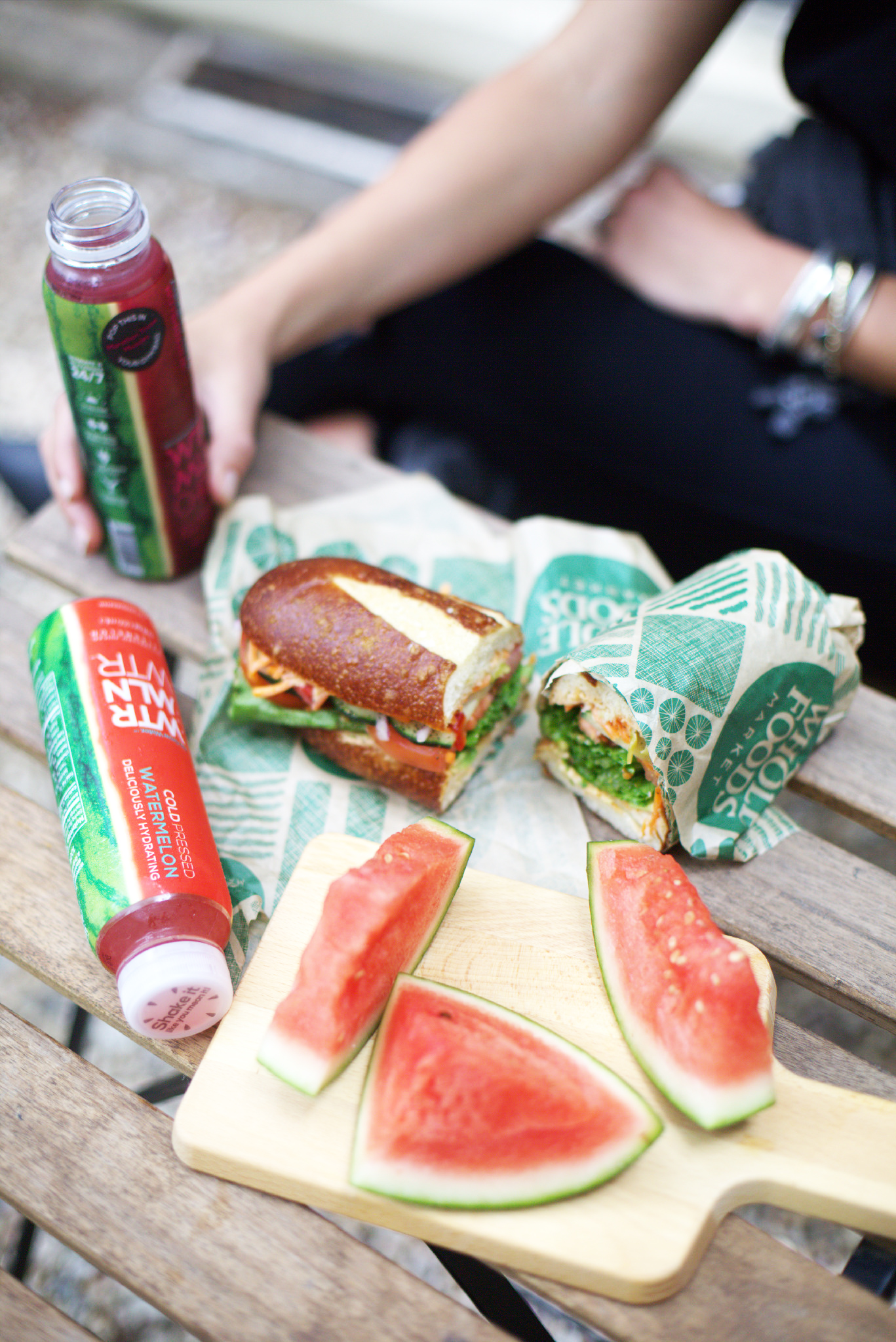 4. Veggie Sandwich with Chipotle Vegan Mayo
Serves 4
Ingredients
4 Pretzel bread rolls or bread of choice
6 tablespoons Vegenaise chipotle vegan mayo
1 head of Butter Lettuce, rinsed and pat dry
2 Tomatoes, sliced
1 Carrot, julienned
1 small red onion, julienned
1 red bell pepper, julienned
Salt & Pepper to taste
Directions
Cut pretzel rolls in half. Add 1.5 tablespoons of chipotle vegan mayo to each sandwich setup. Add lettuce, tomato, carrot, red onion and red bell pepper to taste. Add a dash of salt & pepper, to taste. Cut finished sandwich in half, and enjoy! Pairs well with WTRMLN WTR or WTRMLN CHRRY.

5. WTRMLN LME Mezcal-Rita
Serves 2
Ingredients
1 Bottle (12oz) WTRMLN LME
Juice of 1 lime + more to garnish
1/4 cups Gem & Bolt Mezcal
½ cup plain Seltzer
2 cups ice
Watermelon wedge garnish (optional}
Directions
In cocktail shaker combine one 12oz bottle of WTRMLN LME, juice of 1 lime, 1/4 cup mescal and handful ice. Shake well until cold. Pour over ice in chilled glasses. Garnish with lime or watermelon wedge. Enjoy!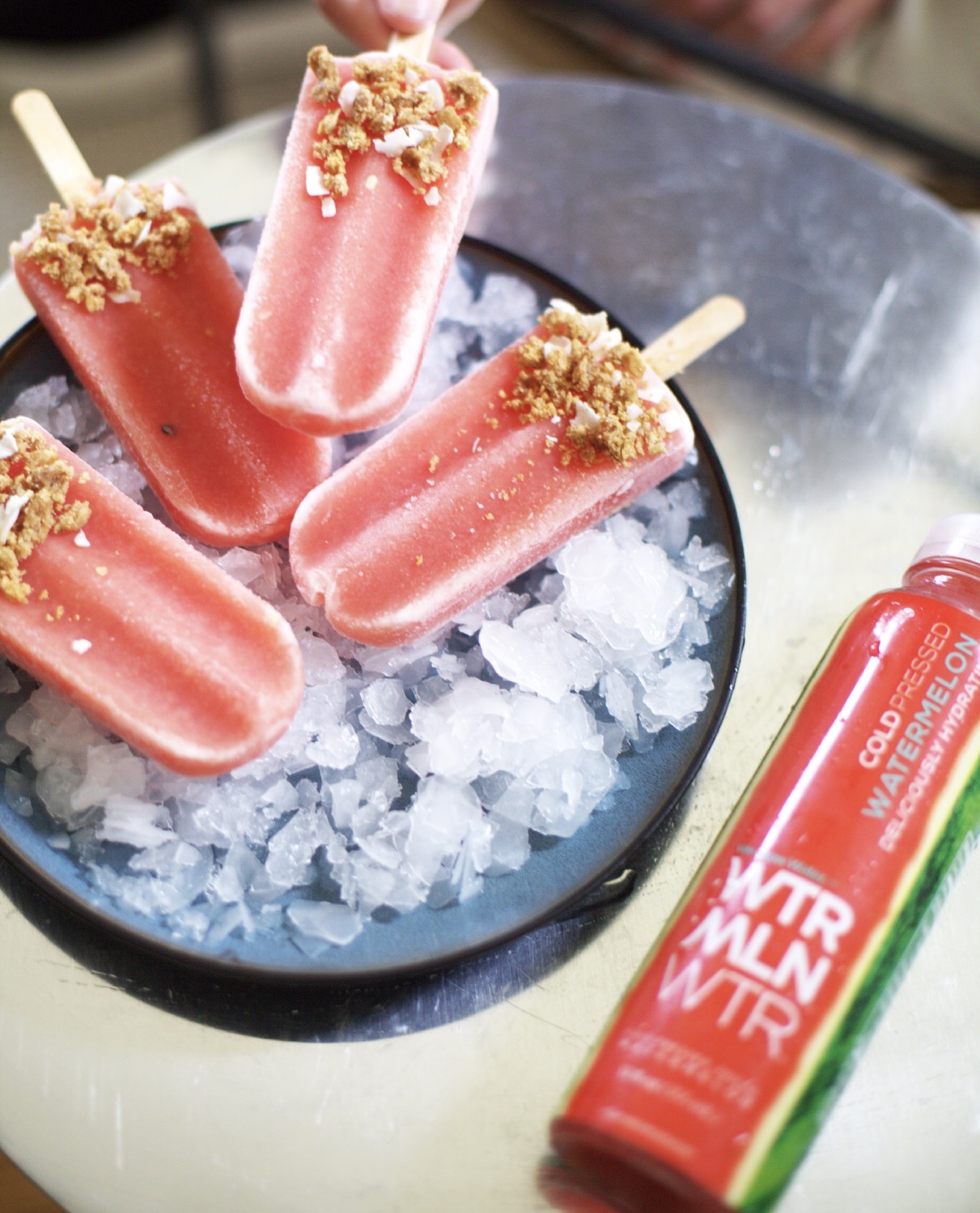 6. WTRMLN WTR Coconut Popsicle
Ingredients
Two 12oz bottles of WTRMLN WTR
6oz of Full Fat Coconut Cream
Optional Garnish: Granola & unsweetened Coconut flakes
Directions
In blender, combine WTRMLN WTR and Coconut Cream. Blend until smooth. Distribute evenly amongst popsicle molds (approximately 4-6 depending their size). Freeze for 8 hours. For some extra crunch, remove from freezer and roll bottom in granola and/or unsweetened coconut flakes (use agave to help stick). Refreeze on waxed parchment for another 20 minutes. Enjoy!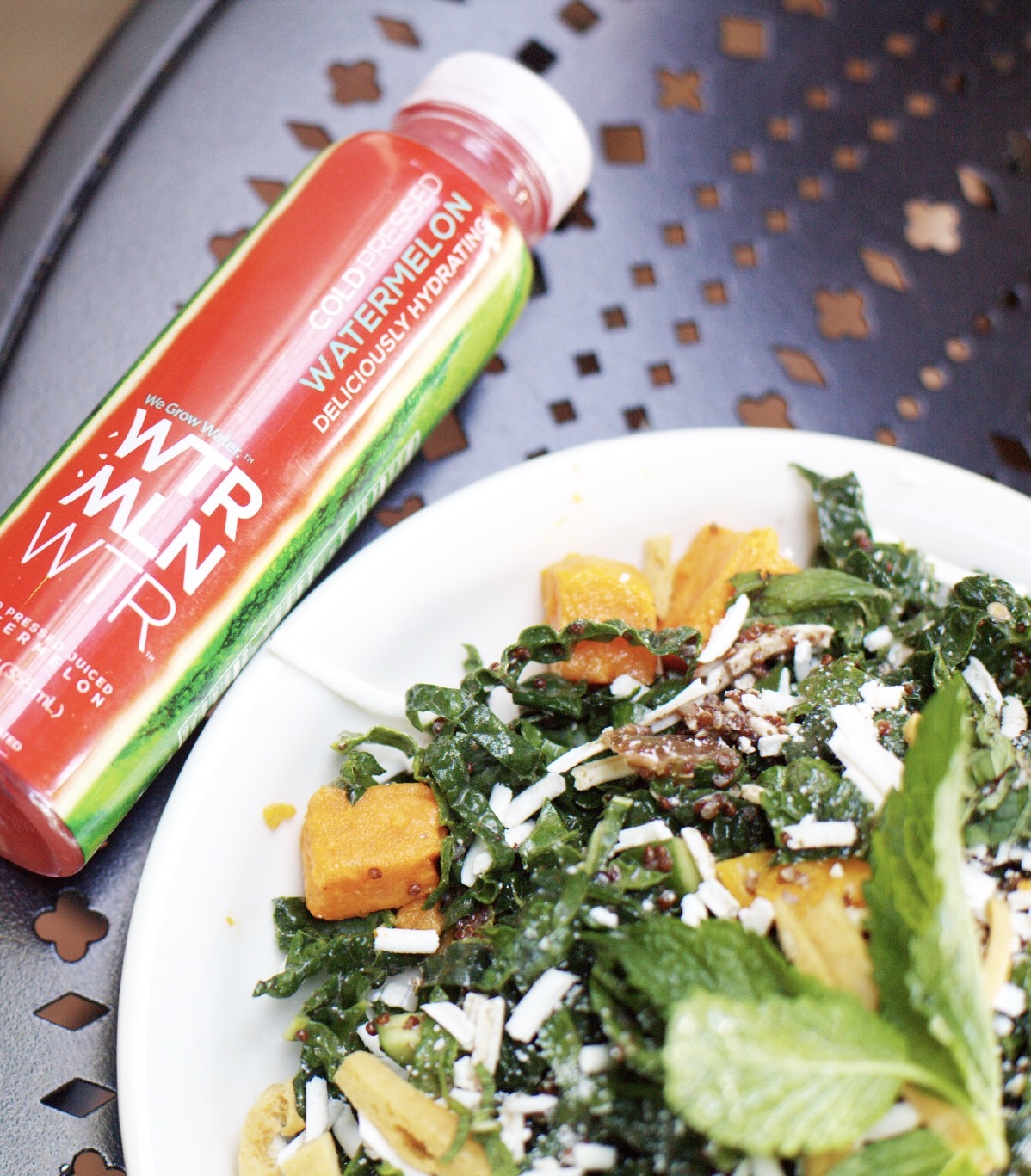 7. Sweet Potato Kale Salad with Fresh Watermelon-Mustard Dressing
Serves 4
 Ingredients
Salad
2 medium sized sweet potatoes, cubed
1 tablespoon olive oil
2 cloves garlic, minced
1/4 teaspoon salt
1 large bunch of Tuscan kale, stemmed and very finely chopped (about 6 cups chopped kale)
Dressing
2 tablespoon WTRMLN WTR
2 tablespoons olive oil
1 tablespoon apple cider vinegar
1 teaspoon stone ground mustard
1 teaspoon maple syrup
Freshly ground salt and pepper, to taste
Directions
Preheat oven to 375 degrees F.
Place cubed sweet potatoes on baking sheet, drizzle with olive oil and sprinkle with salt and garlic. Toss to evenly coat. Spread sweet potato cubes evenly around pan and roast for 35-45 minutes, stirring halfway through, until sweet potatoes are fork tender.
While sweet potatoes are cooking, prepare dressing a small bowl. Combine olive oil, WTRMLN WTR, apple cider vinegar, mustard, maple syrup, salt and pepper. Whisk until smooth. In a large bowl, add chopped kale. Pour dressing over the kale and toss to coat, gently massaging the dressing (with hands) into the kale for a few minutes to help soften.
Once sweet potato cubes are done cooking, add it to the kale. Pour into 4 salad bowls. Top with walnuts and vegan parmesan. Serve immediately.
Find Jill on Twitter and Instagram
Related on EcoSalon
Vegan, Gluten-Free Chocolate Black Cherry Tart
Vegan Lavender Peach Popsicles with a Hazelnut Milk Base and a Sweet, Floral Finish
A Quick Watermelon Agua Fresca Tutorial to Help You Beat the Impending Summer Heat [Video]
images via WTRMLN WTR