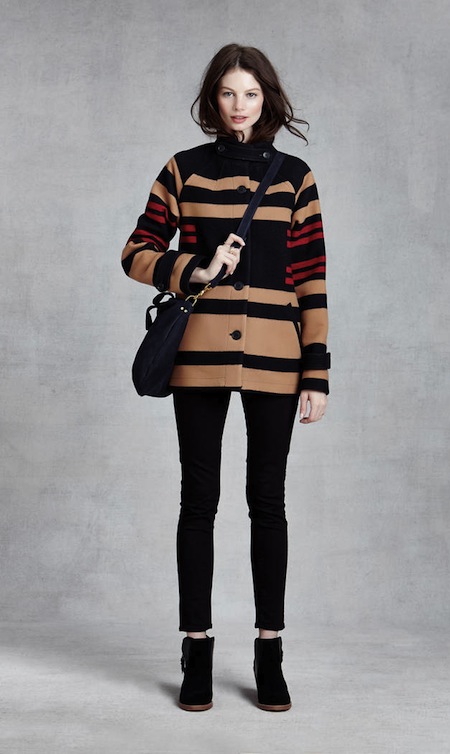 Alongside Everlane and Durated the most recent, brilliant service to come to life for consumers who care about what they purchase is Zady, an online shopping platform that artfully tells the stories behind the beautiful and skillfully crafted products it sells. Transparency is the key concept behind the clothing, jewelry and gifts featured on Zady, as style savvy and expertly curated brands are selected only if they can provide clear information on their production processes and the quality of the materials they choose. This is all relayed to the customer in a creative and accessible way with maps, key labels and a story on the evolution of the brand. This is socially conscious shopping 2.0. 
Learn more about this awesome new resource for the conscious consumer in the exclusive EcoSalon interview below with founders Maxine Bedat and Soraya Darabi.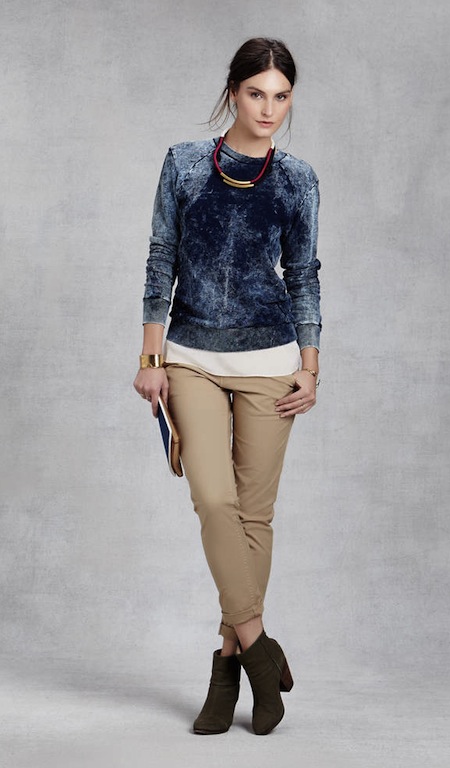 Paneled Crewneck Sweatshirt by Cotton Citizen
LO: Where did the idea for Zady come from?
SD: We met in high school, but began sewing the seeds fro Zady after reconnecting with each other many years later. Having read articles about one another, and each interested in what the other was doing professionally, we decided to meet up. Maxine was working on the non-profit she founded, The Bootstrap Project, which helps revive craft traditions in the developing world and finishing law school.
MB: During this time, Soraya was advising startups based in New York City. I had come across the Fast Company magazine issue with Soraya on the cover in the airport, upon a 2010 trip for The Bootstrap Project.  Soraya read an article on Bootstrap's beautiful artisanal crafts in a House & Home magazine. After the first coffee, I asked Soraya if she might help with the digital strategy for TBP and I was happy to have the help. Over the next few months, we realized a few things:
1) We liked one another still!
2) We had complementary skills
3) We had a shared and growing interest in understanding how supply chain works and how beautiful things are made.
As we passed articles back and forth about the negative impact of fast fashion and sent each other recommendations for newly discovered products with origins they could actually trace, the idea of Zady was born – a company that searches the globe for and with the consumer to curate a selection of products that are both beautiful and ethically produced. The connection with The Bootstrap Project as a source of craft revival and economic development was important, so we decided to give 5% of proceeds from Zady to Bootstrap to help artisans in the developing world continue to create beautiful craft and preserve their important cultural traditions.
Messenger Bag by Claire Vivier
LO: What sets Zady apart from other online shopping platforms?
MB&SD: Since our launch in late August, Zady has become a destination for consumers to purchase high-quality, luxuriously made goods that are timeless in style, from designers and brands that offer complete manufacturing transparency.
Clicking on a product icon on our map shows you the history of an item through lines. A Gloverall Duffle Coat, for instance, will have a line that appears showing that the wool for the coat comes from Italy; another line will shoot out to England, showing that the brand is headquartered there, and that manufacturing also takes place in the UK. We try to make the supply chain of great products as transparent as possible.
We are also a team of digital natives and want to bring our readers and shoppers as close to ZADY as they can possible get.  We'd also like to connect them closely to the brands we sell – and they love.  So social media is a strong component of our website, and a strong component of our own messaging.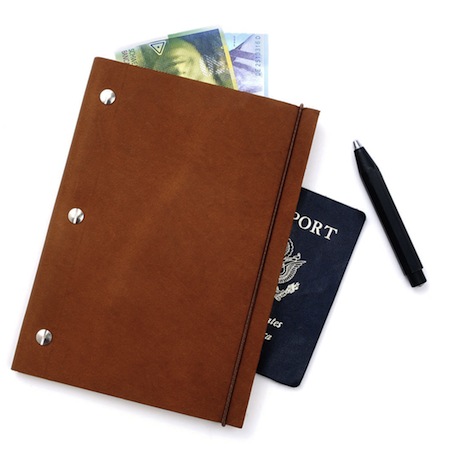 Le Kraft Leather Notebook by Le Compagnie du Kraft
LO: How do you choose which brands to feature and sell?
MB&SD:  Style is the first and foremost important thing Zady looks for when deciding which designers and products to carry. We look for items that are well-made and timeless in style. Something you can return to over and over and then again ten years later.
Next, Zady only works with designers who are able to verify the following: where the company is headquartered, where the products are manufactured, and where the raw materials come from (this is demonstrated by Zady's "Origins" map view, which allows consumers to essentially shop the globe).
And then lastly, Zady looks for products that meet any of the following criteria (identified by badges on the site): high-quality raw materials; raw materials were locally sourced; made in the USA; made in an environmentally conscious manner; handmade; or from a Bootstrap Project artisan.
The Astrid Cuff by Dream Collective
LO: Do you think Zady is satisfying a demand for locally and responsibly made items?
MB&SD: Just as Whole Foods sparked a movement based on the belief that we should question where our food comes from, Zady is at the forefront of a movement, known as conscious consumerism, which demands transparency for sourced products. Conscious consumerism is a new vision for shopping. It means an understanding of the quality and origins of an item, and the support for purchasing timeless pieces over throwaway consumption. Currently more than 2.5 billion pounds of our clothing ends up in landfills each year. The planet is running out of space for our fast fashion habits.
There are consequences, of course, to the low prices and incredibly fast manufacturing time of this type of clothing. Poor quality, excessive waste, and outsourced manufacturing to facilities with unsafe, unregulated and illegal working conditions are just some of the effects of this type of production.
Zady serves as an alternative for those seeking timeless style with a conscious stamp of approval.
If we take a moment to look through the clothing in our grandparents' closets, we would find decades-old items that have survived and resurfaced through several style trends over the years. These items were made by true artists who utilized high-quality fabrics with the intention of creating clothing that would withstand time, seasons, and trends. After all, our grandparents built their wardrobes over time. Future generations are in jeopardy of missing out as today's mainstream fashion is predominantly focused on the idea of purchasing low-cost, trendy items, intentionally made to be thrown away at the end of a season, rather than those that are made to be timeless and classic.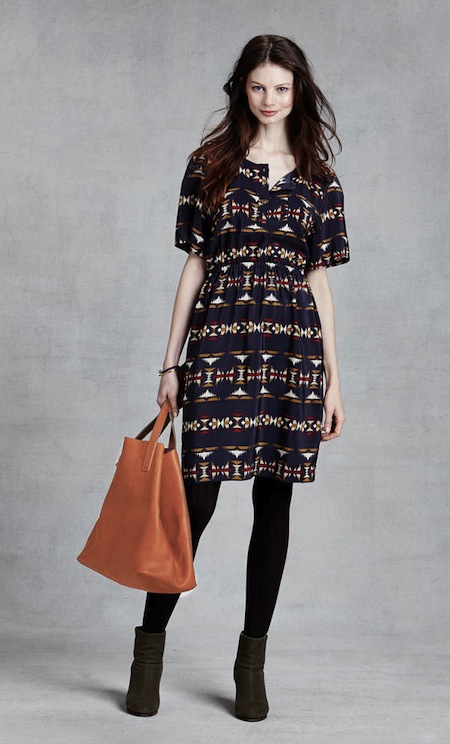 Nesika Dress by Pendleton The Portland Collection
Images: Zady
Related on EcoSalon:
Complete Factory Transparency: Everlane Delivers 
The Dawn on  the Not So Clueless Fashion Consumer