10 denim designers prove that organic denim has a place in your wardrobe.
When it doubt, turn to your denim. Jeans have been hanging in our closets since the 1800s, donning the likes of painters, farmers, artists, lumberjacks, gardeners, and everyday people. Above all, each pair represents the All-American classic character who exudes independence, sex appeal, strength, and work ethic. Whether you like them casual or dressy, for lounging or a night on the town, jeans make our world go round. Here are our top 10 picks for brands that make our favorite jeans with the planet and people in mind.
M2F
Today, jeans come in all the colors of the rainbow. Boasting 12 hues, M2F's skinnys are made for comfort – perfect for riding horses or riding your bike. Either way, they'll make a statement wherever you rock them.

Second Clothing
Go organic or go home. Second Clothing's flare pair are completely on-trend and flattering for all. Pair them with your favorite top and channel your favorite 70s tunes for a flashback fashion statement.
Loomstate
Feeling hip today? If so, the Revelation Jean may be over qualified to fit that bill. A creamy, dreamy sky blue, these skinnys can set the tone for any youngster-inspired look.
Monkee Genes
No monkeying around here – these jeans fit like a gem. Organic cotton with a bit of stretch, the navy skinnies are not only style-packed, they were undoubtedly constructed with comfort as another key ingredient.
Pray for Mother Nature
This denim embellished top can turn heads; it works as a companion to a high-waisted skirt or a darker pair of jeans. Donating a portion of all their proceeds to Heal the Bay, Pray for Mother Nature says it all in their name.
Nudie Jeans
Hike 'em up, retro style in these high-waisted super dark denims. Fun fact: for best aging results, you should wear and tear this pair for six months before throwing them in the wash. Now, there's a way to literally document some history on your denim.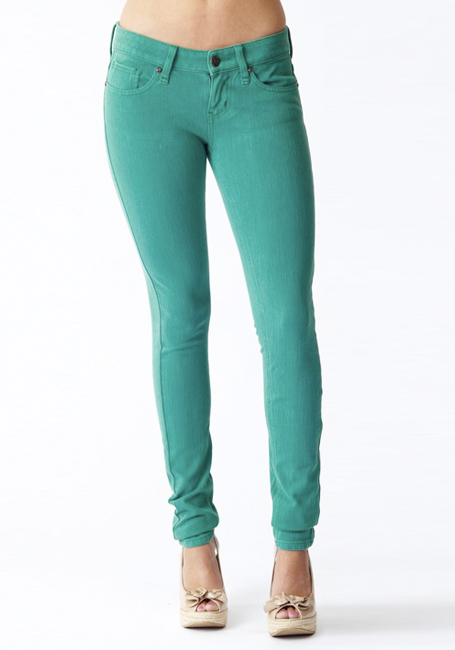 Reuse
With color-blocking still on the radar, these skinny jeans can inspire a neon palette to brighten your winter-wear. Get creative and pair these knickers with bold statement hues or tone them down with earthy shades for a more subdued play on the trend.
Prairie Underground
In a versatile and soothing dusty blue, these slacks won't be getting any slack when it comes to wear. A nontraditional color gives these denim duds a fresh, modern look.
IOU Project
Telling stories is the IOU Project's forte. Every one of their items has a tale, and they know the details and background first-hand to tell it. From the fiber to the final product, their Slim Pant is a force to be reckoned with. These trousers radiate vibrancy – in style and ethics.
Kuyichi
While these skinny pants can't compete with the 80s extreme acid wash interpretations of denim, they'll suit for rocking out to your favorite hair bands. An ideal pair for when you're in the mood to flaunt some faded frocks.