10 stylish bags for your everyday lifestyle.
You've got tons of them in your car, looped around your bike handles and hanging from closet doors ready to be filled with farmer's market produce and flea market finds. Come to think of it, you've got more than you ever use but when it comes to that special bag that stays close at hand, you want something stand out that says you can be stylish picking up groceries wherever you roam.
Our top 10 most fashionable and reusable bags will have you reconsidering your image and the fact that worldwide 1 million plastic bags are used every minute.
Made from 100% colorful advertising campaign billboards and a clever die cut, this no-stitch shoulder bag is inspired by the strength and symmetry found in nature. The minimal 2-D design stretches into 3-D to form the biggest bag with the smallest amount of waste. Stretch Bag can support up to 33lbs. It's available in different colors of recycled billboard or in natural brown leather.
Baggu's collaboration with sustainable fashion brand Mociun is a graphically pleasing testament to eco fashion and reusable bag. Send back your expired Baggu and the company will recycle your old bag and give you a $1 credit towards a new one. Not likely you'll be getting rid of this one for how great it is.
Flip & Tumble's wide-banded shoulder design feels a little softer than regular reusable bags and with stretch compacting, will fit lots of whatever you want to throw in it.
Made from certified organic cotton, this produce bag from ECOBAGS is a shopping necessity to shake the dirt from fresh from the field produce. Stuff away as this bag can hold up to 40 pounds. We love the sexy netting and the fact that it's black.
How can you not love this graphic from PaisleyMagic? Made from 100% Cotton, this durable, multipurpose canvas tote is great for hauling books, groceries or a change of clothes.
Denver, Colorado-based RuMe was launched on Earth Day 2008 to meet the growing need of environmentally conscious consumers who don't want to sacrifice style and functionality. The flat-bottomed bag stands easily for even the most inept supermarket baggers and with the metallic sheen, makes you the star of the check-out. We love this bag so much we'll use it for anything really.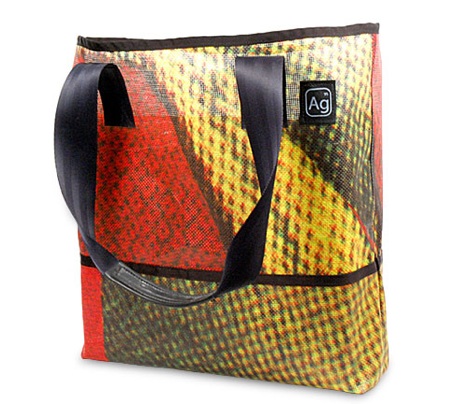 Constructed from reinforced vinyl mesh, seatbelt, and inner tube, the Ad Bag is a strong and lightweight carryall. Durable and easy to wash, this bag just might last forever. Try figuring out what the billboard ad once was while you sit on the subway to occupy your travel time.
Envirosax
Envirosax is a pretty recognized name in reusable bags. These colorful, ethnic prints reminiscent of exploring bazaars and spice markets make us want to order more so we look fully sophisticated in a sea of people choosing plastic. That these bags fold up tight and can fit in your purse makes them all the more accessible and easy to carry around.
Sleeping Bags
Founded by social entrepreneur Andy Marks, Sleeping Bags takes retired hotel bed linen and makes beautiful yet practical bags, adorned with artwork from leading individuals in the arts and creative industries. We love.
Made from 100% recycled rice bags and handmade in small batches by a women's co-op in Cambodia, these stylish bags are all one of a kind. The graphics will make you imagine shopping at a Cambodian floating fish market, picking up a sack of rice along the way and spices to create a culinary treat. At the very least, you can come and go from the gym in style.