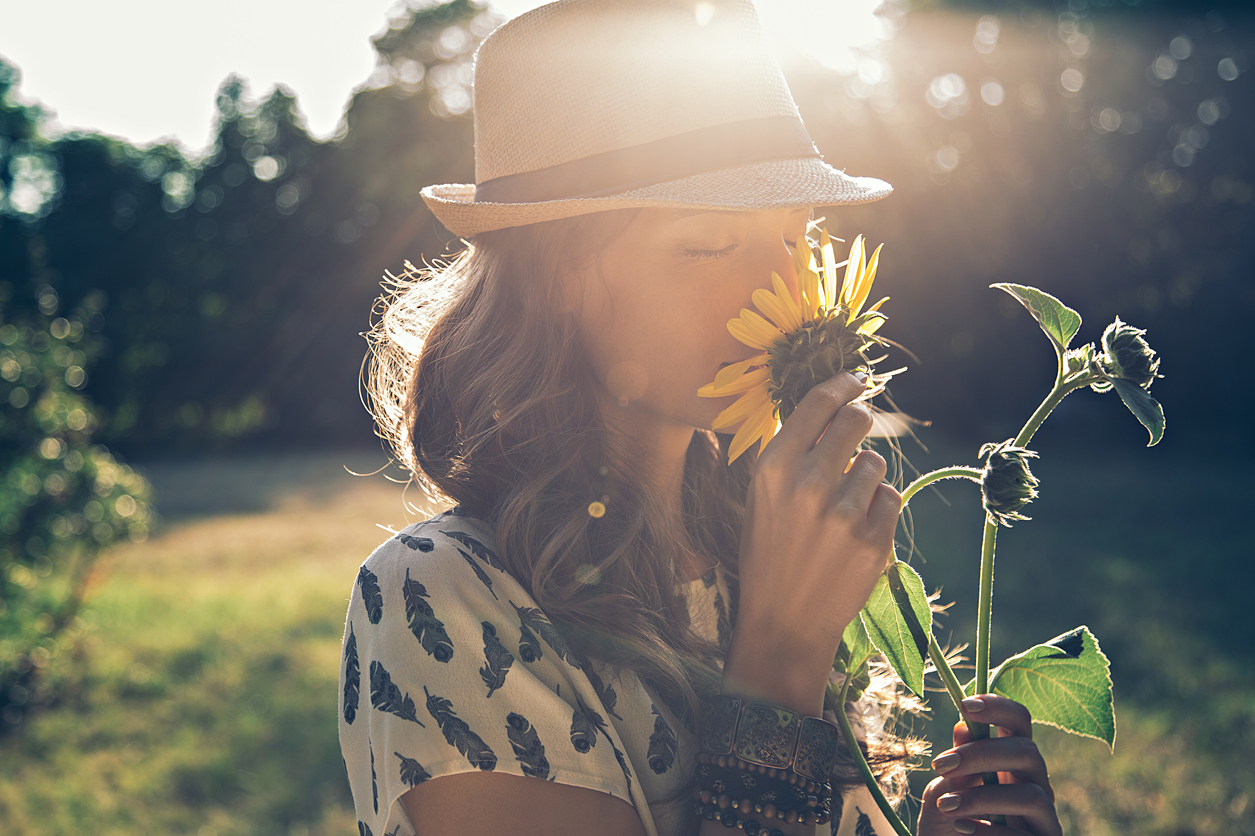 Stressed? Low energy? Can't sleep? There's an essential oil for that.
If you aren't using aromatherapy as part of your healthy lifestyle, there's no better time to start than right now. And what could be better for the season than floral essential oils?
Essential oils may have been thought of as hippy potions in the past, but we are seeing a definite boom in popularity for these natural ingredients. Before you run to the health food store to stock up or attend an aromatherapy party, there are a few things to know about these potent oils.
Essential oils (or EOs) are volatile compounds extracted from plants. Each oil carries the distinct characteristics of the plant from which it was obtained. EOs have powerful aromatherapeutic benefits, but they are super concentrated and highly potent, and care should be taken when using the oils. In order to avoid issues like irritation, burns, and hormonal disturbance, learn how to properly handle EOs.
Before we go further into the benefits of floral essential oils, you may be wondering … what is aromatherapy and does it really work?
In aromatherapy, essential oils are used to treat physical and psychological symptoms, and bring about a state of balance. Floral EOs offer the bouquet of delicate fragrance from your favorite blooms. But these beauties are certainly no shrinking violets. They come with a host of powerful feel good benefits.
Danièle Ryman, one of the world's leading aromatherapists, even uses essential oils to alleviate hormonal disruption due to menopause. Ryman says essential oils "can influence a sluggish system and assist during hard times", including florals like chamomile, geranium, and rose.
13 Floral Essential Oils for Aromatherapy
Always begin with high quality essential oils, like Source Vital or Aura Cacia. You can make your own reed diffuser, use in a home diffuser or car diffuser, or make a sachet. Each essential oil listed below can be used on its own or blended with other EOs to create your own blend.
1. Bergamot: A spicy, citrus floral, this blossoming essential oil improves feelings of depression and anxiety, gives a calming feel to the mind, and is said to boost the immune system and inspire a feeling of confidence. Blends well with cypress, orange, and vetiver.
2. Blue Tansy: This freshly scented essential oil has an almost apple-like fragrance and a rich blue hue. It is calming and soothing, eases tension, settles the nerves, and creates a relaxed feeling. Blends well with bergamot, geranium, and lemon.
3. Chamomile: You know this flower as the super calming tea, but it is also good for soothing the mind, toning down irritability, reducing discomfort, and easing an upset stomach. The sweetly scented oil blends well with lavender, lemon, and ylang ylang.
4. Geranium: With a scent similar to rose, this essential oil is soothing and uplifting. Good for relieving stress and anxiety, it diminishes feelings of hormonal imbalance. Blends well with basil, clary sage, and orange.
5. Helichrysum: Also known as Immortelle, this essential oil has a rich, sweet fragrance. It is used to banish fatigue, soothe stress, and balance emotions. Helichrysum is also a pain reliever and blends well with bergamot, chamomile, and lavender.
6. Jasmine: The warm, intoxicating, and exotic scent is reason enough to use jasmine essential oil, but it is also used as an aphrodisiac, antidepressant, and to instill an optimistic outlook, boost energy, and inspire confidence. Blends well with bergamot, rose, and citrus oils.
7. Lavender: A fresh floral, this well-loved essential oil is commonly used to promote a sense of balance and calm. Good for inducing sleep, relieving tension, easing depression, calming nerves, and diminishing the symptoms of headaches and migraines, lavender is an aromatherapy kit staple. Blends well with cedarwood, geranium, and nutmeg.
8. Lotus: The exotic lotus has a soft, earthy floral scent. This essential oil is soothing, calming, stimulates a poor appetite, alleviates anger, and brings about a sense of clarity and peace. Blends well with spicy scents, like cinnamon and sandalwood.
9. Neroli: A sweet floral, neroli provides a relaxing sensation, and is used to relieve depression and anxiety. May also help to calm an upset stomach associated with nervousness. Blends well with jasmine, lavender, and rosemary.
10. Rhododendron: With a fresh, clean aroma, this essential oil is perfect for those who prefer a lighter scent. It offers an uplifting sensation and blends well with lavender, orange, and geranium.
11. Rose: A potent stress reducer, this familiar scent brings about a feeling of harmony, eases depression, quells anger, and helps in dealing with feelings of grief, fear, and nervousness. May also be used to boost self-esteem. Blends well with geranium and jasmine.
12. Yarrow: Fruity and herbaceous, this essential oil soothes, relaxes, and eases anxiety and restlessness. It helps to improve sleep quality and blends well with cedarwood, clary sage, and black pepper.
13. Ylang Ylang: A sweet, fruity floral, this essential oil is uplifting, anxiety quelling, and used as an aphrodisiac. Blends well with bergamot, citrus oils, and sandalwood.
Related on EcoSalon:
Easy Aromatherapy Guide: 6 Scents to Relieve Stress, Boost Your Mood & More
Turbulent Times Got You Down? Essential Oils Can Help
The Power of the Flower