With almost three quarters of our world in rapid decline due to excessive pollution and resource disruption, ocean conservation is more important than ever.
In case you forgot the stats from geography class, a little more than 70 percent of the Earth's surface is covered by oceans. The fragile ecosystems are vital to sustaining marine and human life. Unfortunately, our oceans have become a breeding ground for pollution due in large part to current waste disposal, both in the water and on land. Oil spills, untreated sewage and solid waste, plastic, heavy metals, radioactive materials, and chemicals are all common (and completely disgusting) pollutants.
In addition to mass pollution, unethical fishing practices and senseless harvesting of marine resources are also associated with ocean devastation. All of these elements, whether alone or combined, are responsible for negative repercussions, like coral reef die-off, food contamination, and the hundreds of thousands of turtles, whales, and other marine mammals, including more than one million seabirds, that die each year from ocean pollution and ingestion or entanglement in marine debris.
So what can you do? In addition to recycling, cleaning up your local beaches, eating sustainably, and raising ocean conservation awareness, you can also put your purchases toward businesses that care. Shop for your spring and summer apparel at any of these retailers and you can be sure that your money is going to a good cause.
1. Devocean Co.
"Save the sea turtles with every purchase."
Devocean, which stands for "devoted to the ocean," claims to have a "vision of a world where our oceans are clean and free from pollution." Dedicated to positive change, the website goes on to say, "all of our efforts as a social enterprise are intended to raise awareness about the growing fragility of marine habitats and encourage people to take immediate action."
Devocean was founded in 2015, and chose sea turtles as the first ocean conservation effort. Today, 20 percent of the company's net profits are donated to FAU Marine Research Lab at Gumbo Limbo Nature Center and the non-profit Friends of Gumbo Limbo. Devocean credits these two organizations as being instrumental in saving the lives of thousands of sea turtles.
Devocean sells vibrant beach-ready apparel and accessories for men and women. Jewelry, hats, towels, hoodies, tees, and tanks are popular among the business's clientele. And you can't miss the sea turtle emblem that appears on many of the items.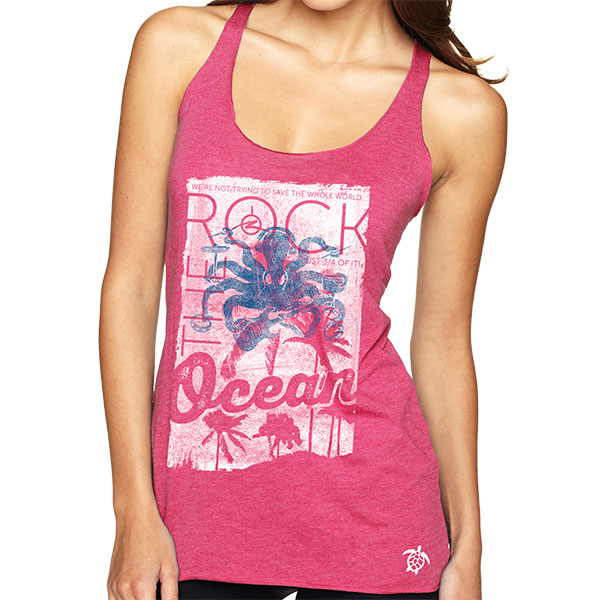 "Were not trying to save the world…just 3/4 of it!"
This business gets right to the point when it comes to the dire straights of our oceans. Rock the Ocean believes "oceans worldwide are in serious peril due to overfishing, severely damaged habitats, and pollution," going on to say, "the ocean is our greatest natural resource and our fate depends on its health, but oceans are headed for mass extinctions unless we take action."
The 501(c)(3) organization utilizes efforts like hosting benefit concerts and events all over the world, including Tortuga Music Festival, to further the ocean conservancy cause. The non-profit also increases public awareness about ocean-related issues while supporting scientific research, education, and ocean conservation initiatives. Rock the Ocean also sells lifestyle apparel and donates 50 percent of the proceeds to the Rock the Ocean Foundation.
Rock the Ocean sells apparel, hats, and accessories for men and women. The tees, tanks and hoodies are great everyday basics featuring cool logos that raise awareness for the non-profit. Hats and accessories, including the towels and drink koozies, are functional and neutral.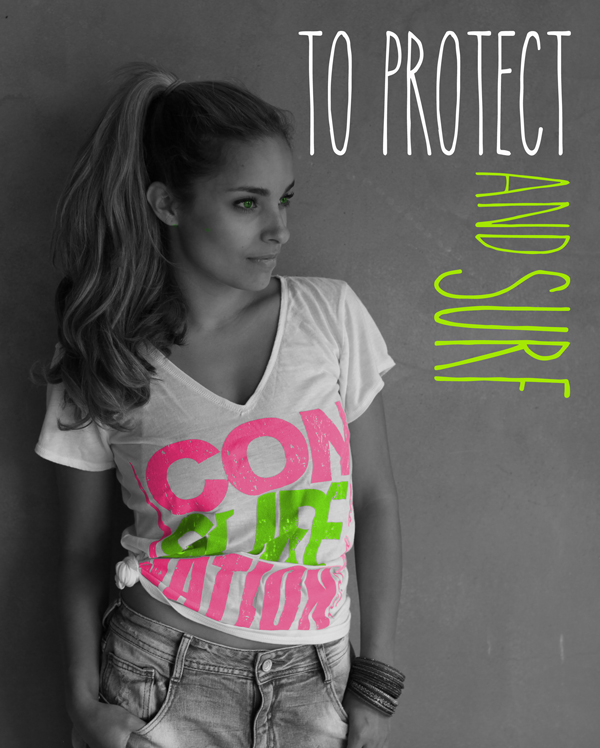 "Don't trash where you splash."
Consurfvation was created by designer Robert Lipton and works in tandem with its four beneficiaries: Waves 4 Water, LA Waterkeeper, 5 Gyres, and Gulf of Mexico Foundation. What makes this company truly unique is that much of the apparel is made from 100 percent recycled plastic water bottles.
Consurfvation Clothing was established in 2011 in an effort to protect what it believes is the world's most precious resource — our oceans. Taking pride in the company's fun, hip, and eco-friendly approach to fashion, this business really has its finger on the pulse of today's trends, while also believing that "every effort, no matter how big or small makes a difference."
Mixing advocacy with aesthetic, the men's and women's apparel is fresh, current, and perfect for beach weather. We're totally digging the scoop back tee's super sexy cut!
How do you plan to support ocean conservation? Share your thoughts on the EcoSalon Facebook page!
Related on EcoSalon
10 Ocean Conservation Groups Making a Difference
Ocean Plastic Pollution Meets Its Match: A 19-Year-Old
Garbage Patch: Nothing Short of a 'Plastic Paradise'