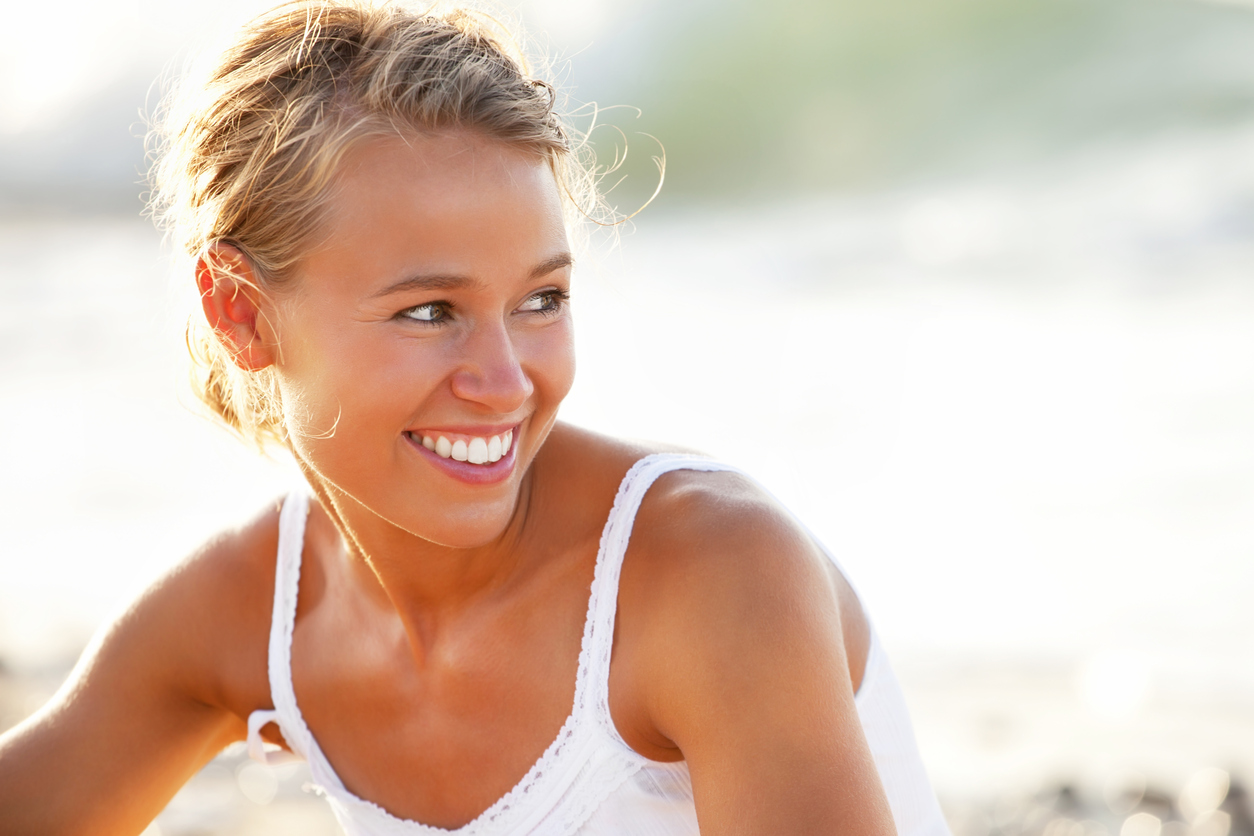 A day at the beach has a way of making skin look healthy, refreshed, and years younger. And we are not talking suntan, here. You know to use nontoxic mineral sunscreen daily. Now find out which skincare tips and products lend beachy elements you may be missing.
Whether you have daily access to the beach (lucky you!) or love to soak it up on vacation, you've noticed the lustrous effects a day at the shore has on skin. Salt water and humidity plump, smooth, soften, and make skin look perky and youthful. Even if you rarely see the ocean, you can still incorporate these skincare tips into your regular regimen.
Salt water gives hair those beachy waves we all crave. It also makes skin feels super soft and gives a healthy looking glow. Sea salt is added to skincare to cleanse, balance oil production, boost circulation, and ward off bacteria, making it a great ingredient for those with oily or acne prone skin. It draws toxins from the skin and makes an effective exfoliant for dry patches.
Another bonus of using sea salt in your skincare routine? It may help to prevent premature aging. Studies show that high levels of magnesium in sea salt are said to improve the skin barrier function and hydration, and reduce inflammation.
The second component to this powerful beachy one-two punch is humidity. Anyone who endures a cold weather climate winter knows how it saps skin of moisture. It doesn't take much time spent sea-side to restore hydration and plumpness to skin.
Not near a humid climate just yet? Fake it 'til you make it by giving your skin the humidity it craves. Facial steams are an easy and effective way to cleanse, detox, hydrate, smooth, and firm up the skin. Making this ritual a part of your weekly skincare plan is an indulgent way to a healthy complexion.
6 Products That Give You Beachy Skin
Enlist the help of these healthy skincare products and make your skin look like it's had a day at the beach.
1. Earth Tu Face Dead Sea Salt Scrub: Exfoliate and hydrate with this purifying body scrub. Made with healthy oils to keep skin soft and supple. Use on elbows, feet, and anywhere that could use a good sloughing.
2. Osmia Organics Recovery Salt Bath: When your body feels sore, achy, or tired, give it a soak with these indulgent bath salts. French grey sea salt is coated with organic oils and combined with wild harvested lavender for a therapeutic bath.
3. Kypris Beauty Deep Forest Clay: This beauty treat uses clay, sea salt, and algae to detox, brighten, smooth, and hydrate skin. Great for congested or dry skin.
4. Osea Sea Mineral Mist: Use this convenient mist to revive a dull, dry complexion. Algae gives a youthful look to skin, aloe vera calms and softens, and sea salt improves elasticity. May be use to hydrate, calm sunburned or irritated skin, and as a setting spray.
5. Earth Tu Face Rosemary + Salt Lotion: Give dry skin a refreshing hit of moisture with this sea salt infused lotion. Aloe keeps soothes, while rosemary and peppermint add a zingy punch.
6. Skin Owl Beauty Steam: Nothing beats a good steam for clearing pores, softening built up sebum and dead skin cells, and boosting radiance. Use at least once per week as a prep for deep cleansing, treatments, and rich hydration.
*Disclaimer: Help support EcoSalon! Our site is dedicated to helping people live a conscious lifestyle. We've provided some affiliate links above in case you wish to purchase any of these products.
Related on EcoSalon
5 Eco-Friendly Beach Vacations Off the Beaten Path
Winter Skin Needs the Powerful Benefits of Exfoliation (Plus 2 DIY Recipes!)
How to Choose the Best Face Oils (and Why They Work So Well!)