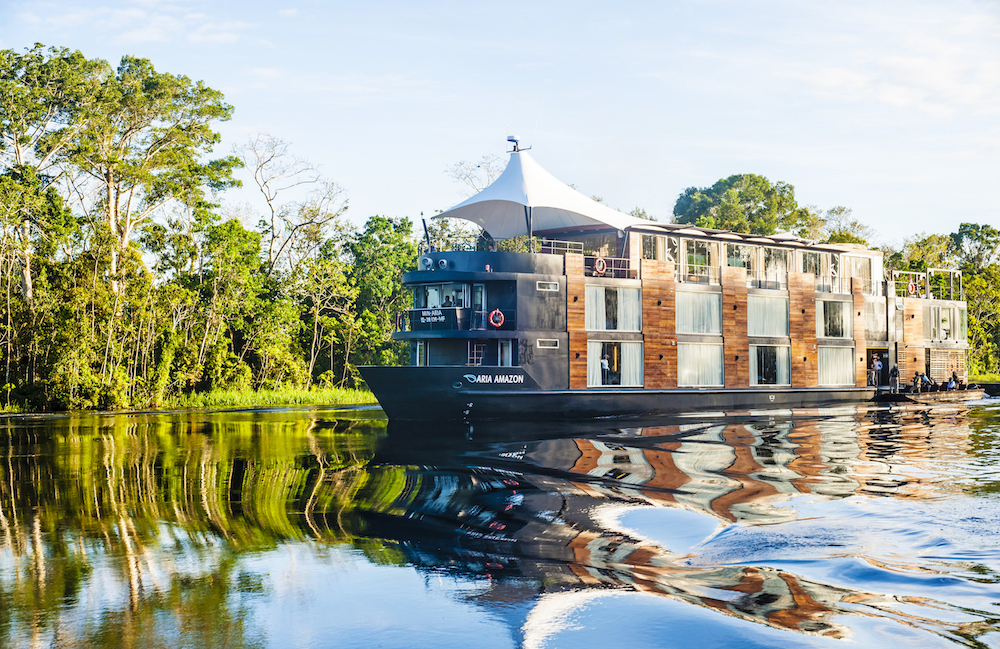 Want to satisfy your wanderlust for pristine nature and authentic culture in a conscious way? Then get onboard a luxury eco cruise!
These days a cruise can be a dirty word with the horrendous pollution that commercial cruise ships create. But lucky for eco-adventurers, now your visit to a delicate ecosystem won't actually damage it. These three cruise adventures to the Galapagos Islands along the Mekong River, and through the Peruvian Amazon, show the industry how luxury, nature, and sustainability can truly co-exist. Savvy eco-travelers can have the experience of a lifetime and travel to exotic destinations with these companies leading the way in responsible ecotourism practices.
Rest assured, you'll still get all the travel perks of luxury cruising: one-stop planning, expert guides on board, unique itineraries, amazing up close and personal views, fabulous meals, private excursions, and best of all… you only have to unpack once.
1. Aqua Expedition: Aria Amazon, Peru

This three- to seven-night eco cruise takes you on an extraordinary adventure through the Peruvian Amazon full of natural wonders. Think early morning bird watching, close encounters with pink dolphins, flying fish, jungle walks, squirrel monkeys, exploring tributaries in skiffs, and shooting stars at night. And that was just the first day.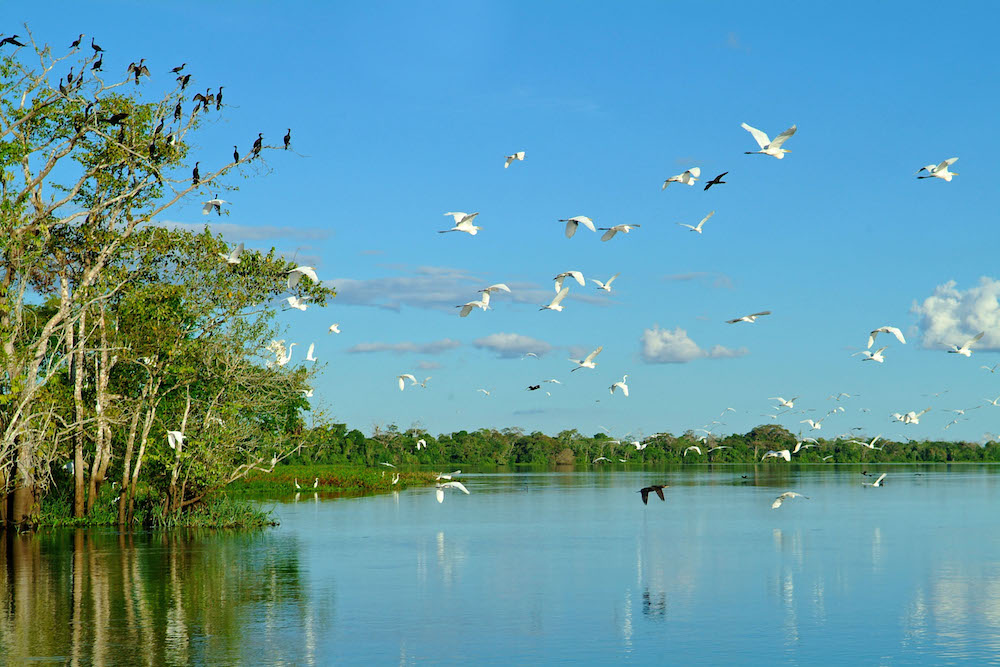 Fresh from a revamp in 2015, the Aria Amazon is full of plush lounges and a stunning observation deck. Even when you're inside, you'll never miss a river view with its floor to ceiling windows. The boat itself was the masterpiece of Peruvian architect Jordi Puig. With sixteen Design Suites, four interconnect for families, this stunning floating luxury eco hotel offers guests chic understated comfort that seamlessly blends with nature.

Guests are spoiled with five-star Peruvian cuisine created by executive chef Pedro Miguel Schiaffino. Don't be late for dinner served al fresco or in the dining room as menus include ingredients found only in the Peruvian Amazon. While guests relax and enjoy the wonders of the Amazon, the crew and Aqua Expedition team work behind the scenes with local environmentalists to preserve the health and bounty of the Amazon. One recent endeavor was helping to restore the threatened taricaya turtle population.
2. Aqua Expedition: Aqua Mekong, South East Asia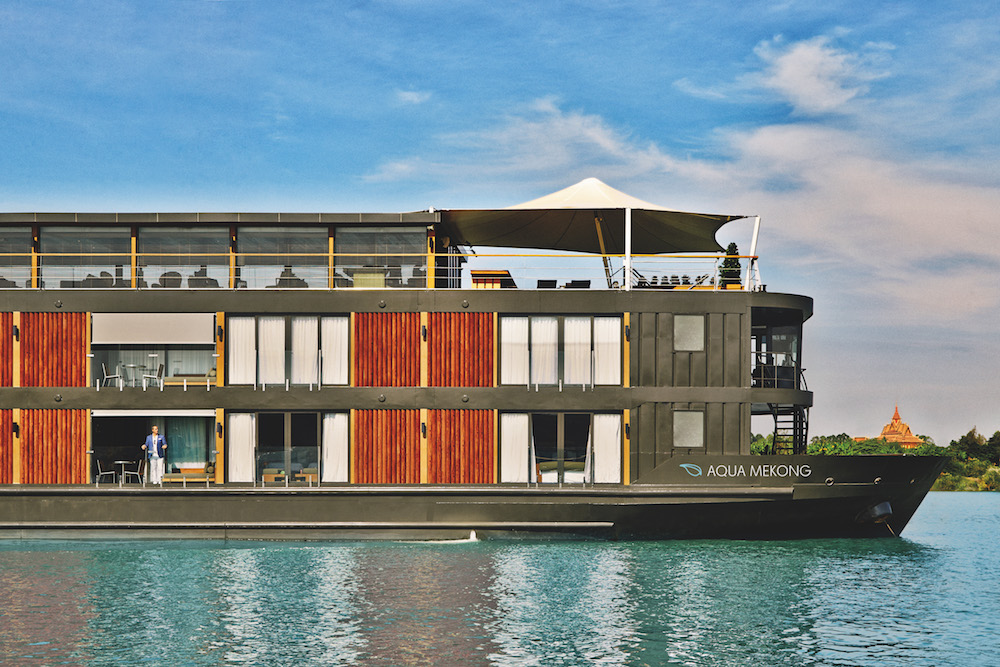 It's your choice to cruise up or down stream on the Aqua Mekong for seven to three nights along the magnificent Mekong river through Vietnam and Cambodia. While on the water, you can relax in the outdoor pool, indulge in a traditional Southeast Asian massage in the spa, or soak up the sun on the observation deck.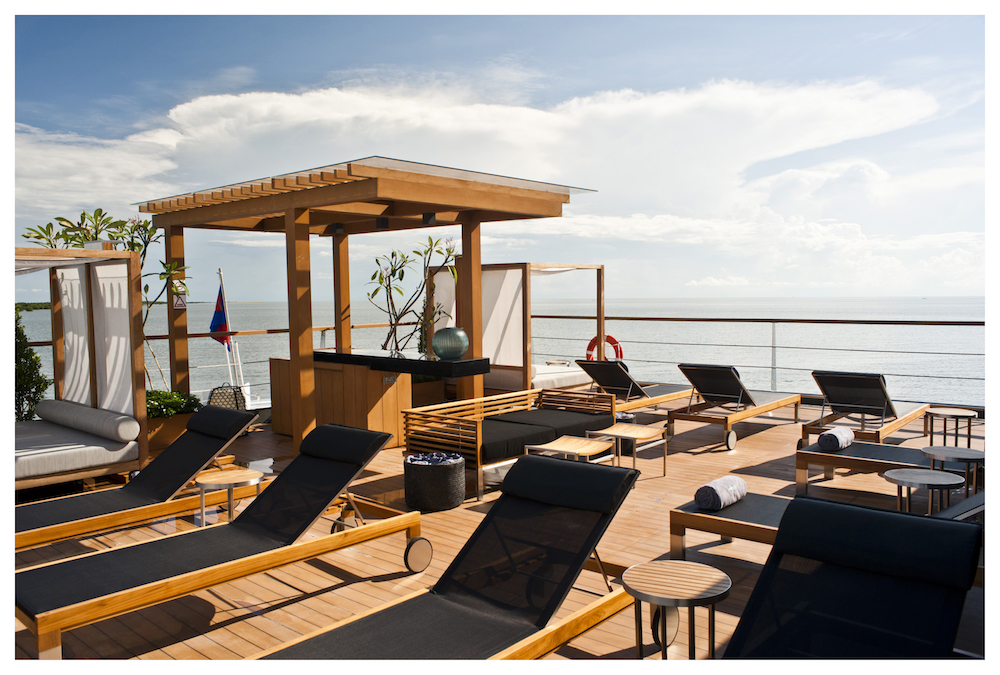 Stay on board or head out for an excursion. Bike along the banks of the Mekong, tour the jungle with a local guide, and explore remote Buddhist monasteries and traditional river villages. You can even kayak to a floating market where traditional silk weavers sell their wares.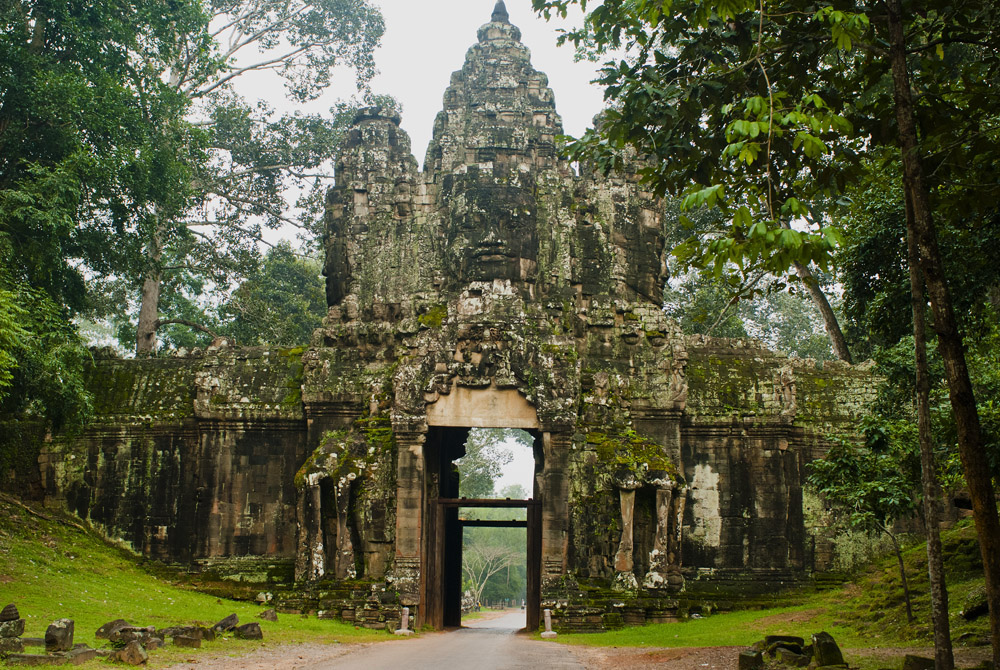 You get all this and sustainability programs. Besides being fuel efficient, the ship engines are virtually smoke-free to minimize impact. Expedition skiffs have ecologically sound outboard engines certified by the California Air Resource Board. And local initiatives include conservation, education, community outreach, sustainable job creation and philanthropy partnerships.
3. Ecoventura: MV Origin, Galápagos Islands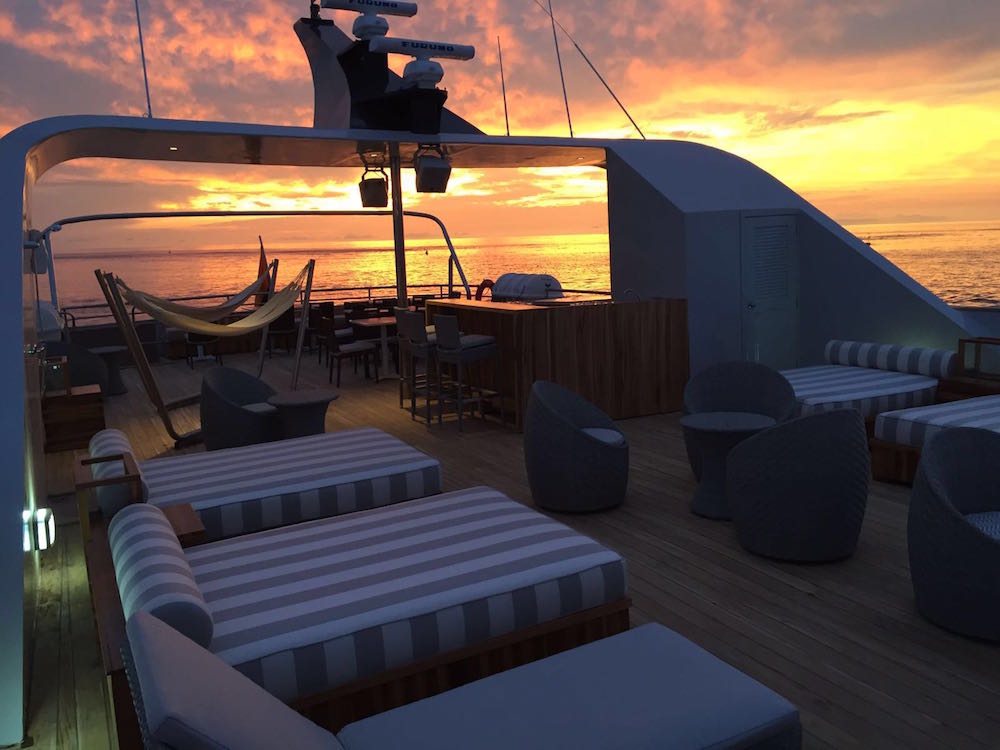 Based in the stunning Galápagos, award-winning Ecoventura works hard to create and maintain a safe and sustainable fleet of luxury expedition yachts where adventurers and nature enthusiasts can experience one of the world's most diverse ecosystems. Its newest, the hybrid MV Origin, has onboard hammocks, lounges, and panoramic stateroom windows.
With its Smart Voyager voluntary ecological certification, carbon emissions are both offset and reduced. Its dedication to support the community isn't just hype. For a decade, Ecoventura has partnered with Gotitas de Esperanza (Drops of Hope) and sponsored teachers' salaries at the local high school. It also works with the non-profit, Pack for a Purpose, where guests bring much-needed supplies for local community needs like health and education.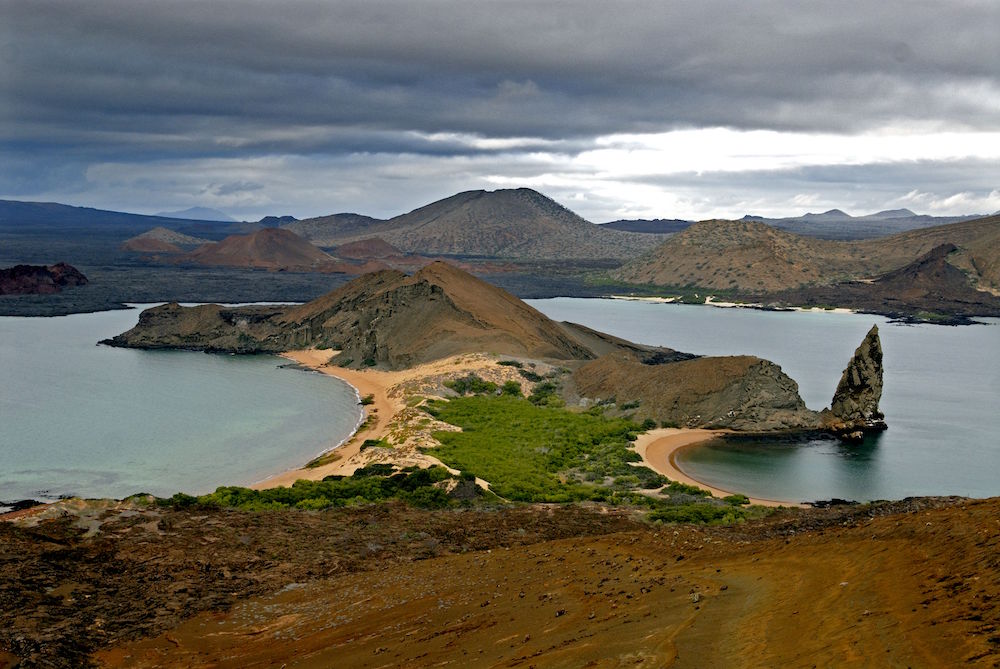 You can choose between two unique seven-night itineraries full of custom guided walks and hikes, snorkeling, sea kayaking, and zodiac rides to explore mangrove estuaries, coves, and caves. Bring your camera everywhere. The wildlife viewing opportunity is one of the best in the world. You'll see whales, dolphins, orcas, sharks, and massive schools of golden rays. Not to mention the famous Galápagos giant tortoise.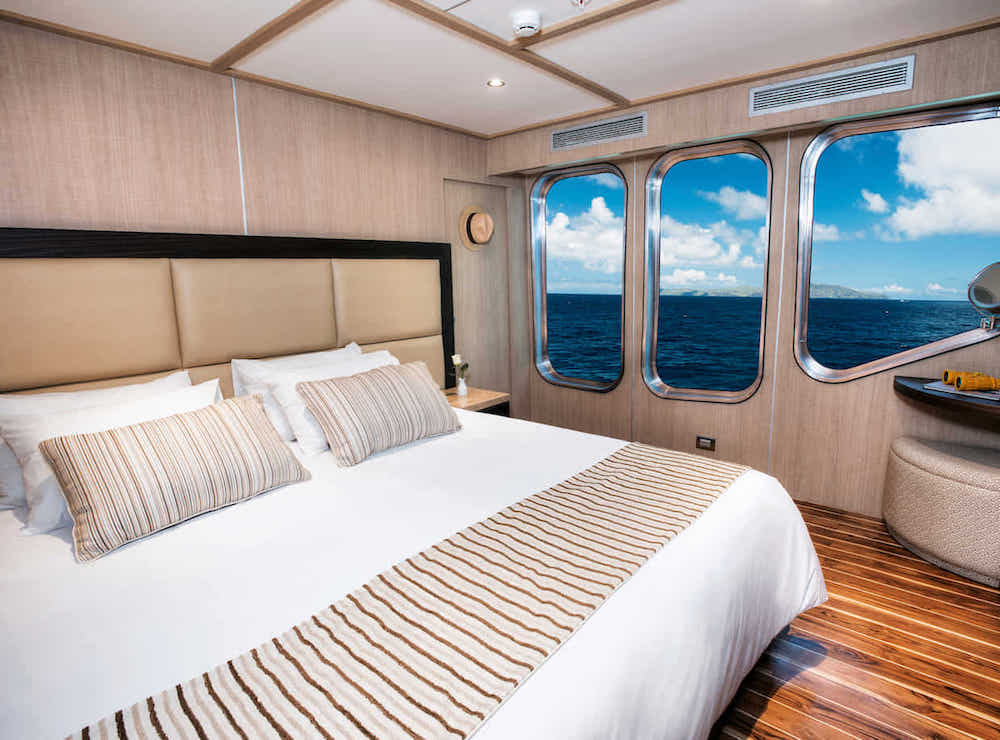 If you've never snorkeled with marine iguanas or sea-lions, this is your chance. The world's smallest penguin is also a must see. When it's time to relax (even wildlife sleeps) enjoy the open bar, sumptuous meals, and soak in an outdoor Jacuzzi while the sun sets.  And if you prefer an "all women adventure week", well, Ecoventura offers that as well.
Related on Ecosalon:
5 Sailing Vacations Perfect for Beginners
Costa Rica's Pura Vida Secret to Longer, Happier Lives
Plan a Trip to Europe's 8 Most Luxurious Spas
Images courtesy of Ecoventura and Aqua Expedition